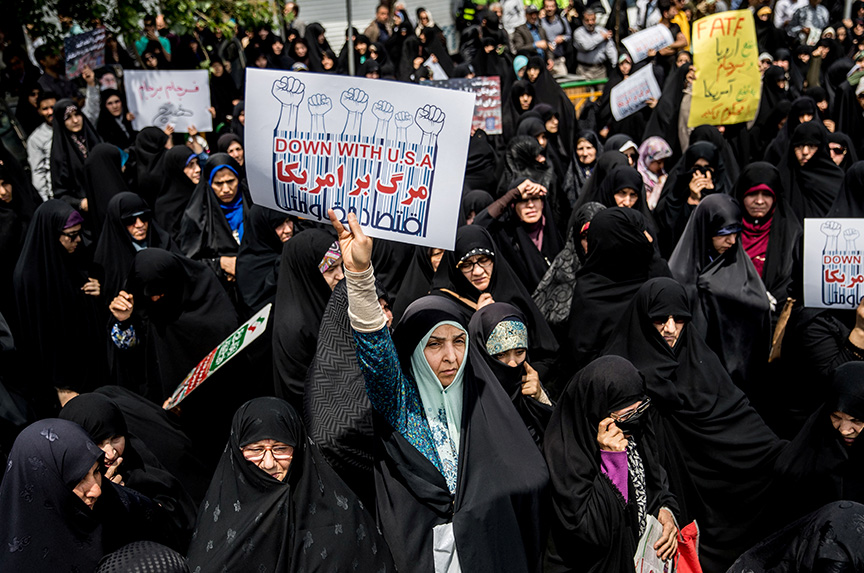 Though Iran has thus far remained in compliance with the Joint Comprehensive Plan of Action (JCPOA), the US decision to withdraw from the nuclear deal could be the first domino to fall, setting off a chain of escalatory events throughout the region.
"This change is US policy is happening at a time when the region is really combustible," said Zalmay Khalilzad, president of Gryphon Partners and an Atlantic Council board director. Ultimately, the regional impact of US President Donald J. Trump's May 8 decision to withdraw from the JCPOA will depend on Tehran, and what it decides to do next: play nice on the world stage, or retaliate in its own backyard.

While it is unlikely Iran will walk away from the deal completely, said Khalilzad, a former US ambassador to Iraq and Afghanistan, "the actions taken could strengthen the hardline elements and their hold on power." Tehran could decide the concessions from Europe are not enough without the United States and take a more aggressive stance in the region. This could in turn result in a regional conflict.
Further, in the wake of US Secretary of State Mike Pompeo's proposed "plan B" nuclear deal, which outlined a series of stringent demands for Tehran, Iran could see less incentive to compromise, said Mona Yacoubian, a senior adviser on Syria at the US Institute of Peace.
"The US withdrawal is acting as an accelerant for dynamics that already existed in the region," Yacoubian cautioned. "This could escalate in ways we can't predict," she said.
Khalilzad delivered opening remarks at an Atlantic Council event on May 21. Following his introduction, Yacoubian joined Norman Roule, former national intelligence manager for Iran at the Office of the Director of National Intelligence, and Nicholas Blanford, a nonresident senior fellow at the Atlantic Council's Middle East Security Initiative, for a discussion on the regional dimensions of the US decision to withdraw from the nuclear agreement. Faysal Itani, a senior fellow in the Atlantic Council's Rafik Hariri Center for the Middle East, moderated the conversation.
Should Iran choose to spark conflict, Khalilzad said, it will escalate tensions with Israel by unleashing Hezbollah, ordering the Lebanese militants, monetarily supported by Iran, to further stoke the ongoing aggression with Israel.
"Neither side is interested in an all-out conflagration, but the prospect of confrontation is increasingly growing," said Yacoubian.
Yacoubian described how, thus far, the proxy war between Iran and Israel has been limited to Syria. However, escalation could see Israel take the fight directly to Hezbollah, expanding the conflict to Lebanon. Such a move could produce all-out war, spilling across borders throughout the region.
"In a war in which Hezbollah is unleashed, it will not be limited to Lebanon," Khalilzad cautioned.
According to Yacoubian, "if the region is to move from escalation to conflagration, the most likely place this will happen is Syria." The war-torn country will serve as the staging ground for any further escalation between Iran, Israel, and Hezbollah against the backdrop of uncertain US policy in the region.
"Syria is first and foremost a battlefield" in this scenario, said Yacoubian.
If threat from Iran grows in Syria, she said, Israel could respond with more proxies in southern Syria. Further complicating matters, "we still have big question marks about how long the United States is going to stay engaged in Syria, and that is a critical factor."
Blanford described how the current "situation… has been developing over the past year." Since 2013, Israel has carried out strikes on Hezbollah targets in Syria, and this activity has been allowed by Hezbollah and Iran, without repercussions. However, when Israel hit Hezbollah targets in Lebanon in 2006, the militants retaliated, said Blanford, demonstrating that an attack in Lebanon was a red line that must not be crossed.
However, he said, in the last year, "we've had a slight change in this whole dynamic, and things have become more fluid." As a result, there is a "need to reset the rules of the game in the region, because as of now there really are no clear rules of the game," said Yacoubian.
According to Blanford, "this is a very unpredictable and potentially extremely dangerous situation. All players would prefer to keep their clashes to Syria than expand to Lebanon." Ultimately, much depends on whether Iran decides to take an aggressive stance against Israel, sparking conflict and setting off an escalatory chain of events which could result in war.
Ultimately, Iran will need to see Europe's reaction to the re-imposition of US sanctions before determining how to proceed, said Roule. Tehran's priority, he said, is regime stability. In order to maintain this, the hardline elements in the Iranian government must maintain political and economic stability, fueled by steady oil flow and business opportunities. These prospects are threatened by the re-imposition of US sanctions, but the blow could be softened by European concessions.
When weighing its options, Tehran must consider the benefits of cooperation, as opposed to the cost of war, the panelists agreed. Consequently, Iran will cut expenditures when it feels the economic pinch. "I would start to worry if I were Lebanese Hezbollah," said Roule.
Rachel Ansley is assistant director of editorial content at the Atlantic Council.