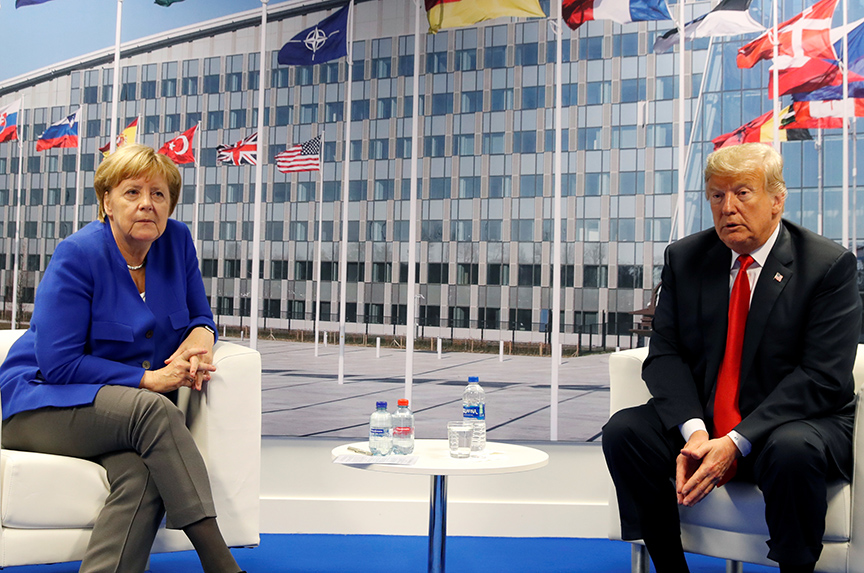 Managing a growing rift within NATO
US President Donald J. Trump traveled to Europe this week with his rhetorical guns loaded, taking aim at NATO allies for failing to adequately pay for their own defense. The primary target of Trump's ire is German Chancellor Angela Merkel. Despite positive trajectories in both German and NATO allies' defense spending over the past two years, which allies promised to increase to 2 percent of GDP by 2024, Trump is not looking to take a "victory lap" in Brussels and take credit for positive momentum in NATO defense spending.
Instead, Trump will sharply accelerate American calls to end European "free-riding" to a new crisis point, directly linking U.S. political and security commitments in Europe with European willingness to raise defense spending, turning a security partnership into a transactional relationship. Trump's rhetoric and actions in the following months has the potential to do more damage to the Alliance than any previous US president, more than even Russian President Vladimir Putin could have conducted or dreamed of.

Even as the official program of the summit started, Trump wasted no time to attack Merkel, blasting Germany for its energy dependence on Russian gas and claiming the country was a "captive of Russia," despite the fact that Merkel was the one of the architects and remains the staunchest defender of economic sanctions against Russia in response to the annexation of the Crimea in 2014. Germany, perhaps more than any country, has suffered economic costs from maintaining a sanctions regime against Russia, which was been difficult for the chancellor to navigate.
Trump's "Brussels broadside" has showcased that across a range of issues—defense spending, trade, and immigration—the president has identified Germany and Merkel as the primary antagonist in a drama of villains and victims. The United States, the victim, has been hoodwinked while Germany and other allies are villains "free riding" on U.S. security guarantees while their own economies grow without the burden of adequate defense spending. Trump has stated several times recently that European allies are "killing us" and has gone so far as to state the European Union (EU) was set up to undermine U.S. interests.
Although Trump's tone and tactics are flawed, he is conspicuously right on one point: allies must do more and Germany must do the most to increase defense spending, build up adequate military capabilities and meet the political obligations made at the 2014 Wales NATO Summit. As the strongest economy in Europe, Trump correctly surmises that Germany can afford to pay more for its own defense. Typecasting Germany as the archetype of "free riding" plays to Trump's political base at home, giving credence to Trump's foreign policy credo of an "America First" and "economic nationalism" doctrine that rhetorically claim to protect US interests from foreign predators.
Trump is using his attack on Merkel at the NATO Summit as a first salvo in a broader effort to target the EU, which will likely find itself as a third front in a global trade war already enveloping China, Canada, and Mexico. The release last week of a Pentagon plan to review and reduce U.S. defense posture in Europe was a clear signal that the president would no longer be simply complaining in Brussels, but could very well threaten to reduce U.S. forces in Europe unless American demands on defense spending were met. The president's decision to greet certain allies ahead of the summit with letters exhorting them for their failure to fulfill their defense spending commitments showcases just how serious Trump is about punishing allies for their perceived failures.
The dislike between Trump and Merkel is personal and mutual. From Merkel's liberal policies on immigration, to her tough stance on Russia, to her strong advocacy of a multilateral rules-based approach to international relations, she embodies everything Trump has set himself against. For Merkel, Trump's constant and open attacks against her government and the German economy, combined with his coarseness and unpredictability are traits that make it hard for this experienced and often astute politician to deal with him successfully. Their temperaments seem to be too far apart to allow for any sort of common understanding to develop.
Under Merkel's leadership, German defense spending has reached its nadir of 1.18 percent of GDP, down from 2.39 percent at the end of the Cold War in 1990. Despite increased spending in absolute terms over the past two years, the strong growth of the German economy has made progress in meeting the 2 percent threshold difficult to attain. A case in point: Germany's defense spending for 2017 was projected to be 1.22 percent of GDP but turned out lower due to faster-than-expected growth of the overall economy. The German government itself has stated that it aims to reach 1.5 percent of GDP on defense spending by 2024 but experts doubt that even that limited goal will be reached.
Merkel, having been weakened domestically and internationally by a government crisis caused by her immigration policy, is particularly vulnerable to Trump's attacks at this time. Continuing low public support for defense spending has only further handicapped the chancellor. Although the usefulness of a spending goal that is strictly tied to GDP can be debated, the hollowness of the German armed forces and their lack of basic readiness has laid clear the need for Germany to take drastic measures to increase defense spending beyond current targets.
German leaders are slowly waking up the fact that their country, at the heart of the EU and sporting an extremely export-oriented economy, is more dependent on a functioning multilateral environment than others, making it particularly vulnerable to Trump's attacks and his attempts to dismantle this system. Germany should feel a particular responsibility to fulfill its responsibilities within NATO. Historically, no other country has benefited from NATO's security guarantee like Germany. The very existence of West Germany as an independent state depended on NATO and US support during the Cold War, and eventual German reunification would not have occurred without the United States and NATO.
On the American side, Trump's method of exhorting allies could be counterproductive, as he risks a political backlash within European capitals among populations allergic to watching their political leaders take direction from the most unpopular U.S. president in generations. Although Trump and his allies should find ways to criticize Germany for a lack of defense spending, this criticism should come with the steadfast support of the United States' commitment to allied security and NATO allied interests. U.S. Secretary of Defense James Mattis has balanced this challenge adroitly, calmly calling for increased defense spending while retaining the confidence among allies that the United States remains committed to allied security.
The problem with Trump's criticism is that it comes from a man who does not care for the NATO alliance and would not lose any sleep over its demise. Trump is using the 2 percent commitment to punish allies and weaken the European body politic with body blows, before he unleashes a wider broadside on trade which the president believes can form a "knockout punch" to dismantle the EU's ability to withstand US pressure on issues such as trade, Iran, Russia, and immigration.
Although the German chancellor will be no push-over at this summit, Germany and its European allies have to finally wake up to the fact that Trump is correct when he states that European allies benefit far more from NATO security guarantees than the United States. As a result, European allies' goals for this summit and future summits has to be to preserve NATO through the tumultuous years of the Trump administration. Damage control is the name of the game and the way to control the damage is to accelerate defense spending, showcasing Europe's ability to meet the myriad array of threats to NATO and deflect a US president's attempts to undermine the Alliance.
The combination of torrid tension between allies at the summit and a Putin-Trump summit that may sacrifice Western unity on Russia has the potential to cause an irreparable rift within NATO. Based on very different rationales, Putin and Trump have the same goal: weakening the multilateral institutions that undergird the transatlantic bond, overturning the current international order, and undermining NATO. Again, Europe, and Germany in particular, have the greatest stake in preserving NATO and keeping a unified stance on Russia, as Merkel expended significant political capital to keep Europe aligned on Russia.
With the United States missing in action as the guardian of the international system, Europeans must step up after the NATO Summit and commit themselves to sustaining the rules-based international order that the United States helped create. A hard political commitment and signal from Germany at this summit on increased defense spending is "alternativlos," without alternative, one of Merkel's favorite expressions. Merkel has to expend some of her remaining political capital to back and implement this even against German criticism of appeasing the deeply unpopular Trump administration because it is the right thing to do for Germany, Europe, and NATO. The Trump administration should meet this German commitment by reinforcing its ironclad commitment to European defense and sustaining the United States' political support and security presence in Europe for the long-term. Anything less will hand Putin the U.S.-German split he has long desired to see within Europe.
Mark Fischer is a partner at GPLUS and leads the Berlin Office. He is an expert in providing political and strategic communication in Brussels, EU capitals, and in Washington. Fischer worked for the German Marshall Fund of the U.S., overseeing the creation of the Brussels Forum policy summit and was managing director for the European Offices from Washington. He served with the German Air Force.
Mark Simakovsky is a nonresident senior fellow with the Atlantic Council's Eurasia Center. He served as chief of staff in the Europe/NATO Office at the Pentagon, served as Russia director in the Office of the Secretary of Defense for Policy during the 2014 Russian invasion of Ukraine and advised Secretary of Defense Robert Gates throughout Russia's 2008 invasion of Georgia.