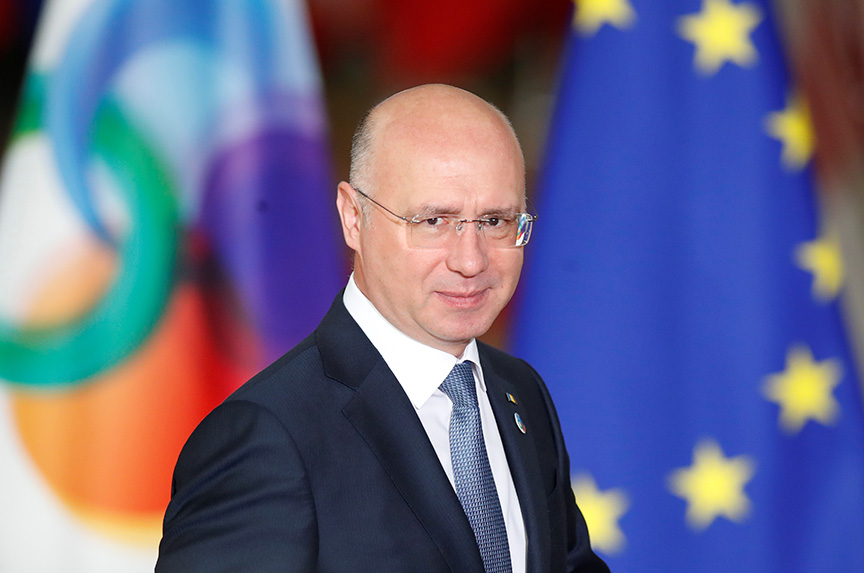 Ronald Reagan was fond of comparing the United States to "a shining 'city on a hill.'"
Today, some American friends tell me that phrase strikes them as shopworn or cliché. But for many in Eastern Europe who remain under Russian domination, it still rings true. The United States' example of security through strength, democracy, free trade, prosperity, and civil liberties is a guiding light. And that is why my country, Moldova, is committed to an enduring partnership with the United States.

We need to strengthen this partnership to thwart unwanted behavior, particularly by Russia, which has troops stationed in the Transnistria region of Moldova and subjects our citizens to massive propaganda campaigns praising Russia and attacking the United States and the European Union. Make no mistake—this is a deliberate attempt by Russia to derail Moldova's path to the West.
Through increased cooperation, we can deter such efforts. What Moldova brings to the table is twenty-six years of confronting separatism and foreign interference despite complex domestic demands.
Time is of the essence. Moldova has critical parliamentary elections this fall that will determine the direction of our country. The pro-Russian socialist party, heavily backed by Russian President Vladimir Putin, has a good chance of winning the election unless our partners strengthen their support for the pro-West parties in Moldova's ruling coalition.
Moldova is one of Europe's smallest countries. We have plenty of challenges beyond Russian meddling. We are following the United States' example in trying to solve them.
Moldova and its people have suffered tremendously from corruption. Our coalition government, led since January 2016 by Prime Minister Pavel Filip and the Democratic Party of Moldova, has launched tough anti-corruption reforms and strengthened the rule of law. The government created special units in the prosecutor's office to tackle corruption and organized crime, we passed laws to remove political influence in the appointment of judges, and we adopted new laws to verify the source of public officials' wealth.
The government addressed weaknesses in our banking system by adopting the Basel III banking reforms to improve regulation, supervision, and risk management within the banking sector. We adopted International Monetary Fund (IMF) recommendations to strengthen our banks against fraud. We also appointed a new governor of the National Bank of Moldova and gave the central bank stronger supervisory powers over commercial banks.
Recognizing that the more government agencies, people, and steps involved in opening and regulating businesses and providing services, the greater the opportunities for graft, our coalition government approved a major deregulation program that streamlined services, boosted efficiency, and saved money. We cut the number of cabinet ministries from sixteen to nine, the number of state offices involved in regulating private business from fifty-eight to sixteen, the number of forms and legal regulations required to open and operate a business from 416 to 152, and the number of Custom Service offices from seven to three while reducing the number of Custom Service employees by 12 percent.
All of these reforms reaped rewards. Custom revenues climbed to $1.2 billion in 2017, up from $610 million in 2015. The more favorable economic climate—combined with incentives such as new economic zones offering tax exemptions to businesses and a low 7 percent tax rate for special companies in IT industrial parks—has attracted new foreign investment by Fujikura, Dräxlmaier Group, Frontera Resources, and others, bringing 12,500 new jobs. And our people have benefitted: the average salary is up 30 percent in 2018 compared to 2016, and the minimum wage rose 25 percent in the same period.
These achievements came despite mounting pressure and destabilizing threats from Russia, which wants to see our reforms fail so Moldova returns to the Russian empire.
In the aftermath of the September 11, 2001 terrorist attacks on the United States, with the longest war in US history still ongoing in Afghanistan, and given the arguments over immigration in the United States, it is easy to understand why some Americans may be skeptical of their role as a beacon to the world and want to flip the switch off. But for Moldova, the United States remains our guiding light.
We ask not for US financial aid, but for your continued good example and your support for transparency, rule of law, freedom, and democratic governance, which are the United States' greatest exports.
Cristina Balan is Moldova's recently appointed ambassador-designate to the United States and the first female ambassador from the Eastern Partnership countries in Washington. Prior to her appointment, Balan was a deputy chairwoman of the Democratic Party of Moldova, responsible for external affairs and party diplomacy. Before entering in politics, Balan was an economist and top manager in multinational companies, as well as a general director of the Moldovan Business People's Association.