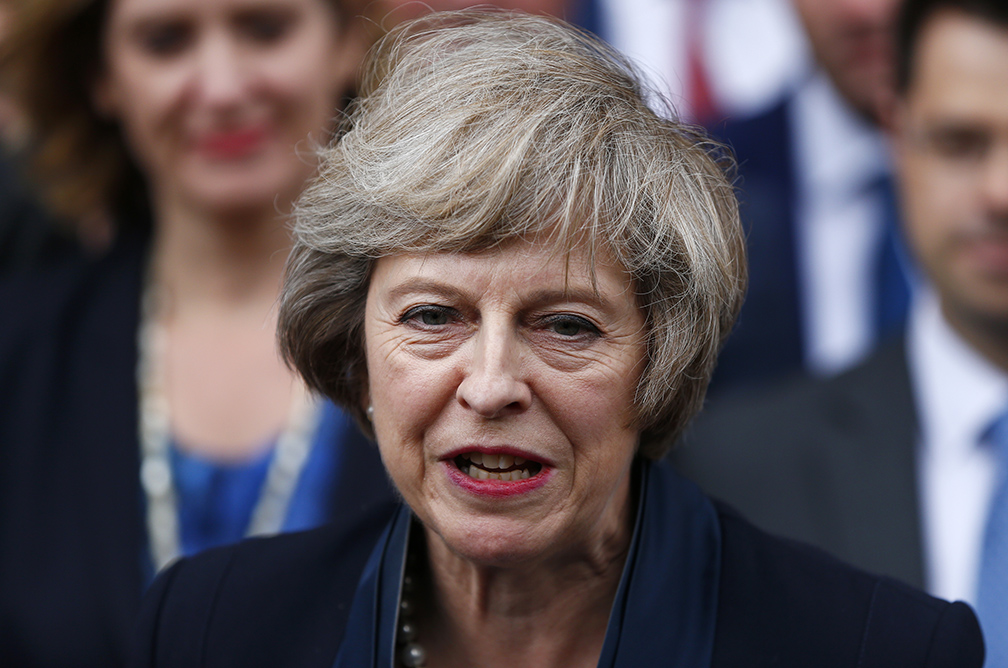 British Prime Minister Theresa May made a gamble when she decided to call early elections with the hope of shoring up political support ahead of difficult Brexit negotiations. That gamble did not pay off.
May's Conservative Party, while still the largest in Parliament following the June 8 election, failed to secure the 326 seats necessary to hold an absolute majority in the House of Commons. The Conservatives now have 318 seats, down from the 330 seats they had before the election. Jeremy Corbyn's Labour Party increased its number of seats from 229 to 261. As a result, the United Kingdom now has a hung Parliament.
This outcome raises many questions, including about the negotiations on the United Kingdom leaving the European Union (EU), set to start on June 19, and May's own political future.

May announced on June 9 that she will form a government, with support from Northern Ireland's Democratic Unionist Party (DUP), that can provide "certainty" for the future. The DUP opposes same-sex marriage and abortion rights, is unconvinced about climate change, and has taken positions on Brexit that are contrary to May's. In a sign that coalition building is no easy feat, 10 Downing Street was forced to backtrack on its June 11 statement that it had reached an agreement with the DUP after the party said negotiations were ongoing.
Fran Burwell, a distinguished fellow at the Atlantic Council's Future Europe Initiative, discussed the outcome of the election and its implications for May, the United Kingdom, and the Brexit negotiations in a phone interview with the New Atlanticist's Ashish Kumar Sen. Here are excerpts from our interview.
Q: What are the implications of a hung Parliament for Theresa May's Brexit agenda?
Burwell: A complicated process is now even more complicated because of the internal British dynamics. If the reports are true that [May] is going with the DUP, they are softer on Brexit than May has been. Both May and the DUP would like to have a not entirely hard border between the Irish Republic and Northern Ireland. The DUP is more concerned about remaining in the European Single Market, the European Customs Union, and less concerned about immigration and the European Court of Justice retaining oversight of these arrangements.
Now that the Conservative Party is smaller [in Parliament], the prime minister will be more beholden to the extremist elements in her party who have taken a very hard line on Brexit. May has already rejected the idea of staying in the single market and customs union because it would require free movement of people and it would require continuing to have the oversight of the European Court of Justice. That is a direct contradiction to what the DUP wants. So, it is unclear how she will negotiate this arrangement with the Europeans under these circumstances.
It is not that they are unwilling to negotiate, it is: how are the British going to get their act together?
Q: Does the result reopen the Brexit debate and the possibility of a second referendum?

Burwell: When I was in London, I didn't hear anyone arguing about this election in the Brexit context. The prime minister, of course, hoped that she would have a big majority and that it would free her hand up a little bit for negotiating. But we don't really see evidence so far that people voted against the Conservatives and for Labour because of Brexit. They voted because of domestic social welfare issues. There was a strong youth vote. Just like Bernie Sanders, Corbyn was promising a lot of things without demonstrating how he was going to pay for them.
Then there was the fact that Corbyn came across as a very good campaigner and May did not. This election, to me, wasn't run as an attempt to rethink Brexit. There will be an opportunity once the [Brexit] deal has been made—just before March 2019, according to the timeframe—for ratification. The UK must ratify the exit deal. That is probably the closest you will get to a referendum. There will be a vote in Parliament. It is conceivable that if that vote is lost it would be seen as a vote of no confidence in whatever government Britain has at that time and then there would be another election with Brexit as a main consideration. But by that time Europe has already ratified the exit agreement and it is not clear that you can undo all that.
The option would be to keep negotiating and hope that the minority government can come to some kind of a deal with the Europeans that everyone can live with and that is not too painful to the UK.
Q: What is the likelihood then of May facing a leadership challenge? And, what are the prospects of a Prime Minister Boris Johnson?
Burwell: Under normal circumstances, if a Conservative prime minister called an election that was unnecessary—that they weren't up against a term limit in Parliament—and they lost seats like this and went from having a slim majority to being a minority government, then the knives would be out and they would not be prime minister any more. Theresa May's position as prime minister is not at all certain. It could be a rather short premiership.
Boris Johnson is probably among the very few who would even want the job right now. It is going to be a difficult [Brexit] negotiation under the best of circumstances. There will be a lot of tough revelations for the British public about what is involved, including how much money the UK will have to pay to get out of the obligations that it legally owes to the EU.
There are many politicians who would look at this and say, "Let Theresa May negotiate this and take all the bad things that come with it, and then, when it's over, that's when I would like to be prime minister."
The question is whether anyone wants the job right now or whether they assume that she keeps it and they bet on her not surviving.
Q: In Scotland, the pro-independence Scottish National Party suffered a setback. To what extent was the vote there about Scottish independence?
Burwell: I think it was. It was about [SNP leader] Nicola Sturgeon going on about having another [independence] referendum. Quite surprisingly, the Conservatives did well there because they looked like they would be able to offer stability.
I think a lot of Scots voted to say, "Let's ride the Brexit process and then we can think about [independence] later."
Ashish Kumar Sen is deputy director of communications at the Atlantic Council. You can follow him on Twitter @AshishSen.