Many of the "risks" we highlighted a year ago were suggestive of the serious structural problems at the heart of the global system. We wrote last year of a United States in crisis; if anything, it could be worse if US President Donald J. Trump is impeached in 2019. We correctly predicted then that populism would not be on its way out in Europe. The recent eruption in France of the Gilets Jaunes (Yellow Vest) movement is testament to the nagging torments in Europe and in the United States of a middle class that feels ignored and its plight underappreciated by the political system. The tension between the United States and China is more acute than ever, fueled partly by a growing realization that China is more technologically advanced and savvy than was assumed. The current trade truce may hold up and an eventual agreement reached, but the fear is that we are growing ever further apart. China resents the United States trying to set the rules for others, while there is a growing realization that China may not fit into our conception of a liberal order.
Why do we undertake such annual rituals?  In part, it is to make clear in our mind what unfinished business we have left for the next year. What things can we check out? And what tasks still face us.
Unfortunately, 2018 will not go down as a very memorable year in turning the page on the big issues of our time.  Trump is right to claim credit for starting a dialogue with North Korean leader Kim Jung-un, but even that faces tests—as we outline—in the coming year.
Overall, 2018 is the year when we did not confront the big challenges; a potential Middle East conflict looms exacerbated by the US decision to leave the Iran nuclear deal; both Russia and China continue to move out of the Western orbit; and, very worrisome for our planet, the predictions for climate change have grown worse.  At some point, just shoving all the problems under the carpet will not work. We will need to confront them.
Risks are necessarily predictions even though last year's turned out to be more prescient than overly pessimistic.  Let's hope that the analysis below underestimates the ability next year of governments and other actors to resolve the vexing issues facing the world.
---
Support the Atlantic Council
---
1. Mueller probe precipitates a crisis. With the Democrats in charge of the House of Representatives, US President Donald J. Trump's impeachment is a real possibility if Special Counsel Robert Mueller's charges are convincing and pertain to collusion between Trump's team and Russia during the 2016 presidential campaign. Clear-cut proof of widespread collusion could split the Republicans. Trump's impeachment could trigger a national crisis with many of his supporters battling what they perceive to be a rigged system.
2. Trump's tariff wars deepen. The current truce with China will fail. The Trump administration will raise tariffs to twenty-five percent, encompassing all exports to the United States. This will hurt Chinese industry, exacerbating China's economic slowdown, which, in turn, would trigger a global economic and financial crisis (see Risk 5).  The long-term cost of all this will be a further erosion in the rules-based order, including a failure to fix the World Trade Organization's dispute settlement mechanism—the crown jewel of the WTO—or to adequately reform the WTO. Global trade will continue its drift toward a region-centric system and a Hobbesian world of everybody for themselves.
3. No deal Brexit and emboldened populism. Brexit has already hurt the United Kingdom's economic performance. A "no-deal" Brexit could cause panic among businesses and consumers as well as bring down British Prime Minister Theresa May's government. A strong showing by the far right in the upcoming European Union (EU) parliamentary elections on the heels of an emboldened and spreading Gilets Jaunes (Yellow Vest) movement in France would be a blow for French President Emmanuel Macron, German Chancellor Angela Merkel, and other EU leaders who have tried to put momentum behind a stronger EU. Macron will have his hands full as he tries to dissipate popular dissatisfaction, although parties on his left and right have still not recovered from their defeat at his hands in 2016.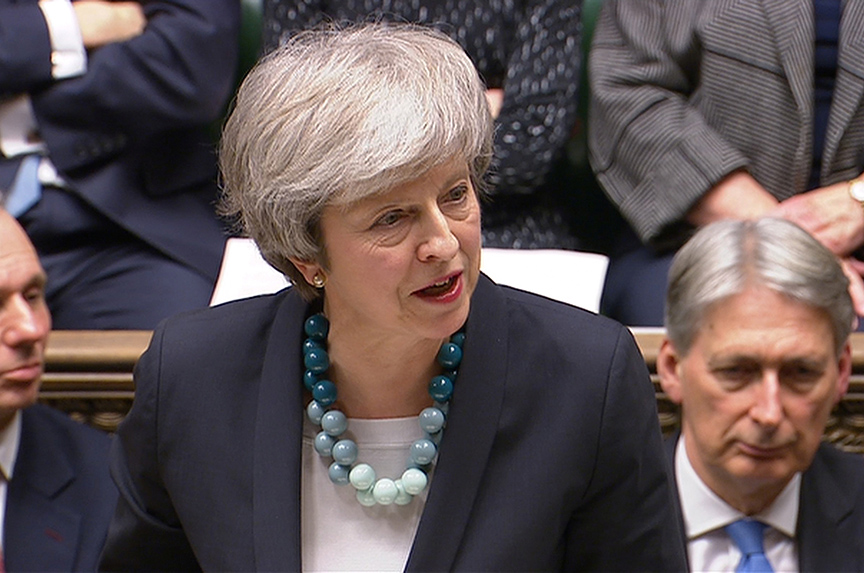 British Prime Minister Theresa May on December 10 called off a December 11 vote on her Brexit deal. (Parliament TV handout via Reuters)
4. Renewed tensions and threatened military actions on the Korean Peninsula. Despite a second summit between Trump and North Korean leader Kim Jong-un in February, Pyongyang will refuse to define "denuclearization" or declare a full inventory of its nuclear facilities and fissile material. This will impede negotiations with the United States. [Pyongyang has until now defined denuclearization as no US-ROK alliance or US nuclear umbrella as a condition for it to give up its nuclear weapons. There is no indication that it has changed its position.] North Korea will take no steps to dismantle its nuclear weapons. Democrats in the US Congress will press the Trump administration for evidence of progress with North Korea. Trump will finally realize that he has been played by Kim and will return to his "fire and fury" rhetoric of the past. Trump will force South Korea to double host nation support [Seoul already pays 50 percent of the cost of US troops on the Korean Peninsula], sparking nationalist anger in South Korea. The South Korean parliament will reject the increased costs. South Korean President Moon Jae-in's administration, with Chinese and Russian support, will then move ahead with North-South reconciliation and economic cooperation, causing a major rift in the US-ROK alliance. Trump will threaten to sanction Chinese banks after Beijing continues easing the enforcement of sanctions on North Korea. Trump will also threaten South Korean banks and companies and slap 25 percent auto tariffs on Korean car exports.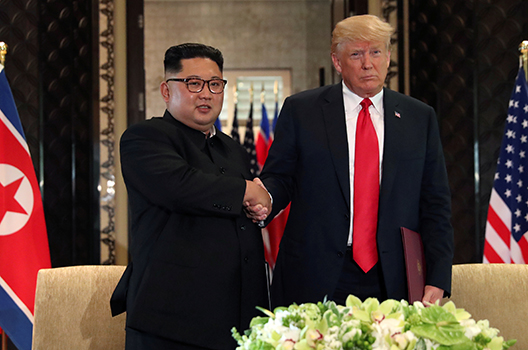 US President Donald J. Trump (right) and North Korean leader Kim Jong-un shook hands after signing an agreement at the end of their summit in Singapore on June 12. (Susan Walsh/Pool via Reuters)
5. Slowing global growth. The International Monetary Fund (IMF) expects slower growth as the lift the United States has received from tax cuts dissipates; Sino-US tariffs begin to bite; and Europe slows more.  An even more precipitous fall could happen if China's debt situation explodes, causing a severe downturn in Chinese growth. China's debt levels (total, corporate, national, provincial, local) are seen by many economists as unsustainable in view of the country's aging population and trade and potential investment decoupling from the United States.  A prolonged economic downturn could lead to political instability along with the flight of middle class money and highly skilled Chinese.
6. Middle East conflicts deepen. European efforts to salvage the Iran nuclear deal (the Joint Comprehensive Plan of Action or JCPOA) will probably fail with European businesses too scared of US sanctions to do business in Iran. The deal's collapse would strengthen Iranian hardliners. While 2019 might not be the year that a match is lit, a military confrontation between Saudi Arabia, Israel, and the United States on one side and Iran and its allies on the other looks increasingly likely over the medium term. Such a confrontation, which will not be containable, will push oil prices to unprecedented highs.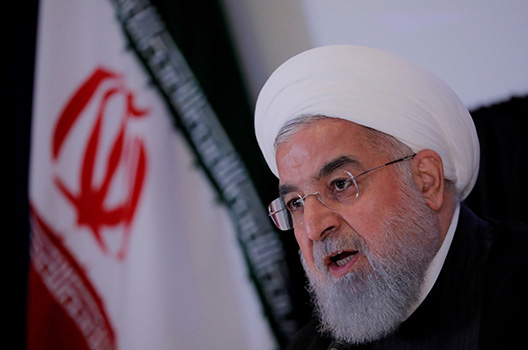 Iran's President Hassan Rouhani speaks at a news conference on the sidelines of the 73rd session of the United Nations General Assembly at U.N. headquarters in New York, U.S., September 26, 2018.
7. Migration crisis in Europe and Latin America. A new crisis in Libya could spark a wave of migration to Europe. In Latin America, Venezuela's collapsing economy and infrastructure is already triggering a wave of migration to Colombia, Brazil, Suriname, Trinidad and Tobago, and St. Vincent and the Grenadines. This migrant crisis has disrupted the economies and social order of Brazil and Colombia. The Organization of American States (OAS) could ask the United Nations Security Council for Chapter 7 mandate to take military action, declaring Caracas a threat to peace unless Venezuelan President Nicolás Maduro relinquishes power.  Trump will again fail to build his wall along the United States' southern border, but Democrats will go along with bolstering the border with more forces and technological surveillance.


Central American migrants walked along the highway near the border with Guatemala in Tapachula, Mexico, on October 21. They are attempting to reach the United States. (Reuters/Ueslei Marcelino)
8. Cyber crisis. Initial deployments of 5G/Internet of Things could spark a wave of cybercrime, ransomware, hacking of critical infrastructure, demonstrating the new vulnerabilities of smart grids and smart manufacturing. States with smart grids (California, Massachusetts, Texas) could suffer power outages. More data breaches at Facebook and Amazon could spark anti-trust legislation in Congress to break them apart.  WhatsApp, Instagram, and others would become independent firms. There could be calls for a "Manhattan Project" for cybersecurity, accelerating the development of Quantum encryption to ensure more cybersecurity and protection for 5G other networks from attacks.
9. Nuclear arms race. The Trump administration's decision to withdraw from the Intermediate-Range Nuclear Forces (INF) Treaty could be followed by its decision not to renew New START, which expires in February 2021. The United States will start to build low-yield, tactical nuclear weapons; modernize/expand its arsenal while China bolsters its sea-based and mobile-intercontinental ballistic missile (ICBM) arsenal. The United States, Russia, China, and India race to build and deploy hypersonic glide vehicles threatening second-strike capabilities. The nuclear Non-Proliferation Treaty (NPT) faces growing pressure in face of other non-nuclear signatories citing US and other nuclear powers' non-compliance with their commitment to Article VI to move toward disarmament. Saudi Arabia reaches a secret accord with Pakistan to quietly deploy a Pakistani nuclear brigade in Saudi Arabia with dual key control, which will be of use as the kingdom's confrontation with Iran grows.
10. Trump targets Japan. Trump presses Japan to spend more on defense and increase host nation support, demanding major agriculture and other concessions for a US-Japan free trade agreement (FTA). The United States imposes threatened 25 percent auto tariffs when Tokyo rejects Washington's terms for an FTA. US auto tariffs trigger political resistance in Japan [Japanese manufacturers produce more than four million vehicles annually in the United States, many for export] besides slowing economic growth in the United States and Japan and leading to job losses in both countries. Opinion polls would show an unprecedented drop in Japanese support for the US-Japan alliance and a rise in support for improving Japan's ties with China along with new support for right-wing nationalists' call for Japan to develop nuclear weapons.
Robert A. Manning is a resident senior fellow in the Atlantic Council's Scowcroft Center for Strategy and Security. Follow him on Twitter @Rmanning4.
Mathew J. Burrows is the director of the Atlantic Council's Foresight, Strategy, and Risks Initiative in the Scowcroft Center for Strategy and Security. Follow him on Twitter @matburrows.