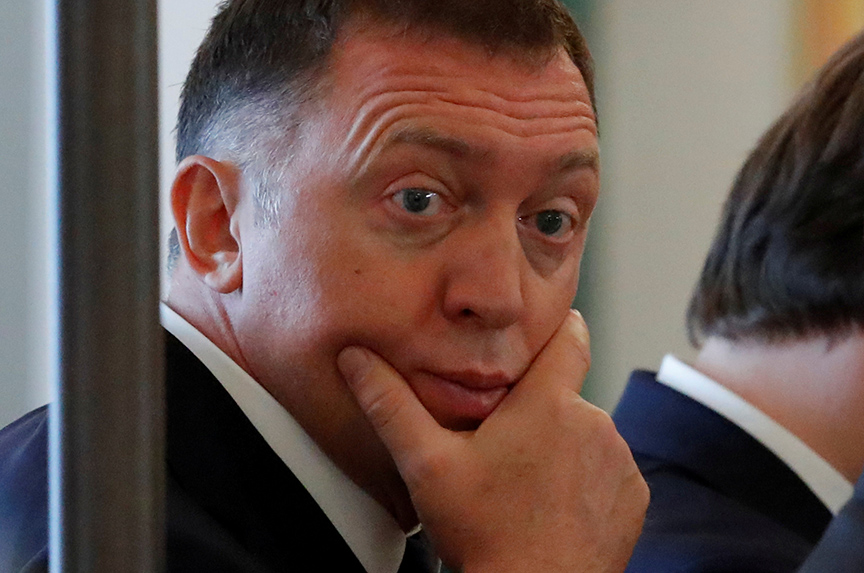 The US Treasury Department signaled on April 23 that the Russian aluminum giant, RUSAL, could have US sanctions lifted if the Kremlin-linked oligarch Oleg Deripaska divests his holdings in the firm.
The April 23 decision by Treasury's Office of Foreign Assets Control (OFAC) to extend the deadline for investors to exit RUSAL is neither surprising nor unusual given the firm's size.

A primary reason to grant an extended wind-down is an expectation, or at least a real possibility, that RUSAL could be removed from OFAC's Specially Designated Nationals and Blocked Persons (SDN) List following a divestment by Deripaska and his holding company, EN+. This would allow RUSAL to operate free and clear of US sanctions.
On April 6, the Trump administration designated RUSAL for being owned or controlled by Deripaska. RUSAL, the world's second-largest aluminum producer, has significant links to US and European supply chains, and is firmly integrated in metals trading markets; all ties that would be very complicated to unwind under the threat of US primary and secondary sanctions.
US Treasury Secretary Steven Mnuchin's April 23 statement that Deripaska, not RUSAL, was the primary target of the sanctions and that the company had petitioned for delisting, was notable.
Even with Mnuchin's comments previewing an eventual delisting, this is not likely to be a simple divestment matter.
The last time OFAC faced a similar disentanglement was in 2016 when it issued a wind-down general license for two Panamanian newspapers owned by Abdul Waked, who was designated for narcotics money laundering. That saga took more than a year to resolve to OFAC's satisfaction, and the general license in that case had to be renewed on several occasions.
RUSAL is a much larger and more complicated entity than the two Panamanian newspapers. OFAC may find more resistance to its typical stance of not allowing the designated target (Deripaska) to benefit from the sale of a blocked entity, and the geopolitical cloud surrounding Washington and Moscow will almost certainly make for a tougher divestment negotiation.
In the meantime, while RUSAL will be able to operate until there is a resolution one way or another on Deripaska's divestment, expect that its operations will be impaired. Its property in the United States will remain blocked, which reduces its asset base and will likely make Western banks hesitant to provide it with financing.
Additionally, Washington and Moscow will each calculate it has leverage over the other—respectively, blocking sanctions against one of Russia's largest enterprises and supply chain interruptions for some of the West's largest companies, which will complain bitterly if the general license expires—and likely force a certain amount of brinksmanship over any eventual deal.
This brinksmanship, similar to what happened in Panama, will cause enough uncertainty to roil markets and supply chains that must plan on longer-term horizons than six-month general license extensions with no fixed outcome.
So, buckle up. The next several months will almost certainly involve public acrimony by the parties directly involved here, as well as market participants seeking greater clarity. OFAC will try to get Deripaska to fully divest from RUSAL and is unlikely to look favorably upon many of the potential Russian buyers of his stake, including the Russian government, should it try to step in and nationalize the company.
What was also notable about OFAC's April 23 announcement was its timing—before 9 a.m. on a Monday.
OFAC typically takes its actions (designations, general licenses, etc.) during prime business hours in the United States (10 a.m.-3 p.m.) during the meat of work weak (Tuesday to Thursday). This is generally because Mondays are when financial institutions, the implementers of US sanctions, are digging out from the weekend's compiled transaction load, and Fridays make compliance more difficult (fewer personnel on site and longer turn-around for implementing list changes) and increase the chances that assets escape US jurisdiction.
The timing of the announcement suggests that the Trump administration was facing pressure, likely from US and European purchasers of RUSAL aluminum, and the metals exchanges themselves, to give an extension or face a situation where they would have to take irreversible or very costly steps to move away from RUSAL. That outcry, however, would not have been likely to spur this action absent a serious plan to divest Deripaska and fellow SDN Viktor Vekselberg, who also holds a stake in RUSAL, albeit a smaller one.
Moscow, meanwhile, will try to spin this to its benefit as much as possible, both from a public relations perspective challenging the legitimacy of US sanctions and from a business perspective encouraging US and European businesses to put pressure on Washington.
In the end, a deal can be reached, but the political sniping and sanctions taint, intervening uncertainty over RUSAL's status, and a probable push by the aluminum giant's customers to seek out more certain supply probably means it will emerge on the other end as a diminished enterprise.
Brian O'Toole is a nonresident senior fellow with the Atlantic Council's Global Business and Economics Program. He worked at the US Department of the Treasury from 2009 to 2017. During this period, he served as a senior adviser to the director of the Office of Foreign Assets Control (OFAC). Follow him on Twitter @brianoftoole.