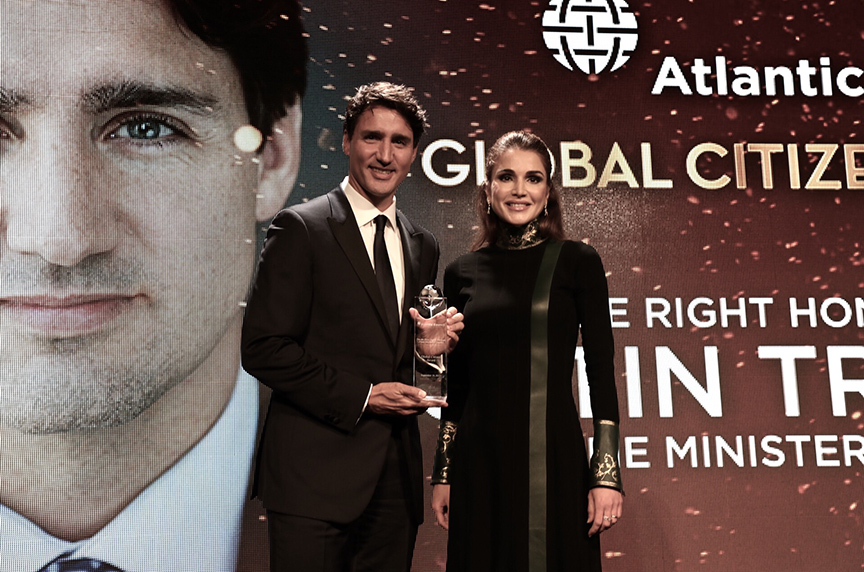 Canadian prime minister, South Korean president, pianist Lang Lang receive Atlantic Council's Global Citizen Award
Justin Trudeau, Canada's prime minister and the recipient of the Atlantic Council's 2017 Global Citizen Award, on September 19 delivered a passionate rallying cry to protect the alliances that have underpinned global security and prosperity since the end of World War II, warning that this decades-old global order is not cast in stone.
"Worldwide, the long-established international order is being tested," Trudeau said, noting that Russia's annexation of Crimea in 2014 and its subsequent encroachment in Ukraine marked the first major territorial seizure in Europe since World War II.
"This is not the time for retrenchment," said Trudeau. "This is a time for the Atlantic democracies to renew our commitment to universal standards of rights and liberty enforced through a multilateral rules-based order that has promoted peace and stability, and stood the test of time."

He specifically called for a renewed commitment to alliances such as NATO, the North American Aerospace Defense Command (NORAD), the United Nations, and the World Trade Organization.
Trudeau spoke after receiving the Atlantic Council's Global Citizen Award at a glittering reception at the Intrepid Sea, Air and Space Museum on the Hudson River in New York. South Korean President Moon Jae-in and Chinese pianist, educator, and philanthropist Lang Lang were also honored with the award.
While Jordan's Queen Rania Al-Abdullah introduced Trudeau, Christine Lagarde, managing director of the International Monetary Fund, introduced Moon, and World Economic Forum Founder and Executive Chairman, Klaus Schwab, introduced Lang Lang.
The Global Citizen Award celebrates contributions by individuals toward improving the state of the world. The award ceremony was held aboard the Intrepid, a decommissioned aircraft carrier that survived five kamikaze attacks and one torpedo strike during World War II and later served in the Vietnam War.
"We live in a time where global peace and security, free and fair trade, human rights and liberty have never been more intertwined or, in this post-war era, at greater risk and in greater need of our active, focused engagement," Trudeau said.
"Alliances that have underpinned global security and prosperity since 1945 are being put to the test and the urgency of the challenges we share in common—climate change and drought, income inequality, violent extremism, civil war and the mass migrations that result—continues to grow," he added.
Trudeau spelled out three pillars of global peace and security: the ability to project hard power when needed, free and fair trade, and the advancement of human rights, liberty, and tolerance.
'Working hard'
Canada is currently working with the United States and Mexico to renegotiate and modernize the North American Free Trade Agreement (NAFTA)—an agreement US President Donald J. Trump has threatened to terminate.
"We are working hard," said Trudeau of these negotiations, the third round of which will commence in Ottawa on September 23.
In these negotiations, Canada is advancing a progressive trade agenda that puts "gender equality, the rights of indigenous peoples, environmental protection and labor standards squarely at the heart of the discussion," the prime minister said.
"Progressive trade is not a frill. In addition to being the right thing to do, it is a practical necessity without which popular support for a growth agenda could not be maintained," he added.
Rania, who herself received the Global Citizen Award in 2013, described Trudeau as a leader who has transformed "compassion into action" and is "making change that better serves all of humanity."
Recalling the time when she and Trudeau jointly co-chaired a United Nations panel on Syrian refugees, Rania said: "In his words and his bearing, the world saw moral leadership and moral authority—two values so often lacking in these divisive and polarized times."
That moral leadership was on display in Trudeau's remarks at the Atlantic Council reception.
In a line that won him applause, the prime minister called for vigilance in "opposing the scourges of racism, sexism, homophobia, transphobia, ethnic and religious bigotry, neo-fascism, neo-Nazism, and the violent extremism of Daesh that confront us in 2017."
"We cannot waver. It would be unconscionable to take even one step back in upholding the standards of decency of the sisterhood and brotherhood of the human family that won the day in the most painful struggles of the last century," Trudeau said.
Noting that the global order "that our grandparents and parents built isn't cast in stone," Trudeau said that in order to preserve this order it is important to broaden the definition of a leader. "Let us be good leaders. Let us be the best leaders we can possibly be," he said.
Atlantic Council President and CEO Frederick Kempe and Adrienne Arsht, executive vice chair of the Atlantic Council's board of directors, opened the evening; Victor Chu, chairman of the Global Citizen Awards, in his remarks noted that the honorees' "unique contributions take on outsized importance in face of a host of global challenges and threats at a critical moment in history."
Moon's quest for peace
Introducing Moon, Lagarde, who received the Global Citizen Award in 2011, noted that South Korea sits in a "fairly difficult neighborhood."
That is an understatement as how to deal with a belligerent North Korea tops the agenda this week as world leaders gather in New York for the United Nations General Assembly session.
North Korean leader Kim Jong-un has steadily ratcheted up tensions on the Korean Peninsula with intercontinental ballistic missile (ICMB) launches over Japan, a US ally; a threat to strike the US territory of Guam; and the successful test of a powerful nuclear device.
In his first address to the United Nations on September 19, Trump threatened to "totally destroy North Korea." Moon, on the other hand, would prefer to renew peace efforts with North Korea.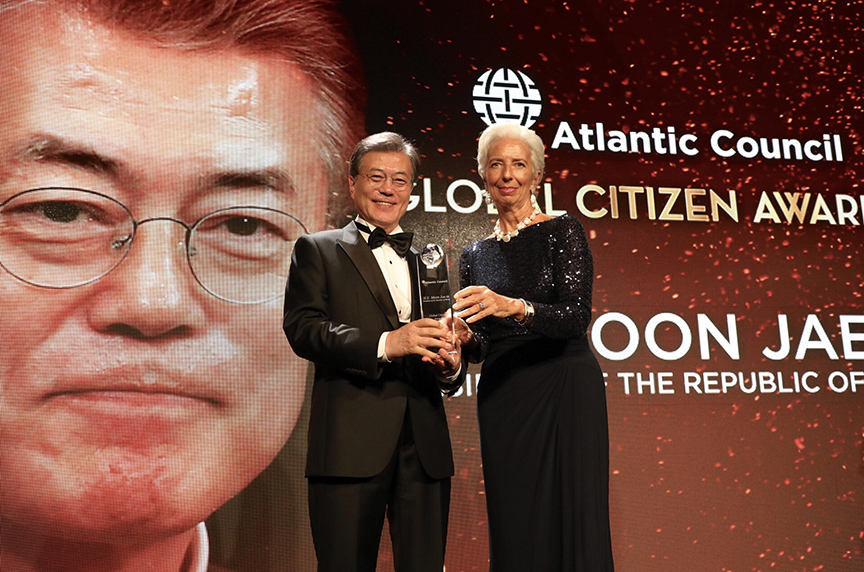 South Korean President Moon Jae-in received the Atlantic Council's Global Citizen Award from International Monetary Fund Managing Director Christine Lagarde. (ImageLink)
In his acceptance speech, Moon reaffirmed his desire to "accomplish peace on the Korean Peninsula for the sake of world peace."
"I am confident that after realizing peace on the Korean Peninsula, there will be a time when we can talk about the history of peace achieved by the Republic of Korea," he said.
Lagarde paid tribute to Moon's strength and courage to push South Korea "to be a better place, often at great personal expense."
"To lead a great society such as Korea takes both strength and courage. And perhaps now more than ever, it takes a global citizen," said Lagarde.
Moon dedicated his award to the South Korean people and said he hoped it came with global encouragement for him to pursue his push for peace.
"Now the new Republic of Korea will move toward economic democracy and peace," he said. "The people of the Republic of Korea and I are in the process of making a new paradigm of economic democracy called 'the people-centered economy.' I am confident that the Republic of Korea, having contributed a new chapter in the history of world democracy, is also capable of presenting a solution for low-growth and economic polarization, which is a global concern," he added.
Moon, a former labor and human rights lawyer, was elected president in May in elections called after thousands of South Koreans took part in candlelight protests against President Park Geun-hye, who was eventually impeached over a corruption scandal.
Moon contended that he is a president born out of the candlelight revolution. "Through candlelight revolution and in accordance with constitutional procedures, the Korean people unseated a president who had betrayed their trust. The will of the people was fulfilled in the most peaceful and admirable of ways," he said.
"On their own strength, the Korean people reclaimed from dictatorial rule their right to directly elect the president. And on their own strength, they exercised their right to hold such a president accountable for wrongdoing through impeachment," he added.
More than seventeen million people participated in the candlelight rallies over several months. "The rallies went on like peaceful and civilized festivals. They showed that the power of peace, not violence, could change the world," Moon said.
Music a 'universal language'
In his acceptance speech, Lang Lang described music as a "universal language."
Music "opens doors, it inspires, connects hearts and peoples," he said. In 2008, the pianist established the Lang Lang International Music Foundation to spread the power and magic of music.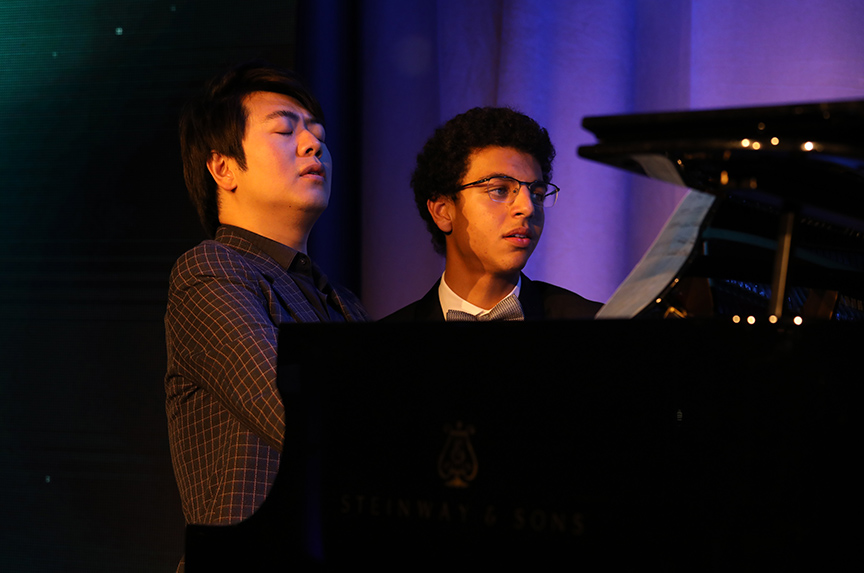 Acclaimed pianist Lang Lang (left) was joined in a recital by his protégé, Amir Siraj. (ImageLink)
Introducing Lang Lang, Schwab expressed admiration for what the thirty-five-year-old pianist has already achieved in his life. Schwab, who is also a former recipient of the Global Citizenship Award, paid tribute to the pianist's respect for human dignity and diversity, and his service to the community.
Lang Lang closed the evening with a spell-binding piano recital alongside his protégé Amir Siraj.
Ashish Kumar Sen is deputy director of communications at the Atlantic Council. Follow him on Twitter @AshishSen.