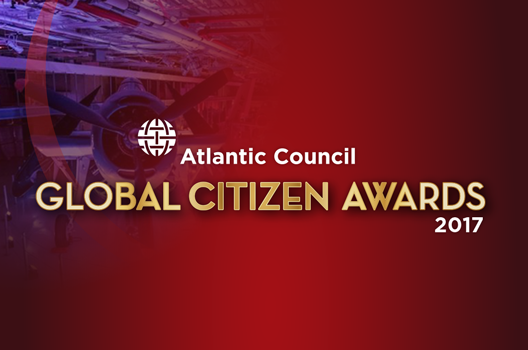 Canadian Prime Minister Justin Trudeau, South Korean President Moon Jae-in, and Chinese pianist, educator, and philanthropist Lang Lang will be honored at the Atlantic Council's eighth annual Global Citizen Awards reception in New York on September 19.
The Global Citizen Award celebrates contributions by individuals toward improving the state of the world.

Moon is being recognized for his "life-long dedication to the advocacy of human rights and democracy through his achievements as a human rights lawyer, and his efforts to defuse tensions with North Korea and contribute to regional stability," according to the Atlantic Council.
In New York, Moon will also take part in the United Nations General Assembly session, where North Korea will top the agenda for world leaders. In his first address to the United Nations on September 19, US President Donald J. Trump threatened to "totally destroy North Korea."
Moon, on the other hand, would prefer to renew peace efforts with North Korea, but has acknowledged that the timing for doing that is not quite right.
Over the past few months, North Korean leader Kim Jong-un has twice launched intercontinental ballistic missiles (ICMB) over Japan, a US ally; threatened to strike the US territory of Guam; and tested a powerful nuclear device.
Despite his busy schedule, The Korea Herald reported that Moon's presence at the Atlantic Council's awards dinner is a notable part of his itinerary. International Monetary Fund Managing Director Christine Lagarde will introduce Moon at the reception.
Trudeau will be honored "for his visionary leadership, which he exemplifies through his respect for universal freedom, diversity, and prosperity, and his promotion of open trade and open borders," according to the Atlantic Council.
Trudeau has earned praise for his welcoming stance toward refugees fleeing wars raging halfway across the world.
The National Post noted that the Atlantic Council's reception will be Trudeau's first stop in New York. The Canadian prime minister will be introduced by Jordan's Queen Rania Al Abdullah, herself a former recipient of the award.
Lang Lang will be honored for his "astounding artistic career, but also his philanthropic work to build bridges between eastern and western cultures and promote musical education for children," the Atlantic Council said.
Klaus Schwab, executive chairman of the World Economic Forum, will present Lang Lang with his award.
An audience of around 500 global government, business, and civil society leaders will attend the Global Citizen Awards reception.
Past recipients of the award include Japanese Prime Minister Shinzo Abe, Italian Prime Minister Matteo Renzi, American musician and composer Wynton Marsalis, Colombian President Juan Manuel Santos, former US Secretary of State and National Security Advisor Henry Kissinger, European Central Bank President Mario Draghi, and Maestro Yu Long, Music Director of the China Philharmonic.