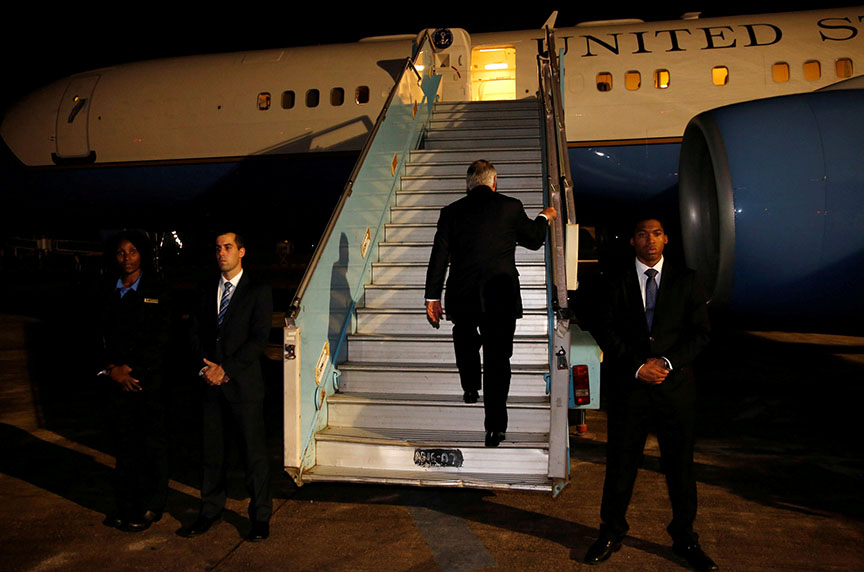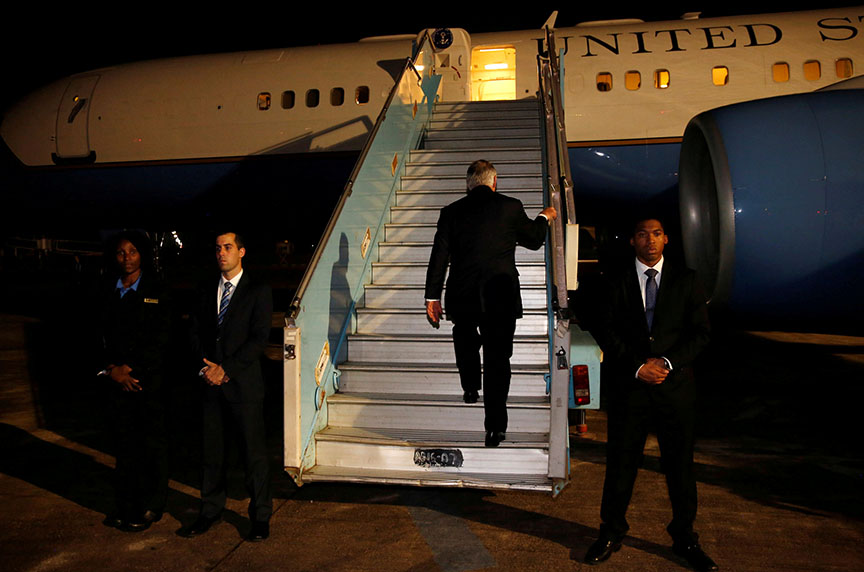 Rex Tillerson is out and Mike Pompeo is in.
On March 13, US President Donald J. Trump fired Secretary of State Rex Tillerson after a little more than a year on the job. Trump announced in a tweet that he is nominating Central Intelligence Agency (CIA) Director Mike Pompeo as Tillerson's replacement. The position requires Senate confirmation.

Trump and Tillerson have shared a rocky relationship. The disconnect between the White House and the State Department was on display last week when Tillerson was caught off guard by Trump's decision to meet North Korean leader Kim Jong-un. Tillerson, who was traveling in Africa at the time, had earlier told reporters that talks with the North Koreans were a long way off.

Atlantic Council board members and analysts offer their reaction to the news and take on what comes next:
Michael Morell, Atlantic Council board member and former acting director of the Central Intelligence Agency:
"Mike Pompeo will be an excellent secretary of state. He will represent the president well with both our allies and our adversaries, he will have the ear of the president in policy discussions, he will fight for resources for his department, and he will rely on the career professionals there."
Zalmay Khalilzad, Atlantic Council board member and former US ambassador to Iraq, Afghanistan, and the United Nations.
"Mike Pompeo is a good choice. Based on his performance in the CIA, the president has confidence in him. He will be authoritative. When he speaks, the world will know that he speaks for the president. For the secretary of state to be effective, this perception is vital.
"He certainly has been effective as the CIA director. He is popular with the folks in Langley. He is likely to be accessible to the diplomats at Foggy Bottom and morale there and in US embassies around the world is likely to improve."
Amir Handjani, Atlantic Council board member and senior fellow in the Council's South Asia Center.

"Secretary Tillerson was a seasoned professional who came from the pragmatic, realist school of foreign policy of the Republican Party to which James Baker and Robert Gates belong. This wing of the Trump administration has been under attack by the nationalist/nativist wing that seems more in line with President Trump's instincts.
"For some time, Secretary Tillerson was a minister without a portfolio. Having disagreed with President Trump on a whole host of issues from the Paris climate accord, Russian interference in Western elections, the decision to move the US embassy to Jerusalem, the Iran nuclear deal, and how to negotiate with North Korea, it simply became impractical for Secretary Tillerson to serve a president who didn't support most of his diplomatic initiatives and would continuously lambaste him on Twitter.
"CIA Director Pompeo's views are much closer to the president on many of the issues that Secretary Tillerson and the president could not see eye to eye on. This may mean a much more confrontational approach with issues in the Middle East involving Iran and Syria.
"It remains to be seen though if President Trump and Director Pompeo see the threat from Russia the same way. Director Pompeo, in the past, has been willing to call Russia out for its interference in the US and European elections, something President Trump has been loath to do. Expect a period of continuous uncertainty and turbulence in American foreign policy."
Daniel Fried, distinguished fellow in the Atlantic Council's Future Europe Initiative and Eurasia Center. He served for forty years in the Foreign Service until his retirement in early 2017.
"Secretary Tillerson's closed management style made him an ill-fitted secretary. Agreeing to massive budget cuts damaged his organization and therefore the United States, to little good purpose. But Secretary Tillerson's policy judgments seemed consistent and sound. Whether we miss him depends on the actions of his successor!"
Frederic C. Hof, director of the Atlantic Council's Rafik Hariri Center for the Middle East.
"Although Mr. Tillerson's stewardship of the State Department has attracted many negative reviews, the working relationship he was able to cultivate with Secretary of Defense James Mattis was perhaps the strongest pillar in the Trump administration's foreign policy and national security structure.
"Secretary of State-designate Mike Pompeo will bring to the department the confidence of the commander-in-chief and presumably the authority to reverse the hemorrhaging of essential State personnel.
"The State Department is neither a jobs program nor an organization that should be exempted from significant reconfiguration. But for the national security interagency system to produce viable, implementable options for the president's consideration, senior positions in the department must be filled with experienced, competent personnel in an expedited manner.
"As matters now stand, all too often the wiring between the National Security Council staff and the Department of State is loose or totally unconnected at key junctions. Bonding at the top is important and, ideally, will continue. But the Trump presidency should not run its course without the benefit of a fully functioning national security apparatus."

Alexander Vershbow, distinguished fellow, Atlantic Council's Brent Scowcroft Center for Strategy and Security. He served as the US ambassador to South Korea from 2005-2008.
"This change is not unexpected, but it comes at an especially awkward moment, with just two months to prepare for the high-stakes summit meeting between President Trump and Kim Jong-un, and with the administration lacking a senior brain trust on North Korean issues.
"That said, it was evident for some time that Tillerson and the president were not on the same page on many issues, and Pompeo may be more successful in convincing the president to set realistic goals for the summit.
"When it comes to improving management and morale at the State Department, there is nowhere to go but up from Tillerson's disastrous performance."
Robert A. Manning, a resident senior fellow in the Atlantic Council's Scowcroft Center for Strategy and Security:
"Tillerson's firing comes at a moment of volatility on both strategic and economic fronts. Tillerson has been a calm and steady voice, especially on North Korea and the Middle East, though often contradicted by presidential tweets.
"His departure, coming on the heels of [Trump's economic adviser] Gary Cohn leaving the White House, suggests he may have been more of traditional Republican internationalist than Trump wanted.
"I suspect Pompeo may be a more loyal trade warrior. Trump will soon unleash a Sec. 301 set of penalties on China for its intellectual property theft and techno-nationalism that will make the steel tariffs pale in comparison. That may have been a factor [in Tillerson's firing].
"Pompeo has been more alarmist and a bit more hawkish on North Korea than Tillerson, so in regard to the path ahead, the Trump-Kim Jong-un summit and beyond, it may presage a more rocky road.
"More broadly, I think Pompeo fits more comfortably into the Trump time warp, where it is 1956 and the United States can issue diktats and expect all to respond accordingly—rather than the real world, where the United States is more the first among equals, and adroit diplomacy to forge coalitions of the like-minded is needed to succeed."
Jamie Metzl, nonresident senior fellow in the Atlantic Council's Scowcroft Center for Strategy and Security.

"The Trump administration is a bewildering blizzard of personnel changes, policy shifts, seemingly random improvisation, internal conflict, strategic incoherence, and overall dysfunction.
"Having a secretary of state like Rex Tillerson who was so far out of the loop certainly didn't help. Tillerson did little to promote the application of diplomacy for addressing America's greatest foreign policy challenges and his 'leadership' was a morale killer at the State Department.
"It's hard to imagine Mike Pompeo doing a worse job, unless he becomes an unquestioning yes-man for President Trump's dangerous improvisation."
Matthew Kroenig, nonresident senior fellow in the Atlantic Council's Brent Scowcroft Center for Strategy and Security.
"Pompeo is an excellent choice for secretary of state. To be effective, a secretary of state must have a good relationship with the president and understand that this is a political, as well as a diplomatic, role. Pompeo checks both boxes.
"Many are speculating on what this appointment means for the Iran nuclear deal, but the Trump administration's current approach has already been heavily influenced by Trump and Pompeo's skepticism and I don't expect the strategy to change drastically based on this appointment. Essentially, the administration's approach is stay in the deal if its flaws can be addressed and, if not, to walk away."
"Fixing the deal would mean extending the expiration dates for the limits on Iran's nuclear activities and also placing caps on Iran's ballistic missile program. Contrary to popular perception, European governments are already working with the Trump administration to begin plugging these holes in the deal. We will see how much progress they can make before May 12, which is the next time Trump will be required to renew sanctions waivers on Iran."
Ashish Kumar Sen is deputy director of communications, editorial, at the Atlantic Council. Follow him on Twitter @AshishSen.