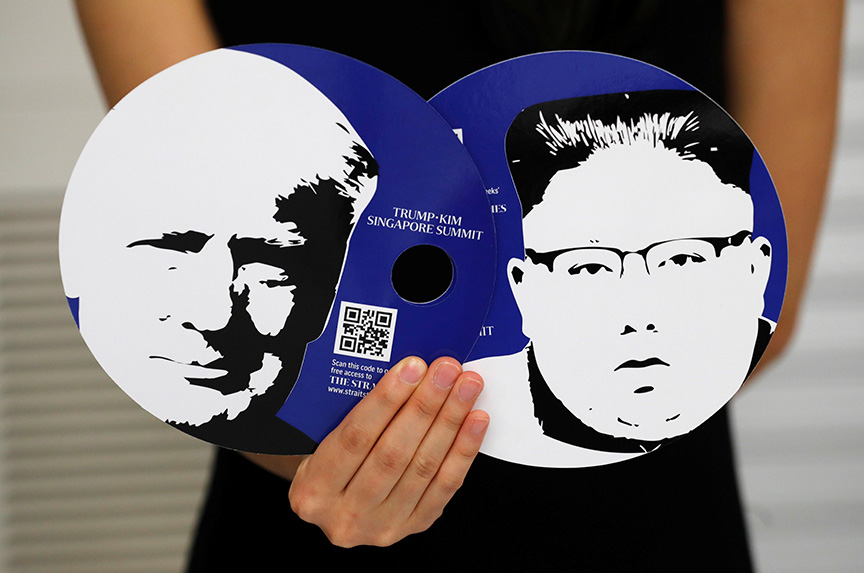 Even if US President Donald J. Trump and North Korean leader Kim Jong-un fail to achieve a breakthrough in their highly-anticipated summit in Singapore on June 12—Trump administration officials have been privately ratcheting down expectations—the summit in and of itself will be historic. It will be the first time that a sitting US president has met the leader of North Korea. The meeting provides an important opportunity to make headway on a protracted nonproliferation challenge.
Trump has held out the possibility of a White House invitation for Kim if the summit goes well.
However, given the unpredictability of both Trump and Kim, expect the unexpected.

Here is a look at some of the issues that will be discussed in the days ahead.
What is CVID?
For years, the United States has set complete, verifiable, irreversible denuclearization, or CVID, as its goal for North Korea's nuclear program.

Is CVID a realistic goal?
Robert A. Manning, a senior fellow in the Atlantic Council's Scowcroft Center for Security and Strategy, thinks the term itself is unrealistic. "First of all, nothing, except death, is irreversible," he said. "Unless you ban physics textbooks in North Korea that knowledge will exist."
"In terms of 'complete' and 'verifiable,' we don't know how many nuclear weapons they have or where they all are. We don't know what mountains and tunnels they've hidden their ballistic missiles in. We don't know how many HEU [highly enriched uranium] facilities they have or where they all are," said Manning.
"So, even if you have the most intrusive, anytime-anywhere IAEA [International Atomic Energy Agency] inspections regime we have to get lucky to have 100 percent certainty," he said. "The real question is how much risk can you live with?"
To be fair to the Trump administration, Manning added, this is why it has focused on frontloading the process, for example, having North Korea ship out a few warheads in the first ninety days as a demonstration of its seriousness.
How about a peace treaty?
Active conflict in the Korean War lasted from 1950-53. More than 33,000 US troops were killed in the war, which ended in a stalemate. North Korea, the United States, and China signed an armistice in 1953. South Korea refused to do so.
The armistice was intended to serve as a ceasefire until a "final peaceful settlement" was reached. A peace treaty was never signed, which means that the two Koreas are technically still at war.
At their historic April 27 summit, Kim and South Korean President Moon Jae-in pledged to end hostilities between their countries and work toward the "complete denuclearization" of the Korean Peninsula.

Manning is all for a peace treaty, but he said it must reflect peace. A peace treaty has to involve China and the United States as signatories to the armistice and ought to reflect a reduction in military armaments and tensions, he said.

Would a peace treaty make it harder for the United States to reapply military pressure if the Trump-Kim summit fails or enforce sanctions?

Manning said it is "delusional" for the Trump administration to say sanctions will not be lifted unless North Korea takes verifiable steps toward denuclearization. China, for example, has already reinstated flights to Pyongyang. "The toothpaste is already out of the tube," he said pointing to a warming in inter-Korean ties.

The Trump administration is making a mistake by turning the issue into a bilateral—US-North Korea—one, said Manning. "By cutting everybody out, we have everyone running around trying to define their own roles and I suspect we will not like it," he said. Kim has met Chinese President Xi Jinping, South Korean President Moon Jae-in, and Russian Foreign Minister Sergei Lavrov.
"We don't want China and South Korea running off and doing things that are not proportionate to the degree of denuclearization," said Manning. "You want that to all be sequenced and for that you need a coordinated approach."
What does that mean for Trump's "maximum pressure" strategy?
"It will be extremely difficult if not impossible to reinstate it if things go wrong," said Manning. "If the Chinese and South Koreans think North Korea is sincere and we are asking for too much they may blame us for failure."
What is the best-case scenario?

A best-case scenario, according to Manning, would be an agreement from North Korea on dismantling its nuclear weapons according to a rough timetable and some indication about the follow-up process.

What is the worst-case scenario?

"No matter what happens the summit will be declared a success," said Manning. "The question is whether it unravels three weeks from now or three months from now. There has been no indication of what, if any, process there is to implement the commitments."

Who is the better deal maker?
Manning said he wouldn't bet against the North Koreans. North Korea's chief nuclear negotiator, Kim Gye-gwan, "has been doing this for twenty-five years."
"He knows how to play the United States. He knows what the tricks are, how to use artfully ambiguous language, and how to reinterpret and renegotiate commitments," he said.
"Trump claims that he is the master dealmaker but I am still waiting for a deal. He has been much more successful as demolition man," he added.

Ashish Kumar Sen is deputy director of communications, editorial, at the Atlantic Council. Follow him on Twitter @AshishSen.