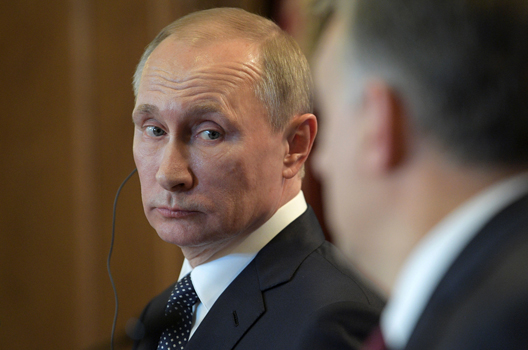 US President Donald J. Trump needs to take a strong stance against Russian aggression in order to protect US national security interests, according to an Atlantic Council expert.
"This is very dangerous for the United States to show such weakness in the face of Kremlin aggression," said John E. Herbst, director of the Atlantic Council's Eurasia Center, on February 9.
"I hope that the president and those around him recognize that these policies are policies of weakness, and America cannot be great if it's not able to defend its principles as well as its interests," he added.

The White House has offered no condemnation for the most recent incidents in Russian President Vladimir Putin's authoritarian rule, including the suspected poisoning of opposition leader Vladimir Kara-Murza and the arrest of another activist, Alexei Navalny. Thus far, said Herbst, Trump's lenient approach toward Russia does not square with his self-proclaimed position as a man of strength. He said that "a sign of strength would be an ability to criticize Russia for [its aggression] and still to talk to them, still to negotiate with them."

Herbst, a former US ambassador to Ukraine, joined Alina Polyakova, deputy director of the Eurasia Center and senior fellow with the Atlantic Council's Future of Europe Initiative, for a Facebook Live discussion to examine the significance of a US response to Russian aggression.
Not only is this a morally compelling issue, but a strong US stance against a revanchist Russia is in the United States' national security interest, said Polyakova, citing Ukraine as a particular example.
"The series of crises we've been seeing from Russia… are all part of a pattern to weaken NATO, to weaken the [European Union], and to weaken the relationship between the United States and Europe," Herbst said. "If we let Mr. Putin get his way in Ukraine… he may create problems for us elsewhere, where we have a commitment to defend a country," he added.
On February 9, retired Gen. Philip Breedlove, a former NATO Supreme Allied Commander Europe, testified before the Senate Foreign Relations Committee, saying: "Everything Russia does is connected." According to Polyakova, Breedlove's testimony speaks to the idea that "the Kremlin's policy in Ukraine is not just an isolated incident; it's part of a broader pattern where Russia under Putin has tried to broaden its sphere of influence."
Rachel Ansley is an editorial assistant at the Atlantic Council.