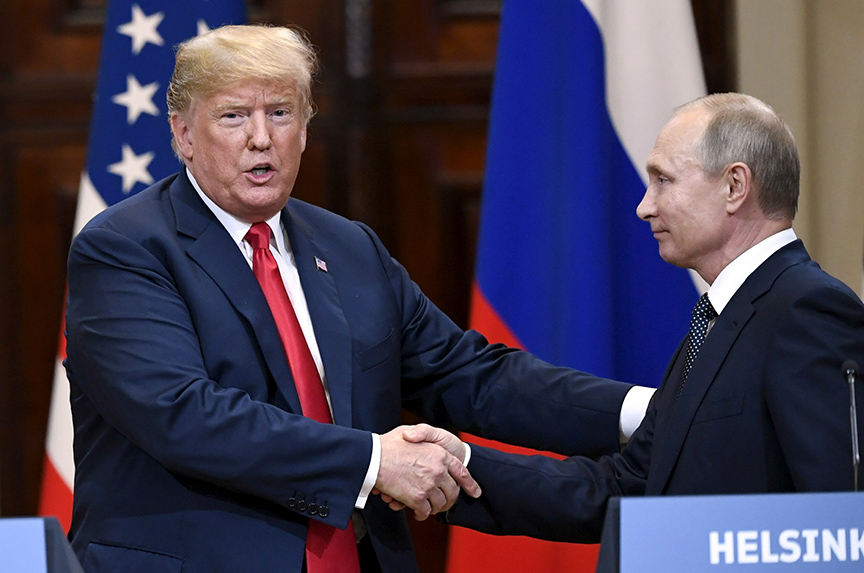 Just in the past few months, US President Donald J. Trump has blown up the G7 summit in Canada, berated the United States' NATO allies, criticized British Prime Minister Theresa May on her handling of Brexit, described Germany as a "captive" of Russia, characterized the European Union as a "foe," and directed the Pentagon to review the cost of withdrawing US troops from Europe.
In sharp contrast to remarks directed at US friends and allies, Trump has been reluctant to criticize Russian President Vladimir Putin whom he has described as "fine." Acting against the advice of his advisers, Trump went so far as to congratulate the Russian president on his victory in an election widely viewed as unfair. He even suggested that Russia be invited back to a G8—a grouping Russia was expelled from after it annexed Crimea in 2014. On July 16, Trump will meet Putin in Helsinki for the leaders' first summit. The rest of the world will be watching anxiously.

Ukraine, Syria, and the broader Middle East will be part of the agenda when the two presidents meet.
"Despite likely agreement between Trump and Putin to cooperate on Ukraine, Syria, and North Korea, Trump will come home from Helsinki with real obstacles to improving US-Russian ties," Mark Simakovsky, a nonresident senior fellow in the Atlantic Council's Eurasia Center, writes in the New Atlanticist.
Crimea
As he seeks to build a relationship with Putin, Trump has been reluctant to criticize Russia's annexation of Crimea from Ukraine in March of 2014. Instead, he has blamed his predecessor, Barack Obama, on whose watch Crimea was annexed and claimed that Russia would not have acted the way it did had he been president.
In his press conference before departing Brussels on July 12, Trump was asked whether he recognizes Crimea as part of Russia. "What will happen with Crimea from this point on? That I can't tell you, but I'm not happy about Crimea," Trump said. On June 29, Trump told reporters that "we are going to have to see" if Crimea should be part of Russia.
Ukrainian President Petro Poroshenko said at NATO Engages, a two-day event jointly hosted by the Atlantic Council on the sidelines of the NATO Summit in Brussels on July 11 and 12, that he trusts Ukraine will be on the agenda when Trump meets Putin.
Even if that is the case, Alexander Vershbow, a distinguished fellow with the Atlantic Council's Scowcroft Center for Strategy and Security and a former US ambassador to Russia, told the New Yorker: "There's no evidence that Putin is willing to deal seriously on eastern Ukraine."
Russian meddling
Simakovsky writes that "fundamental differences" remain between the United States and Russia on "Syria, Ukraine, and—most importantly—Russia's interference in the US democratic process."
In a joint press conference with May at the prime minister's country home, Chequers, on July 13, Trump told reporters he "will absolutely bring up [Russian] 'meddling'" in the US elections when he meets Putin. "I will absolutely firmly ask the question. And, hopefully, we'll have a very good relationship with Russia," the US president said.
Trump has refused to back the assessment of the US intelligence community that Russia meddled in the 2016 presidential election, and has said he takes Putin for his word when the Russian leader denies meddling. On the same day that he met May, Trump's own Justice Department indicted twelve Russian intelligence agents for hacking the Democratic National Committee and Trump's Democratic presidential rival Hillary Clinton.
Preparedness
Then there is the question of preparedness.
Putin, a former KGB agent, is well known for his exhaustive preparation ahead of summits. Trump, on the other hand, prefers to go by his gut.
"There's something about Putin, with his macho image and the imperial trappings that he has built up in the eighteen years since he came to power that appeals to Trump, and his own self-image," Vershbow told the New York Times.
Putin, Vershbow predicted, "is ready to lure him into many different traps."
Predictably unpredictable
Trump and Putin will hold a one-on-one meeting with only an interpreter present in the room.
"We should expect to be taken off guard," John Herbst, director of the Atlantic Council's Eurasia Center and a former US ambassador to Ukraine, told Ukraine Alert's Melinda Haring.
"I think he will say something that will surprise most of us when he sees Putin," Herbst said.
But Trump will face pushback from Congress if he tries to be too nice to Putin. Ahead of the NATO Summit in Brussels on July 11 and 12, both the US Senate as well as the US House of Representatives expressed their support for NATO. This came even as Trump excoriated allies over defense spending and threatened to withdraw the United States from the transatlantic defense alliance.
Most important, on the US sanctions that have been slapped on Russia, Edward Fishman, a nonresident senior fellow with the Atlantic Council's Eurasia Center, told Ukraine Alert, "Trump does not have the power to unilaterally roll back sanctions."
When words don't match action
Brian O'Toole, a nonresident senior fellow with the Atlantic Council's Global Business and Economics Program, writes in the New Atlanticist that the Trump administration has been tougher on Russia than it is sometimes given credit for. It has, for example, "levied several rounds of increasingly severe sanctions, culminating in the April 6 decision to designate, among others, Russian oligarchs Oleg Deripaska and Viktor Vekselberg," O'Toole writes.
"On the other hand, is the president," he adds, noting Trump's favorable opinion of Putin.
"The Trump-Putin summit carries significantly more risk," than Trump's meeting with North Korean leader Kim Jong-un in June—a meeting that now appears to have delivered significantly less than the US president claimed at the time.
"An unclear policy objective, coupled with the clear disconnect in the administration's Russia policy, could lead to the summit causing significantly more harm than good," writes O'Toole.
Simakovsky writes: "Congressional skepticism of Trump's approach to Russia and continued congressionally mandated sanctions, along with the ongoing Mueller investigation of his campaign's ties to Russia, will ultimately hinder any bold initiatives agreed to between Trump and Putin at the summit."
"That said, the negative optics of a meeting and its negative impact on transatlantic ties, already frayed by a president interested in attacking, rather than working with NATO allies, may be the biggest cost of a US-Russia summit this summer," he added.
O'Toole contends that the Helsinki summit could, if handled correctly, "set a strong framework to support efforts by [US Special Representative for Ukraine Negotiations Kurt] Volker to achieve a settlement in Ukraine's Donbas region, set expectations for better Russian cyber behavior, explore de-escalation of the hideous violence in Syria, and defend the integrity of the US electoral process."
But, he adds: "These goals are more difficult to achieve given how far apart the president is from his advisers on Russia."
Daniel Fried, a distinguished fellow in the Atlantic Council's Future Europe Initiative and Eurasia Center, crafted US sanctions against Russia as the State Department's coordinator for sanctions policy.
In a New Atlanticist blog post, Fried writes: "The potential dangers of a meeting between Trump and Putin are thus clear: the US president may be overly focused on immediate media reaction and overestimate the power of personal chemistry, both in general and in particular with Putin."
"The Trump administration may have a declaratory Russia strategy, but the president does not seem capable of adhering to it," he added.
"In short, hang on for another bumpy ride," Fried warned.
Ashish Kumar Sen is deputy director of communications, editorial, at the Atlantic Council. Follow him on Twitter @AshishSen.