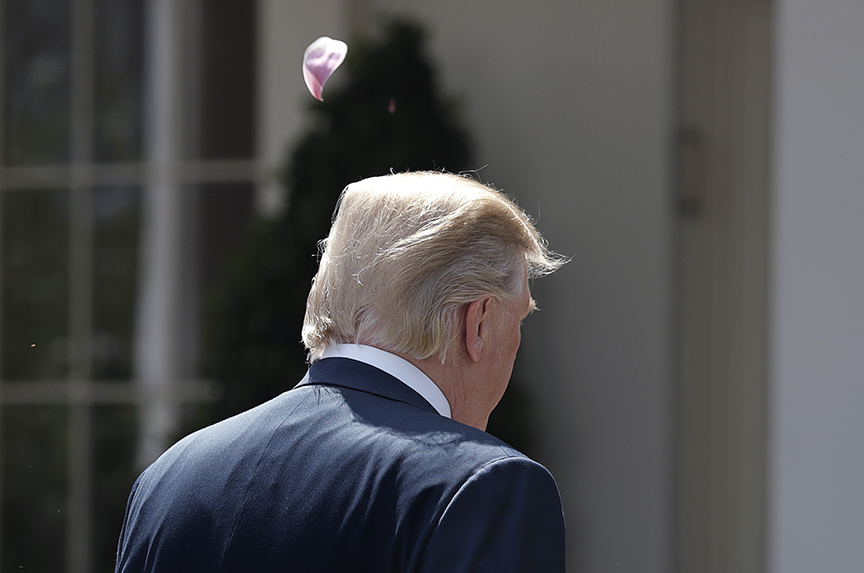 On January 23, 2017, his first full business day as president, Donald J. Trump pulled the United States out of the Trans-Pacific Partnership (TPP).
A little more than a year later, on April 12, 2018, Republican lawmakers said Trump had instructed his staff to look into rejoining the multilateral trade agreement with eleven other Asia-Pacific nations.

The TPP, initiated by Trump's predecessor, Barack Obama, was viewed as a pillar of US commitment to Asia. It was also seen by the Obama administration as a way to put the United States in the driver's seat when writing the rules of global trade. Chinese officials saw the agreement as a way to contain China's rise.
On the campaign trail, Trump called the TPP "a potential disaster for our country."
The TPP includes Canada, Mexico, Peru, Chile, Japan, Vietnam, Brunei, Malaysia, Singapore, Australia, and New Zealand. These countries signed the TPP, without the United States, in March.
Trump's purported change of heart comes at a time when the United States and China are engaged in a tit-for-tat tariff war.
On April 2, China imposed tariffs on about $3 billion worth of US imports, including pork, fruit, nuts, and steel pipes.
This move is China's retaliation for Trump's decision to impose tariffs on imported steel and aluminum. While Argentina, Australia, Brazil, Canada, the European Union, Mexico, and South Korea were exempted from those US tariffs, China was pointedly not.
Atlantic Council analysts commented on Trump's purported change of heart on the TPP. This is what they had to say:
Jason Marczak, director of the Atlantic Council's Adrienne Arsht Latin America Center:

"The TPP was always intended to solidify the US pivot to Asia and to take critical US alliances in Asia and the Americas to the next level. Pulling out of TPP was a strategic error; getting back in would be a strategic win. But reentering what's now the TPP-11 is not so easy. A revised agreement that stripped out key, but controversial, US demands was signed one month ago. And while the TPP countries want the United States in, don't expect them to revise an agreement while it's currently pending ratification."
Robert A. Manning, a senior fellow in the Atlantic Council's Scowcroft Center for Strategy and Security:
"Trump's latest flirtation with rejoining TPP, tasking his top economic advisers to 'study' it, appears more serious than previous one-off comments.
"Trump's anti-globalism has been mugged by reality: No one wants to do bilateral trade deals with the United States, and Trump had no Plan B. I think [the Trump administration was] a bit shocked that Japanese Prime Minister [Shinzo] Abe succeeded in implementing CPTPP [Comprehensive Partnership for TPP) without the United States.
"The Trump administration is slowly learning that 1) 88 percent of the world economy is not the United States; and 2) global supply chains have come to dominate production not because do-gooders wanted to be global, but because it was the most efficient way to manufacture things.
"Abe structured the agreement in the hope of a US return—twenty-two provisions, most things the United States demanded, are suspended. If the United States wants to accede to CPTPP on the terms it had negotiated, it would be very easy. If Trump decides to make new demands for changing CPTPP, it will be very difficult.
"You can't have it both ways—cutting a deal, reneging on it, and then after other partners go forward, demand changes. In the meantime, CPTPP members have better market access to each other and the same access to US markets as before. But the United States, especially US farmers and e-commerce firms, have lost out. Most farm exports to CPTPP nations that would have come from the United States now come from Australia."
Ashish Kumar Sen is deputy director of communications at the Atlantic Council. Follow him on Twitter @AshishSen.