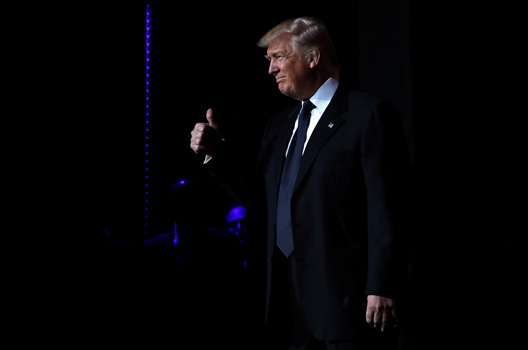 A closer look at some of Donald Trump's foreign policy positions
US President-elect Donald Trump's comments about NATO, the European Union (EU), and Russia have rattled US allies as they look for indicators as to how the United States will engage with the international community and establish its role in the world.
On January 16, Trump gave an interview to The Times of London and the German newspaper Bild in which he discussed his opinions on a variety of global challenges. As the inauguration nears, Trump's statements have been taken as indicators of the direction of the new administration's foreign policy. Atlantic Council experts weigh in on the president-elect's comments and discuss their significance.

What Trump said on NATO: "I took such heat, when I said NATO was obsolete. It's obsolete because it wasn't taking care of terror. I took a lot of heat for two days. And then they started saying Trump is right… With that being said, NATO is very important to me."
What our analysts say: While Trump's description of NATO as obsolete has caused a great deal of "angst" amongst US allies in Europe, Ian Brzezinski, a resident senior fellow at the Atlantic Council's Brent Scowcroft Center on International Security, cautioned against jumping to conclusions.
Similarly, in an interview with the New Atlanticist, Fran Burwell, a distinguished fellow with the Atlantic Council, contextualized Trump's rhetoric, saying: "We need to keep in mind that these are statements from someone who is not in office… We may be seeing someone who has a tendency to speak off the cuff, and it may not reflect future policy."
Taking a holistic approach to Trump's commentary, Brzezinski said that while a word other than obsolete might have been a more apt description of the Alliance, Trump immediately qualified the sentiment by reaffirming the importance of NATO. According to Brzezinski, these two statements side by side appear less like a dismissal of NATO, and more like a call for serious and much-needed reform in the Alliance.
"I'm not sure that what he meant to say is that NATO is worthless," said Brzezinski, "because later in that interview… he reiterated that NATO is very important. When you take those two quotes and you put them next to each other, that sounds like a recipe for a reform agenda."
However, the nature of those reforms remains unclear. "You've seen a demand for change in the Alliance, for more equitable burden sharing, for allies to spend more on defense, but very little in terms of the agenda that this team will pursue to make NATO more capable and more effective in this environment," said Brzezinski. He added, "Specifics haven't been articulated by the new team; when [they are], hopefully it will be reassuring to those Europeans who are questioning American commitment."
Brzezinski went on to reaffirm the significance of NATO in the current security environment. "NATO is certainly not obsolete because in today's world the ability to leverage not only the political influence that NATO brings as a community democracy, but its proven capacities on the battlefield, it's invaluable, it's unmatched," he said.
What Trump said on NATO's 2 percent of GDP defense spending goal: "A lot of these countries aren't paying what they're supposed to be paying, which I think is very unfair to the United States… There's five countries that are paying what they're supposed to. Five. It's not much."
What our analysts say: Five out of NATO's twenty-eight member states meet the 2 percent commitment, but for the rest, "it should be a priority," said Brzezinski. "It's going to be a priority in the next administration, and while there have been commitments made by all allies to make 2 percent over the next six years, there's reason to suspect that there's going to be an insistence that these targets be met sooner."
According to Brzezinski, Trump will remain insistent that NATO members meet this commitment to spend more on defense. His "hammer and anvil," Secretary of Defense-designee retired Gen. James Mattis and Gen. Curtis Scaparrotti, the Supreme Allied Commander Europe (SACEUR), indicate the new administration's predilection for "bringing to NATO more of a war-fighting mindset," he added.
What Trump said on the European Union: "I don't think it matters much for the United States. I never thought it matters. Look, the EU was formed, partially, to beat the United States on trade, OK? So, I don't really care whether it's separate or together, to me it doesn't matter."
What our analysts say: Burwell cautioned that while Trump "has proven very malleable in his views, particularly about NATO being obsolete," she would "distinguish that [statement] from Trump's comments about the European Union." She said that Trump's cabinet picks know little about the EU, therefore "there is no correcting mechanism at the cabinet level that we see so far that would present a counterview to what Trump has said."
"The EU itself is in for a rough ride over the next few years," she added.
What Trump said on Brexit: "I thought the [United Kingdom] was so smart in getting out… People, countries want their own identity and the UK wanted its own identity, but, I do believe this, if they hadn't been forced to take in all of the refugees, so many, with all the problems that it, you know, entails, I think you wouldn't have a Brexit… I think people want, people want their own identity, so if you ask me, others, I believe others will leave."
What our analysts say: These types of statements encourage other far-right politicians who threaten the unity of the EU, said Burwell. She cited French far-right National Party leader, Marine Le Pen, a candidate in the 2017 French presidential election, as an individual who, emboldened by Trump's commentary, might seek a referendum for France leaving the EU. "The British have always had a different perspective toward the EU than France, but [Trump's rhetoric] does embolden those types of separatist forces," Burwell said.
What Trump said on Russia: "Let's see if we can make some good deals with Russia. For one thing, I think nuclear weapons should be way down and reduced very substantially, that's part of it. But you do have sanctions and Russia's hurting very badly right now because of sanctions, but I think something can happen that a lot of people are gonna benefit."
What our analysts say: If the White House is to cultivate a relationship with the Kremlin, Trump must lay down definitive red lines for Russian President Vladimir Putin, said John E. Herbst, director of the Eurasia Center at the Atlantic Council. "Russian provocations against our NATO allies—especially the Baltic States—stop. Also, there cannot be a major improvement in relations until Russia's aggression in eastern Ukraine stops," he said, spelling out some of these red lines.
"There is no problem with trying to cooperate with Russia," according to Evelyn Farkas, a nonresident senior fellow with Eurasia Center, the Future Europe Initiative, and the Brent Scowcroft Center on International Security. However, referring specifically to Ukraine and Georgia, she said: "We cannot compromise our democratic values and the sovereignty of other states." Ushering Montenegro into NATO is another imperative, she said.
However, both Herbst and Brzezinski said any comments about Trump's stance toward Russia would be speculative. "We don't have the full picture into what the president-elect's Russia policy is," said Brzezinski. Yet he warned: "I think Putin's a shrewd player. He's made clear that he looks at NATO as a threat to his aspirations, and so any time there is a cleavage or a division or a crack in the Alliance unity, he will try to exploit it."
Insight into this dynamic may be gleaned from former presidents and their attempted
"resets" with Russia. According to Farkas, "The lesson to be learned from every reset that has been tried before is that we need to understand clearly what Russia's objectives are, what their limits are and where our interests lie." The United States must "act carefully and stand firm," she said.
Despite previous tensions, there may be areas of cooperation for the United States and Russia, particularly combating extremism in the Middle East. Russia invited the United States to Syria peace talks in Astana, Kazakhstan, on January 23, indicating the potential for collaboration. "If Moscow is truly interested in joint operations against Islamic extremism, especially [the Islamic State of Iraq and al-Sham (ISIS)] I think there will be an open door," said Herbst. However, he added, "we've not seen such an indication from Moscow at this time."
Rachel Ansley is an editorial assistant at the Atlantic Council.