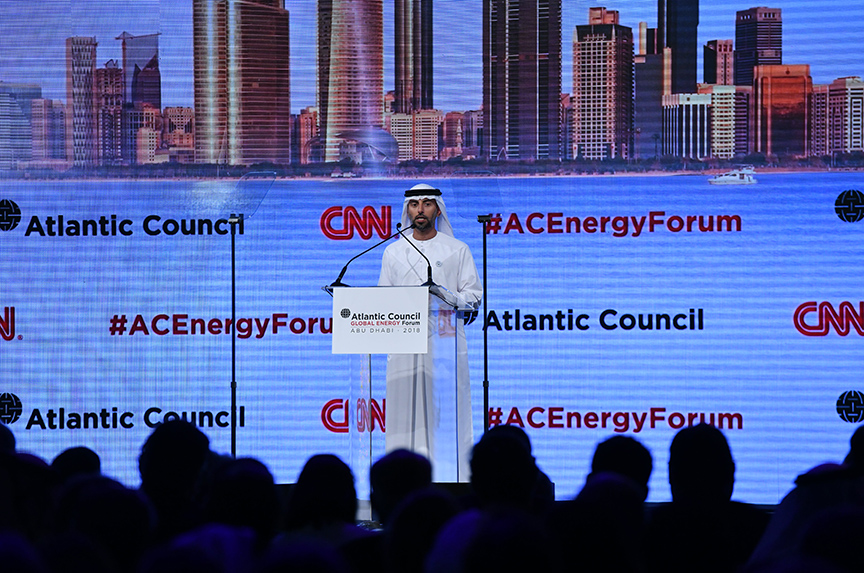 The United Arab Emirates' minister of energy and industry said on January 12 that a deal that cuts oil output with the goal of pushing prices higher will stick through the end of December 2018—despite rumblings in Russia for an early exit.
Speaking at the Atlantic Council's Global Energy Forum in Abu Dhabi, Suhail Mohamed Faraj Al Mazrouei, the UAE's minister of energy and industry, said he was impressed by how well the deal between members of the Organization of the Petroleum Exporting Countries (OPEC) and non-OPEC countries had held together.

In November of 2017, OPEC and ten non-OPEC producers, including Russia, agreed to extend cuts to their oil output in an attempt to arrest the slide in global oil prices. In June 2014, oil prices dropped precipitously to below $30 a barrel from more than $100 a barrel. This decline was caused in part by a drop in demand and boom in US shale production.
The oil cut deal is due to end in December. However, Russian officials and oil companies want Russia to exit earlier if crude oil prices remain at $70 per barrel for more than six months.
Al Mazrouei, who currently also serves as president of OPEC, said it was important to look at the annual average of oil prices—which was $54 per barrel in 2017—rather than a daily number. "We need to give the market time," he said.
"We are in for a full year. We are committed," Al Mazrouei said in a conversation with the CNN's John Defterios. "We are looking for a year of correction."
"Yes, directionally we have corrected the market, but the job is not done. We realize in OPEC that the deal is for the year," he added.
Producers will review the deal in June.
Al Mazrouei said OPEC and non-OPEC countries should continue working together. "The collaboration has been great… I don't see why we should not continue," he said.
Defterios asked the minister about the current geopolitical risks—protests in Iran and a decline in oil supplies from Libya and oil production in Venezuela—and whether OPEC was "sailing too close to the wind."
Al Mazrouei said these risks are always considered. Prices fluctuate as a result of many parameters, one of which—but not the main one—is geopolitical risk, he contended. "The market is continuing to correct and we are seeing a decline in inventories—those are the market fundamentals that drive the price more than what is happening in Iran," he said.
"There are so many fundamentals working in the right direction. I am personally optimistic about the year 2018," he added.
Noting strong growth in 2017, Al Mazrouei hoped that a continuation of this streak would eventually drive up the global demand for oil.
Ashish Kumar Sen is deputy director of communications at the Atlantic Council. Follow him on Twitter @AshishSen.