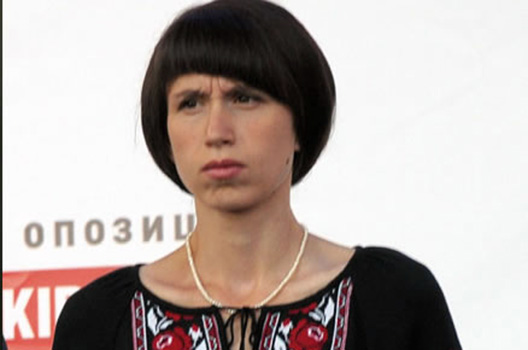 'No Political Will' for a 'Large-Scale War' Against Graft, Tetiana Chornovol Says
Ukraine's most prominent anti-corruption campaigner, Tetiana Chornovol, has quit her post as head of the government's National Anti-Corruption Committee, writing on the prominent Ukrainian news website, Ukrainska Pravda, that the government is unprepared for "an uncompromising, large-scale war against corruption."

Chornovol's departure will disappoint the pro-democracy, anti-corruption EuroMaidan movement that in February prompted the ouster of President Viktor Yanukovych. While the new government of President Petro Poroshenko and Prime Minister Arseniy Yatsenyuk has taken steps to stem graft in government procurement and other areas, it has failed to persuade many Maidan activists that it is fully battling corruption–and Chornovol's resignation will deepen that failure. "Economy Minister Pavlo Sheremeta also announced his resignation on Thursday saying he chose against 'continuing to fight yesterday's system,' to establish economic reforms," writes Sabine Freizer, an Atlantic Council senior fellow who works on Ukrainian reform issues. "Reform should be fast-tracked after the expected October elections or popular protests are likely to begin again," she said.
Chornovol, thirty-five years old, is an icon of Ukraine's struggle against corruption. For years, she has reported in Ukrainian online newspapers on the vast personal wealth of Ukrainian politicians and public servants, which extends far beyond the meager state salaries that are their official income. She was the first journalist to investigate the 354-acre estate built by then-President Yanukovych, in 2006. In 2012 she scaled the estate's walls and spent three hours photographing its lavish buildings and grounds before guards spotted and removed her.
Beaten, Hospitalized Amid Protests
She was a prominent voice in the massed protests of last winter's Maidan movement. In December, as Yanukovych's regime struggled to suppress the demonstrations, a carload of men ambushed Chornovol one night as she drove near Kyiv and beat her so brutally that she required facial reconstructive surgery. On March 5, after Yanukovych had fled Ukraine, Chornovol was appointed to head a new National Anti-Corruption Committee, drawing roars of approval from the throngs at the Maidan.
Less than six months later, Chornovol announced her resignation last week in a blog entitled "Goodbye Cabinet of Ministers." Her tenure in office was wasted time, she wrote, because "there is no political will in Ukraine to carry out an uncompromising, large-scale war against corruption."
A primary motive for her departure is the government's failure to establish a special prosecutorial bureau to fight corruption—a mini FBI. "This is exactly what the Maidan wanted when they voted for me to lead the anti-corruption committee" she writes, but Ukraine's bureaucracy and government are preventing its formation. Chornovol says she prepared a draft law for such an anti-corruption bureau, but the Justice Ministry chose a weaker version, presented by UDAR, the party of Kyiv Mayor Vitaliy Klitschko. She says the UDAR draft, still in parliament, would leave high government officials and big businesses unprosecuted, focusing instead on medium-sized business.
Decision to Quit
Chornovol learned August 16 that her husband, a soldier in a volunteer battalion, had been killed in the war against the Russian-sponsored separatists in southeastern Ukraine. Two other pieces of news that day cemented her decision to resign. She was told that her staff was to be cut and, she writes, that a prominent criminal leader and associate of ex-president Yanukovych was managing to continue his construction of a lavish palace outside Kyiv.
The former Yanukovych ally, Yuriy Ivanyushchenko, organized multiple corruption schemes in which Yanukovych, as president, partnered with Russian banks controlled by Russian President Vladimir Putin to sluice millions of dollars in Ukrainian state funds to foreign-based shell companies the two heads of state controlled, notably in Cyprus, Chornovol has reported. She and other journalists say Ivanyushchenko has helped fund the Russian-led war in the southeast and organized the sniper units that killed more than 100 Maidan demonstrators in February. Now, as Ivanyushchenko builds his new home, "trucks are bringing in expensive marble for the thousand-square-meter building, artists are painting angels on the ceilings and the security detail is bragging about protection in high places," she writes.
Chornovol paints a mixed picture of the government's anti-corruption efforts under President Poroshenko and Prime Minister Yatsenyuk. Cabinet ministers are working to root out graft, chiefly through policies of Finance Minister Oleksander Shlapak, she writes. But in her five-plus months in office she never had a meeting with Yatsenyuk, which she describes as a lack of commitment to working with her National Anti-Corruption Committee.
Corrupt 'Business as Usual'
Chornovol alleges that corrupt business as usual is conducted in full view of the government and, seemingly, with its tacit approval:
Serhiy Kurchenko, a twenty-eight-year-old multimillionaire associate of former President Yanukovych joined with the governor of Dnepropetrovsk province, wealthy businessman Ihor Kolomoisky, to siphon off oil reserves that Kyiv has frozen as part of its effort to recover assets stolen by the previous administration.
Yuriy Boyko, a Yanukovych ally who served as the former president's deputy prime minister and energy minister, is once again seen frequently in the Cabinet building and is trying to assemble business dealings that would cost the state-owned gas company, Naftohaz, as much as two billion dollars.
Ukraine's export of metal products is regulated by a government quota system that robs state coffers for the benefit of Ukraine's richest man, the oligarch Rinat Akhmetov, and his metals industry colleague (and son-in-law of former President Leonid Kuchma), Viktor Pinchuk.
While parts of the government are indeed fighting corruption, its mixed performance is inevitable, given the depth of the problem, Chornovol writes. Ukraine "is very sick and we can't expect anything better from our government at this moment. This government is sick with corruption, with political intrigue and God knows what else. … The Maidan did not cleanse us; it simply became the beginning of a long journey."
A decade ago, in the year of Ukraine's earlier pro-democratic upheaval, the Orange Revolution, Transparency International ranked Ukraine near the bottom of 146 countries surveyed for the levels of corruption reported by businesses, in 122nd place and on a par with Niger and Bolivia. Last year's edition of the survey, the Corruption Perceptions Index, ranked Ukraine 144th of 177 countries, alongside Cameroon, the Central African Republic, Iran, Nigeria and Papua New Guinea. (Niger and Bolivia meanwhile had risen to 106th place.)
Such a consistently dismal performance is the product of an entire political and bureaucratic system, according to Chornovol. "I want to thank the cabinet of ministers for showing me, how the state machine works", she says, but she would rather not be a marionette in this system. "I have to be myself," she writes.
Irena Chalupa covers Ukraine and Eastern Europe for the Atlantic Council.