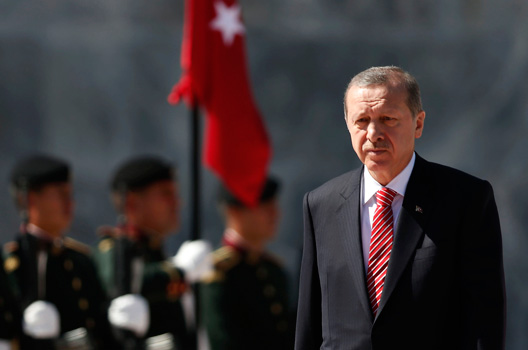 Turkey today appears more unsettled than at any time since the Justice and Development (AK) Party came to power in late 2002. The difficulties it faces now differ substantially from those during previous periods of discord, such as the Gezi Park-related protests in May-June 2013 or when the military intervened in the 2007 presidential election.
Political divisions at the top are key drivers of today's uncertainty, and they include acrimony among party leaders, frictions created by institutional and government changes, and impending personnel turnover. Bickering over monetary policy not only reveals disunity, but also undermines the economic success that has greatly bolstered the party's fortunes at the polls. Regional and international risks round out the picture. While no one doubts that Recep Tayyip Erdoğan will remain Turkey's head of state, and that the AK Party he founded will remain in power, the country's ride over the coming year will be a rough one.

Leadership Quarrels
Unprecedented infighting has broken out among the country's political leadership.
President Erdoğan has publicly and privately clashed with the man he selected to replace him in August as Prime Minister, Ahmet Davutoğlu. He railed against a Davutoğlu government-proposed "transparency package" intended to expand financial and other disclosure requirements for public and political party officials, complained when the country's intelligence chief, Hakan Fidan, was allowed to resign so as to run for parliament (on the AK Party ticket), and criticized other alleged failures to consult him on matters of state. Erdoğan's convening of the cabinet of ministers on January 19 and March 9 — more or less contradicting Turkey's Constitution that makes the Prime Minister the head of government — has, whether intended or not, undercut Davutoğlu and reduced his ability to manage things. And that may have been the intention.
Other sniping has included sharply contradictory statements by Erdoğan, Deputy Prime Minister Ali Bababan, Economy Minister Nihat Zeybekci, and Central Bank Governor Erdem Başçı about interest rates. The brouhaha, which included rumors of resignations by Babacan and Başçı, has rattled markets and contributed to the Turkish lira's slide. Adding to the sense of disunity were disconnected, if not competing characterizations by the prime ministry and presidency of the February 22 operation to withdraw Turkish forces from Syria, and contradictory words from the Defense Minister and a top presidential aide about whether a mooted Chinese-made ballistic missile defense system would be compatible with NATO's system. Former President Abdullah Gül, a co-founder of the AK Party with Erdoğan, has publicly criticized government-proposed domestic security legislation that opposition parties and human rights advocates have condemned as fascist in nature. He also expressed disapproval of Erdoğan's push for a presidential system of governance.
At no time in twelve-plus years of AK Party rule has such dissonance appeared among its leaders. While this picture of infighting may, in part, result from media and other efforts to provoke controversy, smoke is usually associated with some kind of fire. Something new is going on in Turkey's ruling party.
Institutional Changes
Signs of increased divisions at the top of the AK Party follow Erdoğan's August 10 election to the presidency that constitutionally and procedurally took him out of the day-to-day business of government and politics. Not only can he no longer micromanage government and AK Party goings-on, but he also has a structural competitor in the form of Davutoğlu — even if the latter does not intend to compete. Put another way, Erdoğan's assertion of both presidential power and political authority as the country's first directly elected head of state would, regardless of the specific issues involved, stress the system. The pugnacious personalities and ambitions of Erdoğan, Davutoğlu, and other key players now make the political field ripe for differences to mushroom, as well as for real or perceived grandstanding — or backstabbing — out of proportion to the specifics involved.
AK Party Turnover
Parliamentary elections scheduled for June 7 will add to the tumult in Turkey's political leadership and signal a changing of the guard. AK Party rules stipulate that members may not stand for more than three consecutive terms in parliament. This term limit was partly why Erdoğan sought the presidency last year. It will now affect some one hundred members of parliament, nearly one-third of the party's total there, including eight out of twenty-six ministers in the current government.
Whatever else happens, this experience and expertise base will be difficult to replicate going forward. No one among the departing MPs will be a bigger loss than Deputy Prime Minister Babacan, whose diplomatic and economic management skills have helped buttress Turkey's economic success. Other departures include long-serving ministers of energy, agriculture, and foreign affairs.
The fate of AK Party leader and Prime Minister Davutoğlu may also hang in the balance. A strong showing by the party on June 7 will open a path for a constitutional amendment to remake Turkey into a presidential system. Davutoğlu would then in effect be the country's last Prime Minister. What role, if any, there might be for him in the new regime is unclear. If the party does not do well, of course, he will almost certainly be the fall guy whose future would be at least as clouded.
Financial Troubles Are Much To Be Troubled About
Adding to Turkey's political uncertainty is the beginning of what could be a damaging economic slide. Since it took office in 2002, the AK Party has been able to claim credit for a rising economy that has brought unprecedented prosperity to more Turks than ever before in history. Experts agree that as US expansionary monetary policies wind down, emerging markets such as Turkey that have large current account deficits and depend on capital inflows will face greater pressure in managing their finances. Partly because of these forces outside Turkey's direct control and partly because of domestic developments that have raised questions about the probity and credibility of the government's economic management, the Turkish lira has lost 30 percent of its value over the last two years and 12 percent just in the last four months. While further worsening is not inevitable, the country arguably faces its toughest economic headwinds in over a decade.
Regional and International Risks
Foreign and defense policy problems add to Turkey's uncertainties. The country is home to as many as 1.8 million refugees from Syria and hundreds of thousands from elsewhere around the region — its largest displaced population since World War I. Even if the Islamic State of Iraq and al-Sham (ISIS) represents little or no real threat to Turkey, concerns about terrorism at home have contributed to the government's hesitation to take an active role in the anti-ISIS coalition — and strained US-Turkish ties as a result. While a Republican-controlled Congress may be less likely than its predecessor to consider the perennial Armenian genocide resolution (the 100th anniversary of the events occurs in April), President Barack Obama's stance this year may be harder to predict. This is especially so in light of differences over Syria, ISIS, Iraq, and Israel, as well as discomfort over what Washington sees as Erdoğan's authorship of increased authoritarianism. "Zero problems with neighbors" — the mid-2000s characterization of Turkey's foreign policy — has been replaced by enmity, instability, and commotion all around.
Outlook
The picture that comes across is a country, and especially a leadership, uncertain and discordant in ways not seen since previous coalition government days, before the AK Party won office in November 2002. The implications of this remain to be seen.
For one thing, whatever other uncertainties may be out there, Erdoğan will, assuming no ill health or other incapacitation, serve as President at least until his current term ends in 2018. Few expect the June parliamentary elections to produce anything but another AK Party win — though no one can yet predict its margin of victory. The economy has weathered storms before, including after the West's 2008-09 financial crisis, and packed restaurants and coffee shops throughout Turkey suggest that many expect continued good times; they may yet persist.
However, the space in which Turkish leaders operate will likely narrow further over the coming year. The factors that push — or pull — more and more decision-making into Erdoğan's arms will strengthen. At some point, his political luck may run out, and today's turmoil in party ranks may then come back to haunt him — and his country.
---
Ross Wilson is a Distinguished Senior Fellow in the Atlantic Council's Dinu Patriciu Eurasia Center. He served as the US Ambassador to Turkey from 2005 to 2008.