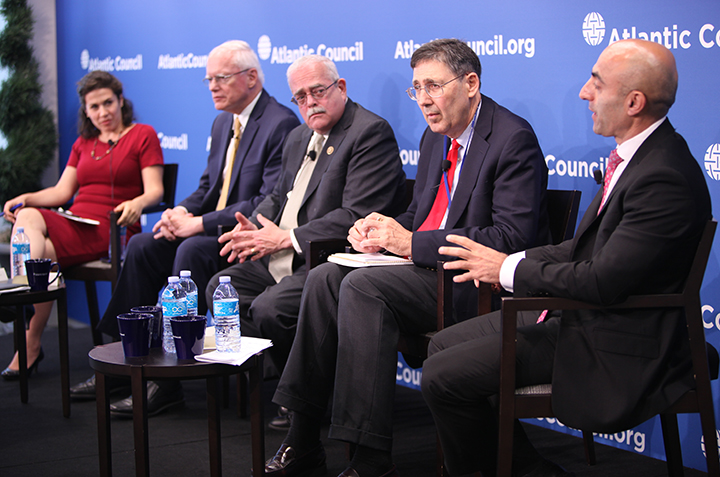 Turkey will be critical to any US or NATO effort to shape Russia's behavior in the Middle East and it should be put on the path to joining the European Union, said Rep. Gerry Connolly (D-VA).
"If we want to stabilize a volatile region with a strategic ally we are going to have to put them on the path to EU accession," said Connolly. "It is in everyone's interest that Turkey align itself with Europe and the EU."
Describing the Russo-Turkish relationship as one factor in the war in Syria, Connolly said: "Turkey must be able to engage Russia from a position of strength…as a democratic and NATO ally."

Connolly spoke at an event hosted by the Atlantic Council's Dinu Patriciu Eurasia Center on April 26. James Jeffrey, Distinguished Fellow at the Washington Institute for Near East Policy, Soner Çağaptay, Director for the Turkish Research Program at the Washington Institute for Near East Policy, and John Herbst, Director of the Dinu Patriciu Eurasia Center were also part of the panel. Karoun Demirjian, a foreign affairs reporter for the Washington Post, moderated the discussion.
Relations between Russia and Turkey have been heated since November of 2015 when Turkey shot down a Russian fighter jet that Ankara said had strayed into Turkish airspace. Turkish President Recep Tayyip Erdoğan has refused to apologize for the incident, while Russian President Vladimir Putin has stated that the Russian jet was flying over Syria at the time of the incident.
"The plane incident…was a symptom of the problem that Turkey and Russia were on a collision course in their Syria policy, supporting different sides in a civil war, and therefore engaged in a proxy. In this regard, the plane incident was bound to happen. If not the plane incident, then something else," said Çağaptay.
"The question is, can they move forward and establish a relationship again? [This] depends on the future of Syria," he added.
"One of the effects of the shoot down…was to remind Putin that there is some muscle behind NATO. It may take a while to flex it, but it's there," said Connolly.
Since Russia's annexation of Crimea from Ukraine in 2014, conflicts in former Soviet states and the Caucuses have flared up. Russia's stance against NATO and the West has been cemented under Putin's revisionist regime.
Tensions between the United States, its NATO allies, and Russia have been marked in recent weeks by shows of force from NATO-supported and Russian militaries. On April 13, two Russian warplanes performed low flybys near a US navy destroyer. US Defense Department officials called the act "unsafe" and "potentially provocative." Russia shrugged off this criticism. The United States has met Russia's behavior by landing two F-22 fighter planes in Lithuania on April 27. The former Soviet states of Estonia and Latvia—now members of NATO—have requested the Alliance to deploy up to five thousand troops in the Baltic following Russia's annexation of Crimea in 2014. The Alliance has not addressed this request.
While Russia brandishes forces against the United States and NATO allies in Eastern Europe, Turkey's role in NATO is critical for dealing with protracted conflicts in the Middle East—especially Syria, according to Connolly.
"US and NATO allies have an immense responsibility to shape Russia's behavior in the region as best we can. Turkey is important. It has long served as NATO's gateway to the Middle East," he said.
Turkey has been a member of NATO since 1952.
EU relations and the migrant crisis
As Europe continues to deal with the migrant crisis—the largest movement of people into Europe since World War II—Turkey's role in alleviating the pressure on Europe to take in displaced populations fleeing conflicts primarily in Iraq, Afghanistan, and Syria has come to a head with a controversial deal brokered between the EU and Turkey. Nearly four hundred migrants have been turned back from Europe to Turkey under the deal, which was reached in March.
"This deal can actually help the situation in Europe, [even though] it is violating at least the letter of the spirit of [migrant rights espoused by the UN]," said Connolly.
In negotiations with Brussels on the migrant deal, Turkey had asked for five chapters of the EU accession talks to be opened. The EU only agreed to open one—on budget and financial issues.
Democratic slippage
Despite Erdogan's crackdown on the media and press freedoms in Turkey, the US has acknowledged Turkey as a primary NATO actor when it comes to the Middle East. However, this doesn't mean that Erdogan is in the clear, admitted Connolly.
"Erdogan has single handedly reduced public opinion of Turkey here in America. There is a certain consensus [in the United States] that he is on an anti-democratic, authoritarian path, and that makes us very uncomfortable. This is a very alarming trend that concerns us," said Connolly.
Turkish public sentiment also needs to be addressed as the country considers its role in NATO and behavior toward Russia, said Connolly.
"There is an old Turkish saying: 'The Turk has no friend but the Turk'—an unfortunately very closed view of the world. NATO should endeavor to prove this axiom wrong by helping Turkey deescalate tensions in the region and with Russia on NATO's shared terms," he said.
Mitch Hulse is an intern at the Atlantic Council.