US Sen. Chris Murphy (D-CT) on April 3 warned NATO allies to be "constantly vigilant about the very quiet things that the Russians are doing that could ultimately lead to a traditional military confrontation."
Pointing to Russian support for "fight clubs and biker clubs" inside the Baltic States, Murphy said they are "just there waiting for some kind of domestic instability to allow for an opportunity to do in a NATO country what the Russians have successfully done inside Donetsk and Luhansk provinces in Ukraine."
"We can't lose sight of that conventional threat, even as we talk about all these new threats," Murphy warned in remarks at NATO Engages, a daylong conference jointly hosted by the Atlantic Council, the German Marshall Fund of the United States, and the Munich Security Conference in Washington.
Murphy also said NATO allies are "far behind Russia in understanding what new capacities our alliance needs."
Acknowledging that lawmakers spend a lot of time discussing "asymmetric, uneven threats that are presented to the United States and to the NATO alliance by Russia," Murphy, who is a member of the Senate Foreign Relations Committee, said he loses sleep at night worrying about Congress's ability to deliver "new tools to the US military, to the State Department, to USAID, and to NATO."
The senator cited the example of the time it took the Trump administration to stand up a Global Engagement Center at the State Department — an anti-propaganda center — as evidence of "how difficult it is for us to turn our wheels in order to catch up with the Russians."
In a separate discussion, Heather Conley, senior vice president for Europe, Eurasia, and the Arctic at the Center for Strategic and International Studies, described Ukraine as the "laboratory for Russian hybrid warfare, or, as I like to say, new-generation warfare."
Ivanna Klympush-Tsintsadze, Ukraine's vice prime minister for European and Euro-Atlantic integration, acknowledged that "Ukraine has become, unfortunately, a lab for the Russian Federation to work on its instruments that it then later on is using in other countries."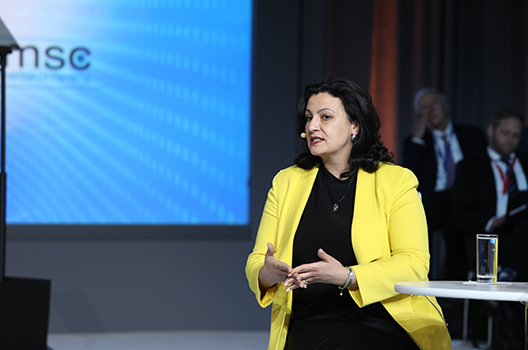 Klympush-Tsintsadze said it was important to understand that "Ukraine is not the end target of Russian Federation — that Russian Federation is eager to restore the USSR 2.0 and then move on to further imposing its understanding of international order, which equals chaos in the other countries, and that's the end goal… it doesn't end at our borders."
Lithuanian Foreign Minister Linas Linkevičius said: "The eastern countries are not laboratories; they are sovereign territories." But, he conceded, "Russia is always testing our unity, trying to split us. It's not a big secret."
Retired US Army Gen. Wesley Clark, a former NATO Supreme Allied Commander Europe who was in the audience, asked whether countries threatened by Russia share their internal security measures with NATO.
Linkevičius said his government regularly draws the attention of NATO and the European Union to these hybrid threats.
The promise of NATO
At NATO's Bucharest Summit in 2008, Alliance leaders promised Ukraine and Georgia that they would one day join the Alliance.
"We are still waiting for that MAP  [Membership Action Plan] to happen," said Klympush-Tsintsadze. She contended that the indecisiveness in NATO on this matter had emboldened Russia to attack Georgia in 2008. "And this weak response that we saw from the West, including NATO, to the attack on Georgia, that actually caused additional appetite for Ukraine and for attacking Ukraine by Russian Federation," she maintained.
Responding to advice from partners that Ukraine needs to do its homework to NATO membership, Klympush-Tsintsadze retorted: "We are doing our homework."
Ukraine, she said, "can bring a lot right now to the table of dealing with the hybrid threats that we should be actually confronting all together."
Georgian Foreign Minister David Zalkaliani said Georgia's foreign policy priority is "integration into Euro-Atlantic structures."
Georgia's NATO aspirations are confirmed by its contribution of troops to Resolution Support Mission in Afghanistan; the fact that it meets NATO's goal of two percent of GDP on defense spending; and its engagement in the security of the Black Sea, he said.
Lithuania, on the other hand, became a member of NATO fifteen years ago.
"For us, membership was really much more than just membership in the organization," Linkevičius said. "It was strengthening of our identity, guarantees for security, which had never happened in the hundreds of years before."
"Political decision will come," he told his co-panelists from Ukraine and Georgia. "But when it will come, you must be ready."
US Special Representative for Ukraine Negotiations Kurt Volker, who was in the audience, noted: "I think we know everything about Russian aggression that we need to know. It's there. They're doing it. We see it. Now what?"
"We owe it to everybody to make sure we keep building a Europe whole, free and at peace for all of its people," he added.
The Chinese threat
In his remarks, Murphy pointed to a threat posed by another nation: China.
Citing the example of Chinese telecom giant Huawei's 5G capabilities about which the United States has expressed deep concerns, Murphy said: "the idea that a company that is so directly connected and affiliated with the Chinese government could switch on and off our data is something that should cause all of us to lose sleep at night."
"And so while the Russians are much more overt and aggressive and outrageous in their online provocations — we catch them a lot more easily — the Chinese have a long-term play here, a long-term play to grab a hold of the tubes through which all of our data flows.  And we have to be just as vigilant about that," he added.
On the question of interference by adversarial governments, Murphy said this has turned into a political conversation in the United States.
"When you enter this space and talk about what the Russians are doing, there is a president of the United States who stands in the way of that honest debate happening," he said.
"We've got to figure out a way to get over there, because right now, any time we try to have this conversation about foreign interference in domestic affairs, it sounds as if you're picking a political fight with the president of the United States. And that's not what it's about. And we need the Republicans to help us with that," he added.
Ashish Kumar Sen is deputy director of communications, editorial, at the Atlantic Council. Follow him on Twitter @AshishSen.