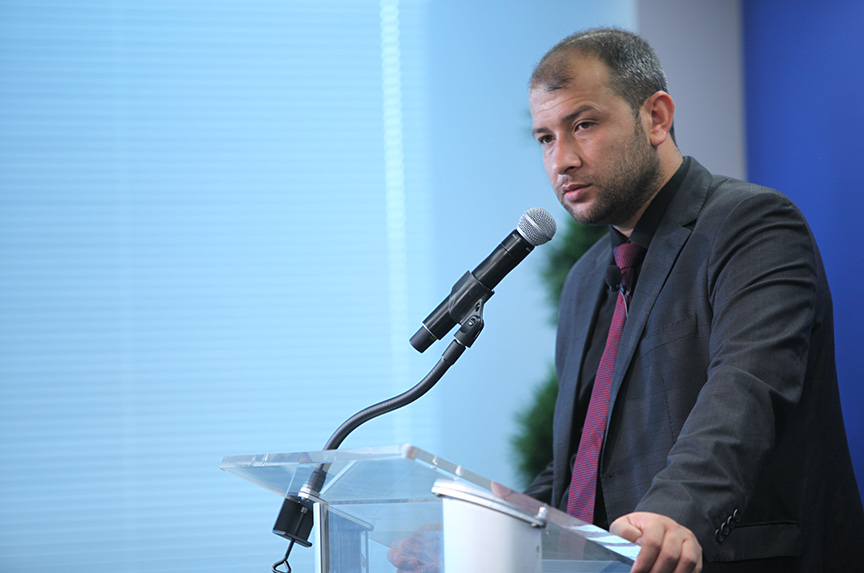 Any hope of reviving a US- and Russian-backed ceasefire agreement in Syria may have been dashed by the air and ground offensives unleashed by the Syrian regime on the rebel-held parts of the western city of Aleppo.
Backed by Russia, the Syrian military has launched a "ferocious" attack on Aleppo using bunker-busting bombs and outlawed cluster bombs that have killed at least 1,000 people over the past eight days, said Raed al-Saleh, the head of Syrian Civil Defense—popularly known as the White Helmets—a group that was recently nominated for the Nobel Peace Prize for saving lives in the war-ravaged nation.
In Aleppo, where 275,000 civilians are living under siege, "there is nowhere that Syrian civilians can hide or take cover," said al-Saleh. "They are basically all just sitting in their homes waiting to be killed."

Al-Saleh spoke at the Atlantic Council on September 27 at an event moderated by Frederic C. Hof, director of the Atlantic Council's Rafik Hariri Center for the Middle East. He was later joined in a panel discussion by Farouq Habib, who as a program manager at Mayday Rescue oversees the training of White Helmet volunteers; and Faysal Itani, a resident senior fellow in the Hariri Center.
The Syrian military on September 27 launched a ground offensive in the rebel-held eastern part of Aleppo. The air and ground offensives have led US officials to conclude that Syrian President Bashar al-Assad and his Russian patrons have no intention of reviving the ceasefire agreement that collapsed soon after it went into effect on September 12.
Itani, who provided a rundown of the situation on the ground, concluded that the situation, in general, is trending in favor of the regime and its allies.
War crimes?
United Nations Secretary General Ban Ki-moon has condemned the airstrikes on Aleppo. In a statement from his spokesman, Ban warned that the "apparent systematic use of these types of indiscriminate weapons in densely populated areas may amount to war crimes." Cluster bombs were outlawed under an international treaty that was adopted in 2008.
"What is equally criminal, in my view, is that those who are committing these crimes do so with a sense of impunity and immunity that is absolute," said Hof.
"They have measured the reaction of the West to civilian slaughter in Syria over the past five years and they have concluded, quite rationally, that they may do as they wish, when they wish, to anyone they wish, using any tools of terror at their disposal," he added.
The Syrian military has dropped barrel bombs on civilians, while Russia, which joined the war on Assad's side last year, has used bunker-busting bombs.
The Russian intervention has caused significantly more devastation and made the job of first responders like the White Helmets much harder, said al-Saleh.
The Russian and Syrian militaries have also used the notorious double-tap strategy wherein a first airstrike is followed moments later by a second on first responders and onlookers thereby maximizing civilian casualties.
This strategy is a big problem, contended al-Saleh. White Helmet volunteers are often the first on the scene of an attack. The group itself has been targeted. Airstrikes over the past few weeks have destroyed three of its four centers in Aleppo as well as nineteen vehicles.
"We have come to this point where even our lifesaving efforts are being taken away," al-Saleh, who spoke in Arabic, said through a translator.
Hospitals in Aleppo, packed to capacity, have been forced to turn away victims in the face of mounting casualties. Doctors and medical supplies are scarce. Those seriously wounded are in desperate need of evacuation for proper medical care.
"What we need is a political will and a moral will to stop the violence in Syria," said al-Saleh.
"A lot of people come to us and ask us, 'What do you need in order to be able to continue your work?'" he said. "Our demand is not for support to continue the work of the White Helmets, rather our demand is to stop the killing itself so that we don't have to continue this awful job. Some people might think that what we are doing is heroic, but in fact it is devastating and depressing beyond belief."
Contending that Syria is "governed by a criminal," he added, "Until now we have not seen a reaction from the international community to stop this criminal."


Frederic C. Hof (left), director of the Atlantic Council's Rafik Hariri Center for the Middle East, moderated a panel discussion with Raed al-Saleh (center), the head of the White Helmets; Farouq Habib (second from right), a program manager at Mayday Rescue; and Faysal Itani (right), a senior fellow in the Hariri Center. Kenan Rahmani, a legal and policy adviser with the Syria Campaign (second from left), provided translation for al-Saleh. (Atlantic Council/Victoria Langton)
Ending the war
Earlier in September, a ceasefire agreement brokered by US Secretary of State John Kerry and his Russian counterpart, Sergey Lavrov, collapsed after US warplanes, apparently inadvertently, killed more than sixty Syrian troops, and a strike on a UN-Syrian Arab Red Crescent aid convoy, which US officials have blamed on Russia, killed about twenty people.
Hof praised Kerry's efforts at making peace, but said the secretary is "doing his best, albeit with nothing resembling real leverage."
Hof said that in the wake of the atrocities being committed in Aleppo, US President Barack Obama should make clear that there are some options "that will exact a price" on those responsible for killing civilians. Saying that he personally does not believe that creating a no-fly zone is the answer, Hof added: "What is required is for the president of the United States to give an affirmative statement of presidential intent to his secretary of defense and then look at the options, weigh the risks…we need to move quickly."
Hof also expressed concern about the conclusions Russian President Vladimir Putin has drawn from the US approach to the war in Syria.
"I really, really, really worry about what [Putin] is concluding from Syria and the destabilizing and dangerous effects therefrom," he said.
Ashish Kumar Sen is deputy director, communications, at the Atlantic Council. You can follow him on Twitter @AshishSen.