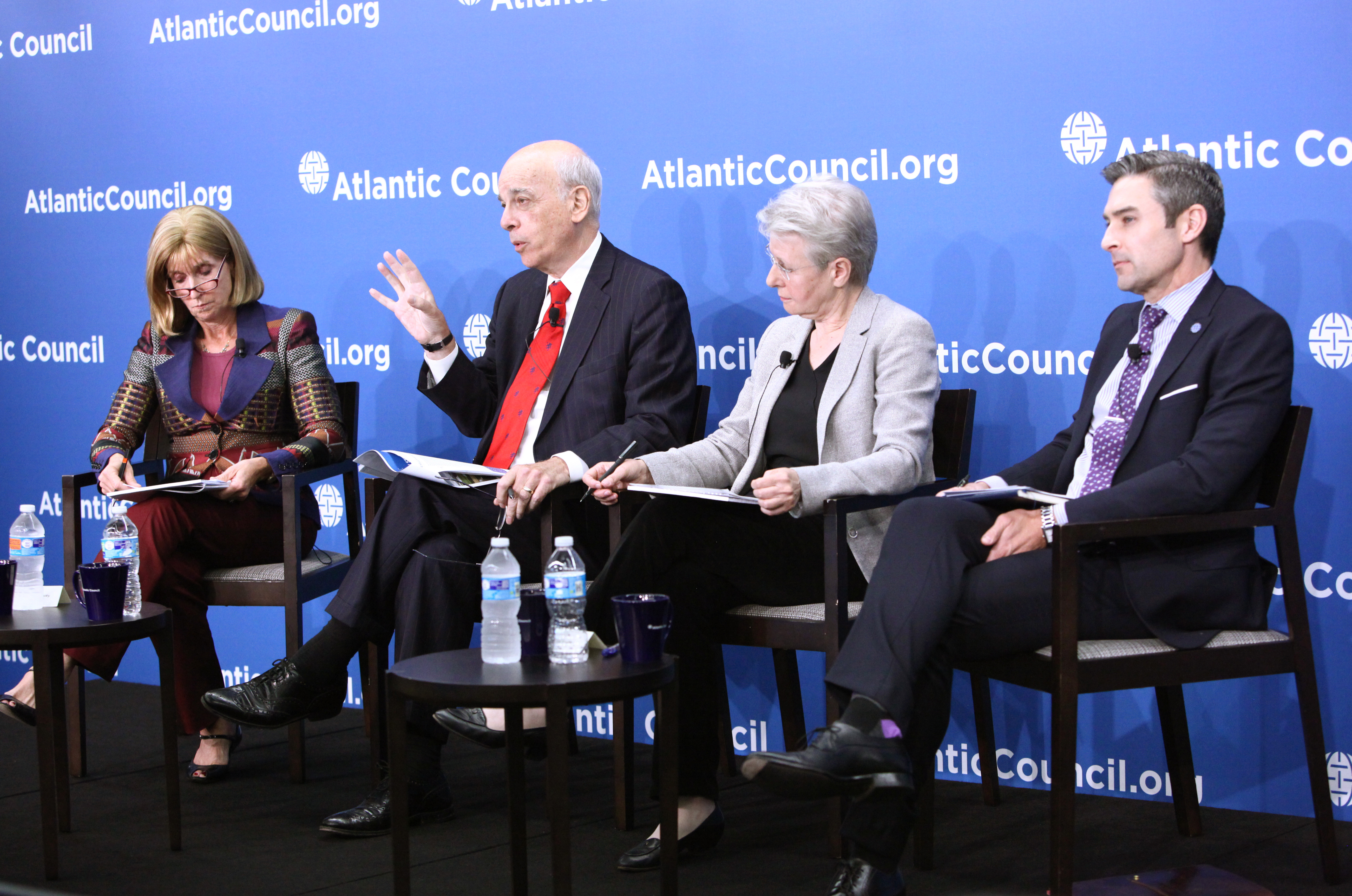 New security challenges in Eastern Europe, the Middle East, and cyberspace have sent the world's most important military alliance scrambling against obsolescence.
A lot has changed since the North Atlantic Treaty's inception in 1949. The big question is whether a Cold War-era institution can do anything to remain effective and coherent in the face of 21st century malevolence.
"NATO has no strategy, in my view," said Lilia Shevtsova, Nonresident Senior Fellow at the Brookings Institution's Center on the United States and Europe, urging the development of a coherent military strategy to help "erase any temptation for reckless forces and reckless powers to test where the red line is."

Russia's annexation of Crimea in March of 2014 caught many Western leaders by surprise. The United States and NATO faced criticism for not acting to contain Russian aggression in Crimea, and soon after, Ukraine's eastern Donbas region.
"We are not even defenders of the international liberal order we built," said Damon Wilson, Executive Vice President of Programs and Strategy at the Atlantic Council, emphasizing NATO should "lay out a durable path forward that deters, but also has an offense [which] advances those values."
Wilson and Shevtsova spoke during a September 24 panel discussion on "Elements of a New Transatlantic Strategy" at the Atlantic Council. Franklin D. Kramer, a Distinguished Senior Fellow at the Atlantic Council's Brent Scowcroft Center on International Security, joined them. Paula Dobrianksy, a Senior Fellow at Harvard University's Future of Diplomacy Project, moderated the discussion.


The key to NATO's modernization lies in its ability to predict and respond to future threats. Lack of foresight is NATO's Achilles heel, panelists agreed, and the alliance must develop the ability to foresee and respond to new security challenges if it wants to survive in the modern era.
"Why are you always caught unaware," Shevtsova asked. "You were absolutely unprepared for the Crimean annexation and Russia's war with Ukraine when everything already pointed in this direction after Georgia. So what's the problem, and where's the guarantee that you're not going to fail again?"
Coming to terms with Russian President Vladimir Putin's mentality—of military aggression as a domestic political tool—is vital for any future strategy concerning NATO's eastern front, Shevtsova added.
"There's a need to understand that the Russian political system is now looking for a new way of survival, and Putin has adopted this new doctrine of survival, shifting Russia into the war paradigm," said Shevtsova. "I am very worried that Russia cannot get out of that war paradigm, back into the peace mode."
Though US President Barack Obama promised a military response against Russia in the event of a Crimea-style crisis in the Baltics, NATO's eastern allies are nervous the alliance would rather back down and avoid a global war instead of aiding a small, distant ally.
NATO's current strategy only serves to bolster that insecurity, Wilson warned.
"We are creating inadvertent consequences with an inadequate strategy," said Wilson. "We run the risk in the east of creating a new 'Article 5 iron curtain,' where we've made it clear who's in and who's out—we're back to protecting our own."
Kramer recommended more involvement from Europe to secure NATO's eastern front.
NATO's future also requires better civilian integration, Kramer said, suggesting a new open source center to work with the public sector on tackling cyber threats, violent extremism, and Russian revisionism.
Whatever strategy NATO might end up taking at the Warsaw Summit next year, it needs to avoid having the United States do all the heavy lifting, said Wilson.
"It doesn't work for us to let Europe come up with something and play the supporting role," said Wilson. "I think the stakes are too high. The United States has to be catalytic in this process of forging what is going to be a broader NATO strategy."
Alejandro Alvarez is an intern at the Atlantic Council.