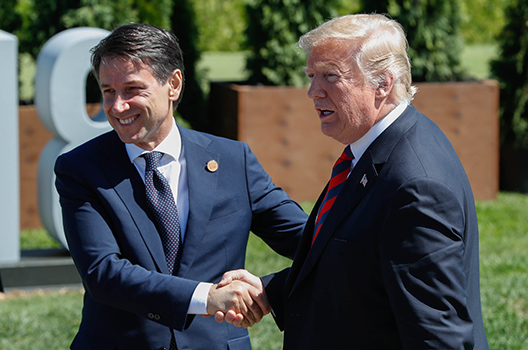 US President Donald J. Trump may not find the ally he expects when he meets with the new Italian prime minister, Giuseppe Conte, in Washington on July 30.
The two appear to have gotten along at the recent Group of Seven (G7) and NATO summits. At the former, Conte agreed with Trump that Russia should be invited back into the club of top industrial nations. His political masters in Rome—Conte is a figurehead, real power lies with the party leaders, Luigi Di Maio and Matteo Salvini—have gone so far as to argue that Western sanctions on Russia, imposed after it seized Crimea from Ukraine in 2014, must be lifted.

Di Maio's Five Star Movement and Salvini's League, which came to power via a coalition deal after finishing as the two largest parties in Italy's March general elections, share Trump's views on immigration, international relations, and trade. But just as Trump's policy of putting "America first" is leading to American isolation, Di Maio and Salvini's narrow view of Italy's national interests can only damage transatlantic relations.
On both military spending and trade—Trump's pet peeves when it comes to Europe—the Five Star and League oppose the US president.
Military spending
Italy is Europe's fourth military power, after Britain, France, and Germany. It has a large defense industry, is a serious contributor to peace operations, and a partner in the Joint Strike Fighter Program. It is home to the Aviano Air Base, which hosts both the only US fighter wing south of the Alps and US nuclear weapons. The base played an important role during the Balkan Wars, in Operation Iraqi Freedom, and, most recently, the Western military intervention in Libya.
But Italy has consistently spent below the NATO average on its defense and is nowhere close to meeting the Alliance's self-imposed 2-percent of GDP target.
After Trump harangued allies for underspending on defense at the most recent NATO summit in Brussels, Conte confirmed that Italy has no plans to raise its spending.
Russia
While both Five Star and League argue that Europe should seek closer relations with Russia, in line with Trump's desire to defuse tensions with Moscow, the Italian parties believe that this should be accomplished at the expense of the alliance with the United States. Until recently, the Five Star called for leaving NATO altogether, while the League supports courting Russia as Europe's primary ally, rather than the United States.
Trade
On trade, the Italian government's views are similar to Trump's—but that hardly works out in the United States' favor. The new Italian government's skepticism of multilateral trade deals will make it more difficult to achieve the "zero" tariffs and subsidies Trump now desires.
Conte has threatened to withhold ratification of the Comprehensive Economic and Trade Agreement (CETA) with Canada, which provisionally came into effect last year, arguing that it does not sufficiently protect Italian agricultural products. The trade pact can only go into full effect once it has been approved by all of the EU's twenty-eight parliaments.
Under EU law, a cheese cannot be marketed as "Gorgonzola" or "Parmesan" if it wasn't produced in the region around Milan, just like a "Bordeaux" wine must come from the southwestern province of France.
Canada has committed to respect 143 of these so-called geographical indications for high-quality European products. For the last Italian government, that was enough to sign on. For Conte's coalition, it doesn't go far enough—but, to the exasperation of the rest of the bloc, it won't specify what else it wants out of the deal.
For Trump, who routinely fumes that the Europeans unfairly protect their market at the expense of US exporters, it is another example of the United States being ripped off by its allies.
Trump held off on further tariffs after a meeting with European Commission President Jean-Claude Juncker at the White House on July 25, but existing levies—on aluminum and steel—remain in place and the two did not reach any detailed agreement on agriculture and cars.
If Trump does tax foreign cars, Italy would be hit hard. Fiat-Chrysler imports about half the vehicles it sells in the United States. A 20- or 25-percent tariff, as mulled by the Trump administration, could cut the company's profits by $613 to $866 million, according to calculations by Evercore, an advisory group, and Automotive News Europe.
More than ideology
League's Salvini, in particular, mimics Trump's style when he talks about immigrants and he shares the US president's sympathies for autocrats like Russian President Vladimir Putin. Trump's former campaign manager, Steve Bannon, is trying to put together a coalition of nationalist parties to contest the European Parliament elections in 2019. League, now the largest party on the Italian right, would play a key role.
But ideology isn't everything. When Conte and Trump meet on July 30, they may discover that speaking the same language doesn't mean they have a lot in common. And without a sense of transatlantic solidarity, we have seen that disagreements even among longtime friends can quickly escalate.
Nick Ottens is the founder and chief editor of the transatlantic opinion website Atlantic Sentinel. Follow him on Twitter @NickOttens.