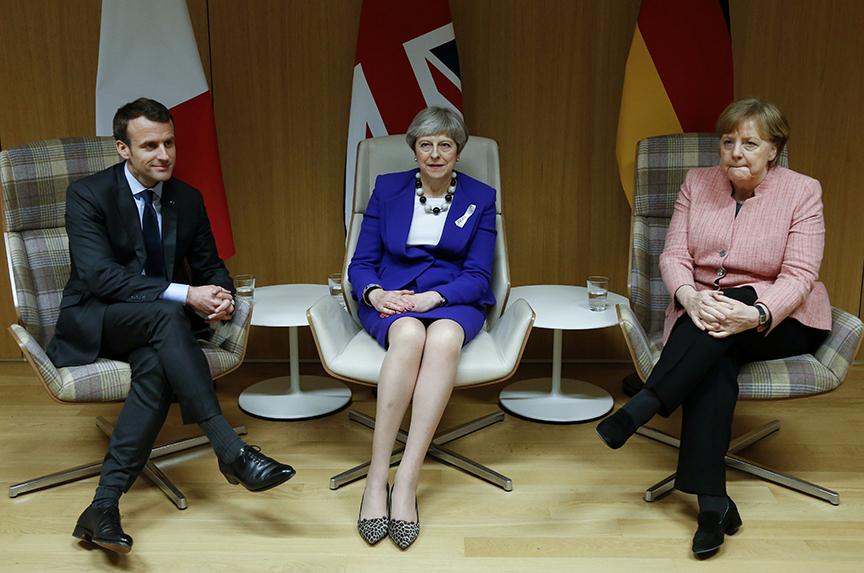 US President Donald J. Trump is expected to reveal his decision on May 8 as to whether he will extend key sanctions waivers on Iran. A failure to do so would effectively take the United States out of the Joint Comprehensive Plan of Action (JCPOA)—the Iran nuclear deal—which it signed with the United Kingdom, France, Germany, Russia, China, and Iran in 2015.
Iranian President Hassan Rouhani warned on May 6 that if the United States were to leave the deal it would face "regret of historic proportions." The United Kingdom, France, and Germany have publicly urged Trump not to abandon the JCPOA.
Here's where the signatories stand on the JCPOA.

The United States: Opposed.
US President Donald J. Trump has called the JCPOA a "terrible," "insane" deal. Secretary of State Mike Pompeo has said Trump is likely to withdraw the United States from the deal.
The United Kingdom: Supportive.
British Prime Minister Theresa May supports the JCPOA.
In an opinion piece in the New York Times on May 6, British Foreign Secretary Boris Johnson wrote: "[The JCPOA] has weaknesses, certainly, but I am convinced they can be remedied. Indeed at this moment Britain is working alongside the Trump administration and our French and German allies to ensure that they are," he wrote.
The United Kingdom, however, has concerns about Iran's activities in its neighborhood.
China: Supportive.
Chinese Foreign Minister Wang Yi said on February 8: "China fully supports the JCPOA on the Iranian nuclear program and believes that all interested countries should cooperate to ensure the implementation of the agreements reached."
France: Supportive.
On his visit to Washington in April, French President Emmanuel Macron said he wants a "new deal" with Iran. This deal would be based on four pillars, including the JCPOA. The other three pillars are: ensuring longer-term curbs on Iran's nuclear program; restricting Iran's ballistic missile program; and containing Iran's activities in the Middle East, particularly in Yemen, Syria, Iraq, and Lebanon.
"For a number of months, I've been saying that this was not a sufficient deal, but that it enabled us, at least until 2025 to have some control over their nuclear activities," Macron said of the JCPOA following a meeting with Trump in Washington on April 24.
Russia: Supportive.
Russian President Vladimir Putin "reiterated Russia's position that the JCPOA, which has a paramount importance in terms of international stability and security, must be strictly observed by all its signatories," the Kremlin said in a readout of Putin's phone call with Israeli Prime Minister Benjamin Netanyahu in April.
Germany: Supportive.
Germany has said it will stick by the JCPOA if US President Donald J. Trump decides to withdraw.
German Chancellor Angela Merkel said on May 2: "We will continue with our argumentation, namely keeping the JCPOA plus expansion of the negotiating framework."
German Foreign Minister Heiko Maas said on May 7: "We don't think there is any justifiable reason to pull out of this agreement and we continue to make the case for it to our American friends."
Bonus fact:
European Union: Supportive.

Federica Mogherini, High Representative of the EU for Foreign Policy and Security Policy, said on March 19: "I think the main message today would be this: keep the course on the full implementation of the nuclear deal, and separately, address regional issues, including issues related to the ballistic missiles on which the European Union has always had a very clear position."
Ashish Kumar Sen is deputy director of communications, editorial, at the Atlantic Council. Follow him on Twitter @AshishSen.