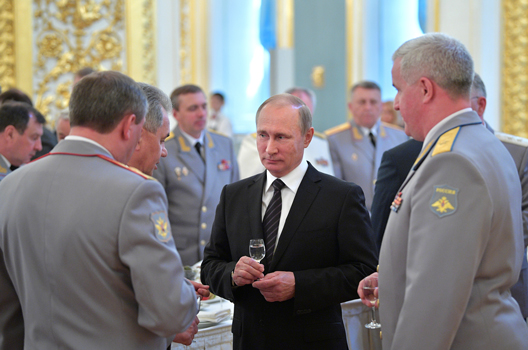 Russia's large-scale military exercise to be conducted in September can provide critical insight for NATO allies seeking to improve their readiness posture against an increasingly revanchist Russia, according to an Estonian defense official.
"Russians train exactly as they intend to fight, thus Zapad will give up ample information on their military and political thinking as it is right now," Kristjan Prikk, undersecretary for defense policy at Estonia's Ministry of Defense, said at the Atlantic Council on July 11. According to Prikk, "we don't consider this year's Zapad exercise in itself to be a direct threat to us [NATO] or a cover for an attack, but we have to keep in mind that the Russians have the nasty habit of hiding their actual military endeavors behind exercises."
"We have to be calm, vigilant, flexible," in the months leading up to and following Zapad 2017, said Prikk.
In September, Russia will conduct a joint military exercise with Belarus—Zapad. Based on initial indications and past Zapads, the exercise, which will take place in Belarus, will assess the readiness of Russia's military across many forces—land, sea, and air—and test a range of capabilities—not only conventional, but also cyber and nuclear, within a particular set of scenarios. This will be the first Zapad exercise since 2013. Zapad, which is also the Russian word for "west," will take place against the backdrop of Russia's annexation of Crimea, ongoing war in Ukraine, military intervention in Syria, and meddling in the US and French presidential elections.

According to Evelyn Farkas, Atlantic Council senior fellow and former deputy assistant secretary of defense for Russia, Ukraine, and Eurasia, "this is a military exercise, but there is also a political component." The size of the force tested and the nature of the scenario will send a message to NATO that Russia is ready, reinforcing the adversarial stance between Moscow and the West, she said.
In opening remarks at the event, Marko Mihkelson, chairman of the Foreign Relations Committee in Estonia's parliament, said: "Russia is the only country today in the world that has a national strategy… to confront NATO as an enemy." He urged NATO allies to watch closely and asses the implications of Zapad, an exercise due to be a "show of force," and part of the Kremlin's process of "building up muscle memory for total war against the West."
Prikk and Farkas joined Maj. Gen. Finn Kristian Hannestad, defense attaché at the Embassy of Norway to the United States, to discuss the significance of carefully monitoring Zapad 2017 and assessing the long-term implications for NATO's defense and deterrence strategies. Caroline Houck, staff correspondent at Defense One, moderated the discussion.
Robert Nurick, a senior fellow in the Atlantic Council's Brent Scowcroft Center on International Security, described in introductory remarks how early indications project Zapad will be the largest military exercise since the Cold War. The exercise is significant for what it could reveal about the thinking and planning of Russian political and military leaders, as well as the types of messages they wish to convey to potential adversaries—in this case, NATO.
The Zapad exercise "is not about abstract readiness, but testing the transatlantic community, testing the Russian ability to pursue its own goals," said Prikk. Consequently, he added, "for military and political experts, this is a golden opportunity to get the kind of information [needed] to test out their assumptions."
According to Nurick, Alliance leaders must pay close attention to the size of the force used in the exercise and what it indicates about Russian defense planning, the scenario posed to Russian forces, and what forces are involved in the exercises and the roles they seem to play.
"This is a force which is much more mobile… which can move quicker and faster than what we've seen before," said Nurick. He noted that some have argued that the exercise "may be a preparation for some kind of military action," adding that should the Kremlin choose to challenge NATO militarily, its forces "could cause trouble in the immediate region" and "can produce force rations along the borders in the region that are quite unfavorable to NATO."
"Direct military action is unlikely," said Nurick, though incidents and provocations along the border would become more plausible.
After the conclusion of the exercise, US intelligence agencies will need to assess not only what was seen, but what it reveals about Russia's thinking and strategy in such a way as could contribute to forewarning for NATO forces "should something go wrong," said Nurick. "Inasmuch as they increase their readiness, we will also increase our readiness," said Farkas.
For Zapad, Russia will mobilize large numbers of troops and capabilities on the border of, and in some places nearly surrounding allied territory, all without any formal announcement to the Organization for Security and Cooperation in Europe (OSCE) or transparency with NATO, leading to widespread concern.
Currently, "the Russians are clearly in violation of Vienna documents," said Farkas. The Vienna Document is an international transparency measure to try and decrease the risk of miscalculation when militaries in Europe are conducting normal exercises for readiness.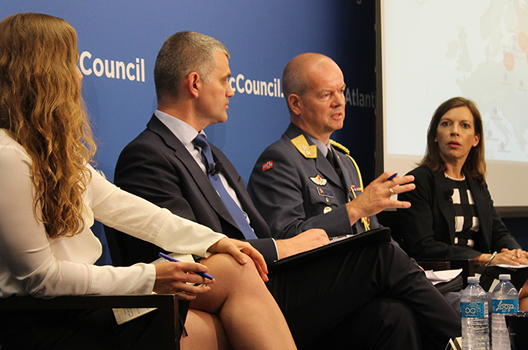 (from left) Caroline Houck, staff correspondent at Defense One, moderates a discussion with Kirstjan Prikk, undersecretary for defense policy at Estonia's Ministry of Defense; Maj. Gen. Finn Kristian Hannestad, defense attaché at the Embassy of Norway to the United States; and Evelyn Farkas, Atlantic Council senior fellow and former deputy assistant secretary of defense for Russia, Ukraine, and Eurasia. (Atlantic Council)
In the messaging surrounding Zapad 2017, "you can expect the Russians to obfuscate… the fact their opponent is NATO," said Farkas, adding: "We didn't want to be in an adversary situation with Russia, but now we are."
Hannestad called for the Kremlin to increase its transparency on the specifics of the exercise, saying transparency is essential "from both a tactical and strategic point of view." Lack of clarity from the Kremlin with regard to its intentions could lead to misunderstanding, Hannestad warned. "Misunderstanding is a prerequisite for increased tensions… [which leads to] episodes and incidents," he said.
He claimed there is concern about an incident during Zapad in contested air or sea space in the Baltic region. "If something's going to happen, that's where it will most likely be," said Hannestad.
According to Mihkelson, "NATO [plans] to work for its core goal—to defend its allies by Article 5, not only in a declaratory way, but by building up deterrence." In response to the threat posed by Russia, NATO allies agreed in July 2016 to establish Enhanced Forward Presence (eFP) forces in the Baltics. As of July 1, four multinational battle groups led by the United States, United Kingdom, Germany, and Canada, have been stationed in Latvia, Lithuania, Poland, and Estonia.
Prikk described how these forces demonstrate the solidarity of NATO allies and present a strong deterrent force against Russian aggression in its neighborhood. The deployment of eFP forces in the Baltic region "has achieved new elements of stability there, and is a testament to the understanding that when it comes to the current Russia, we have to be clear and strong in our messaging."
However, he said, "we have to continue adjusting the Alliance's deterrence posture on the eastern flank to reflect the existing complexity of the challenge we currently face and will face in the foreseeable future."
"These exercises don't take place in a vacuum. Context matters," said Nurick, insisting that Zapad cannot be looked at in isolation, but must be considered as part of a holistic strategy. "It is likely… to coincide or overlap with other exercises and training drills which may not be formally identified as part of Zapad," he added.
Farkas emphasized the need to consider not just the exercise itself, but how it ties into events happening in other theaters. For example, she said, Russia remains involved in both Ukraine and Syria, and allies must watch to see if the Kremlin deploys additional forces or new capabilities in those arenas while the West's attention is diverted.
Rachel Ansley is an editorial assistant at the Atlantic Council.