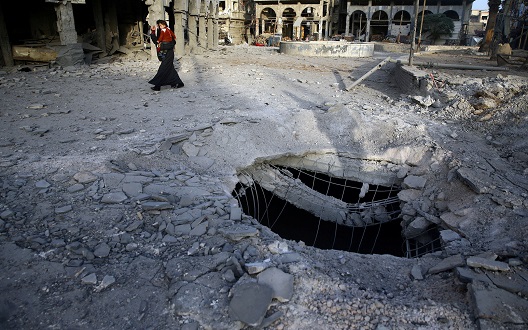 A few months ago, Syrian President Bashar al-Assad delivered a speech to Syrian expatriate businessmen announcing his imminent military victory over "terrorism" thanks to the support of his Russian and Iranian Allies. In his speech, Assad promised loyalists and businessmen a share in reconstruction while stressing that the US, Gulf, and other western companies would have no role to play in reconstruction whatsoever.

In spite of the considerable destruction that has taken place in Syria, along with the collapse of the country's economy and currency as a result of military operations, and poverty rates exceeding 83 percent, Assad spoke of his intention to rely on local Syrian businesses, in cooperation with the country's most prominent capitalists, to carry out reconstruction efforts. Some within the opposition have interpreted this as new concessions given by Assad to those who have stood by him throughout the last six years of war; in particular family and fellow members of his Alawite sect.
Suspicious Dealings
Rami Makhlouf, the prominent Syrian businessman and cousin of Syrian President Bashar al-Assad, is one of Syria's most powerful economic figures. His fortune exceeds 27 billion dollars, surpassing that of even the most prominent Gulf businessmen and royalty including, Saudi businessman Walid Bin Talal.
Makhlouf recently entered the reconstruction game by acquiring a 70 percent share of al-Madina Real Estate, a company to which the Syrian regime granted an investment license for strategic and urban projects in some of Syria's most war-torn areas in Damascus countryside and Homs.
As one of regime's most powerful allies, Makhlouf has been accused by Western authorities of being a commercial and economic cover for Assad, laundering money and taking part in major corrupt deals worth billions.
In 2008, the US Department of State imposed economic sanctions on Makhlouf and accused him of improperly benefiting from and aiding public corruption in Syria, citing his influence and connections within the regime that allowed him to control profitable deals for certain types of goods. The State Department also accused Makhlouf of interfering in Syria's judicial system and using the security and intelligence services to terrorize his rivals.
In response to a question about the significance of Makhlouf obtaining a controlling share in al-Madina Real Estate, economic expert Muhammad Ezzo stated that the news comes as no surprise, "because Bashar al-Assad has for years depended on those close to him to act as cover, enabling him to control the country's most important economic projects."
Ezzo rattled off a long list of corrupt deals where Makhlouf has benefited from his relationship with President Assad, including his control over Syria's cellular communications sector, and the acquisition of more than thirty-one companies in various fields such as banking, duty free shops, automobiles, and gas, among others, with the support of official state institutions.
Ezzo also stressed that Assad does not view reconstruction as a means of economic recovery or social reform, but as "an opportunity for self-enrichment and a way to reward loyalists and punish the opposition."
Reconstruction from the Pockets of the Poor
Before the end of the year, the People's Council approved a bill to impose a 10 percent tax on citizens for "contributing to national reconstruction."
Representative Khalil Tohma criticized the government's attempt to collect reconstruction funds from the poor rather than the "warlords" who have become exceedingly wealthy in their place, commenting on the decision and stating that it will lead to further poverty.
Following the decision, economics expert Anas Hamawi stressed that the Assad government will resort to withholding reconstruction fees from the salaries and wages of low-income workers.
Hamawi went on to say that the new legislation included additional taxes on real estate, professions, industry and trade, irrigation and environmental protection, security, and automobiles, beyond the previously mentioned income tax hikes, which means "the poor will be the biggest losers."
Hamawi also stressed that these decisions "will increase poverty as a result of higher prices, whereas the wealthy will not feel their impact and will continue to profit by winning new contracts."
Rewarding Friends
In an effort to promote his military victory and political investments, Assad reopened the Damascus International Fair, an international trade fair, for the first time since the war began on August 17, calling it "the beginning of reconstruction."
During the fair, the government signed contracts for a number of commercial projects with Russian and Iranian companies as well as others from China, Brazil, and India.
Perhaps the most significant deal was the one signed by Syrian Electricity Minister Mohammad Zuhair Kharboutli and an Iranian representative which includes a new 45 mega-watt power station in Latakia in northwest Syria and the construction and repair of thermal power plants in Baniyas, Aleppo, and Homs.
Regime officials also extended the privilege of investing in phosphate mines located in central Syria to Iranian companies, as well as a license for a new cell phone company, and the opportunity to set up an offshore oil rig along Syria's western coast, in addition to other privileges that include investing in state owned food and water companies.
Meanwhile, during an official visit to Moscow, a senior regime official recently revealed that investment opportunities are being offered to various Russian companies in the tourism, oil, agriculture, and infrastructure industries that have been so heavily damaged by the country's ongoing war.
Media activist, Muhanned al-Taweel believes, that through these deals, Assad is trying to demonstrate to both the world and his supporters that he is the war's victor and that he is capable of rebuilding the country that he himself destroyed with the help of his companions, despite the fact that he is handing over most of Syria's wealth for years to come [to foreign entities].
Al-Taweel believes that the West must not support current reconstruction efforts in Syria without first reaching a comprehensive political solution because the money that would be allocated to reconstruction will invariably go to waste as long as the country's social fabric remains threatened by infighting.
Just a few months ago, YallaFeed published a report citing estimates given by the High Representative of the European Union for Foreign and Security Policy, Frederica Mogherini, to Arab League Secretary-General, Ahmed Aboul Gheit, stating that reconstruction in Syria will cost up to 950 million dollars. It is not known which countries or institutions were going to contribute to reconstruction or even when it may occur amid international disagreement over the nature of a political solution in Syria.
According to these estimates, Syria would need more than fifty years to rebuild based on the country's average state budget of 15 million dollars over the last five years.
Thus it can be said that the corruption deals emerging from reconstruction are subject to a political agenda that does not take into account the country's best interest. Instead they are part of Assad's policy of always looking out for his own personal self-interest, regardless of whether or not it creates a state of legal and transparent institutions, which underscores the persistence of Assad's authoritarian mindset and his insistence on maintaining control over every facet of the state despite a long war that has exhausted the country and the opposition's demand for social justice.
Hosam al-Jablawi is a Syrian citizen journalist.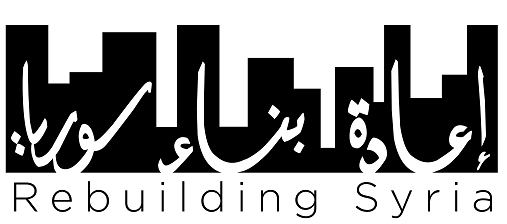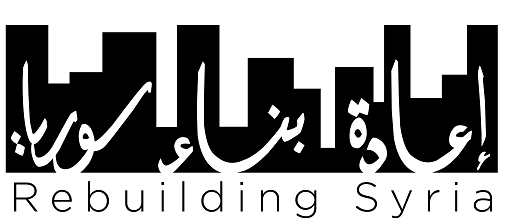 Rebuilding Syria is Rafik Hariri Center's two-year project to present a development strategy for Syria focused on the interplay between economics, governance, and political legitimacy. The project convenes local and international experts and stakeholders to devise development policies that fit Syria's complex context, engages with policymakers, and produces expert analysis that emphasizes long-term, locally-driven political and economic sustainability.