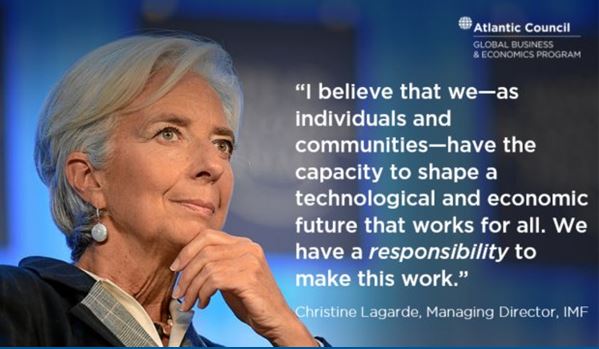 THIS WEEK IN TRADE
South Korea indicated on Wednesday it was open to talks on revising a 2012 trade pact with the United States after initial differences that followed President Donald Trump's threat to terminate the accord unless it was renegotiated.

After a day of talks in Washington, South Korea's trade ministry said "The two sides recognized the need to amend the FTA to enhance mutual benefits of the KORUS FTA" (CNBC). On the EU side, UK PM Theresa May held a speech in front of her party, outlining general plans for trade and security after Brexit. The WTO held its Public Forum 2017 focused on "Trade: Behind the Headlines." USTR is holding two hearings on China this month. The first is set for this Wednesday and is part of the office's annual review of China's compliance with its World Trade Organization commitments. The second hearing (October 10) is the one being held pursuant to the Section 301 investigation.
WHAT TO WATCH
Next week, both the Annual Meetings of the World Bank/ the International Monetary Fund, as well as the fourth round of NAFTA negotiations take place in Washington DC.
SPOTLIGHT
What Happens to Economic Sanctions after Brexit?
With Britain leaving the EU, there are concerns being raised over how this could potentially disrupt sanctions alignment between the US and the EU in the future. This week, the Atlantic Council's Economic Sanctions Initiative, in conjunction with Georgetown's Institute of International Economic Law, looked at the role of the private and public sector with regards to economic sanctions after Brexit. The first panel featured speakers from government who looked at sanctions development, implementation, and enforcement after Brexit, while the second panel represented the views of the private sector, asking if the private sector can prepare for and contribute to the post-Brexit sanctions landscape.
Missed it? You can watch the event here.
TRADE
News: Commerce Hits Bombardier with Preliminary Duties of More Than 200 Percent, Adam Beshudi, Politico
Report: What if NAFTA Ended? The Imperative of a Successful Renegotiations, Adrienne Arsht Latin America Center, Atlantic Council
Opinion: Will Trump Ditch NAFTA? Ashish Kumar Sen, Atlantic Council
News: GOP Senator Demands Tax Reform be Permanent, Reduce Deficit, Niv Elis, The Hill
News: White House Dials Back Trump's Vow to Clear Puerto Rico's Debt, Mary Walsh and Alan Rapport, New York Times
Official Statement: Joint Statement on the United States-Ukraine Trade and Investment Council, Office of the United States Trade Representative
Official Statement: Trade Opening for Ukraine: Joint Statement by Commissioner Malmström and Deputy Minister Mykolska, European Commission
Analysis: Donald Trump's War on Trade Deficit Backfires, Shawn Donnan, Financial Time
Opinion: Why Wilbur Ross's Approach on Trade Will Hurt US Competitiveness, Caroline Freund, Peterson Institute for International Economics
Opinion: Secretary Ross and the Commerce Department Wrongly Conclude NAFTA Rules are Bad for the United States, Luis de la Calle, Wilson Center
News: UK Exports Outside the EU Fall Despite Weak Pound, Phillip Inman and Richard Partington, The Guardian
News: UK and EU Strike Initial Deal on WTO Quotas in Brexit Breakthrough, Alan Beattie and Jim Brunsden, Financial Times
Interview: Brexit – The UK Will Not 'Cut and Paste' EU Trade Deals After Brexit Says Trade Minister, Liam Fox, CNBC
Analysis: How 3D Printers Could Erase a Quarter of Global Trade by 2060, Jeanna Smialek, Bloomberg
Analysis: Three Trade Cases Facing the Trump Administration Spell Trouble, The Economist
Blog: LSE Ideas: 'Global Britain': The Trade Strategies the UK Could Pursue After Brexit, Linda Yueh, London School of Economics
News: ECB Closes in on Power Over Euro-Derivative Clearing Post-Brexit, Silla Brush, Bloomberg
Blog Post: CETA – Making it Work for Your Business, Cecilia Malmstrom, European Commission
Report: Chart of the Week: High Hurdles for Trade in Services, IMF Blog, International Monetary Fund

TWEET/FACTOID OF THE WEEK

GLOBALIZATION
News: WTO Chief Warns of Risks to Trade Peace, Shawn Donnan, Financial Times
Blog: Inequality: Tools from the Old Masters to Help Today's Policymakers, Vitor Gaspar, Paolo Mauro and Tigran Poghosyan, International Monetary Fund
Opinion: Donald Trump has Made Liberal Internationalism Great Again, Daniel Drezner, Washington Post
Podcast: Microsoft CEO Satya Nadella – On Hitting Refresh and Seizing the Opportunity of a Digital Revolution, Sayta Nadella and Kamal Ahmed, Intelligence Squared
Report: Global Development Trends and Challenges – Horizon 2025 Revisited, Homi Kharas and Andrew Rogerson, Overseas Development Institute
Report: Economic Freedom of the World 2017 Annual Report, Fraser Institute

WHAT WE ARE READING
Opinion: Macron May Have a Bold Vision but Merkel Calls the Shots, Wolfgang Munchau, Financial Times
Opinion: Running Europe: the Spotlight Shifts from Germany to France, The Economist
News: Spanish Stocks and Bonds Under Pressure After Catalonia Referendum, Thomas Hale and Adam Samson, Financial Times
Analysis: What to Know About the Sanctions on North Korea, Eleanor Albert, Council on Foreign Relations
Podcast: What the West Doesn't Understand About China's Economy – A Lot!, Yukon Huang, Council on Foreign Relations
Opinion: A Jamaican Germany is Good for Europe, Guntram Wolff, Bruegel
Interview: Future Tense: What Next for Catalonia, Carles Castell-Catchot and Rachel Ansley, Atlantic Council
Analysis: EU Membership on the Line: Independence Would Prove Costly for Catalonia, Ashish Kumar Sen, Atlantic Council
UPCOMING EVENTS
October 11: Is Europe Prepared for the Next Crisis: A Discussion with Klaus Regling at the European Stability Mechanism's 5th Anniversary, Peterson Institute for International Economics
October 12: Bruno Le Maire French Minister of the Economy and Finance, US Chamber of Commerce
October 13: Ukraine's Economic Reforms: Three Years On, Atlantic Council
October 17: Global Services Summit: Charting the Course For Growth, Coalition of Services Industries
October 19: EconNet: A New Dilemma: Capital Controls and Monetary Policy in Sudden Stop Economies, Inter-American Development Bank
November 1: US Immigration & Labor Update: How to Manage the New Challenges for Business Immigration & Employment in the United States, European American Chamber of Commerce
November 9: WEBINAR: Selling Food into the European Union: What you Need to Know as a US Company, European American Chamber of Commerce
December 7: An Update on the Transatlantic Relationship with the European Union Ambassador to the United States, European American Chamber of Commerce
November 9: WEBINAR: Selling Food into the European Union: What you Need to Know as a US Company, European American Chamber of Commerce
Your Newsletter Team:
Marie Kasperek, Associate Director, Global Business & Economics, Atlantic Council
Michael Farquharson, Intern, Global Business & Economics, Atlantic Council
Jack Reynolds, Intern, Global Business & Economics, Atlantic Council
Please send us suggested news stories, opinion pieces, publications, and upcoming events that you would like us to highlight! Email [email protected] with your ideas and suggestions.
The views expressed in this newsletter and linked external articles and content do not necessarily reflect the opinions of the Atlantic Council, its staff, or its sponsors.
© 2017 Atlantic Council
Atlantic Council
1030 15th St. NW
Washington, DC 20005
Subscribe to the New Atlanticist | Unsubscribe from our emails