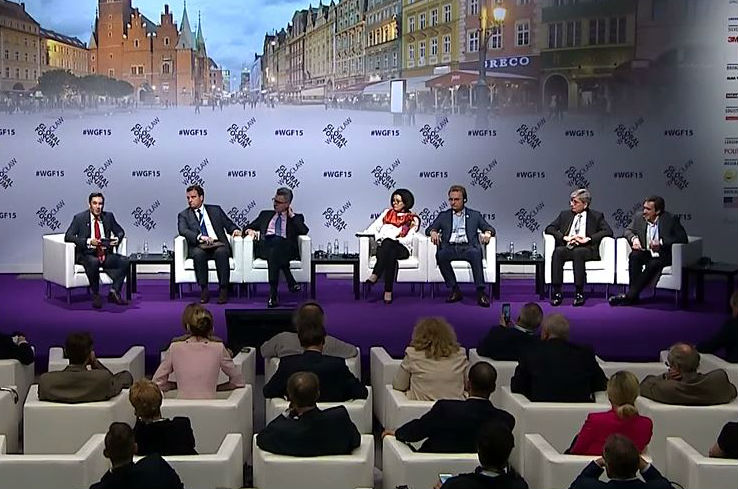 Corruption threatens to derail Ukraine's progress, American and Ukrainians officials agreed at the Atlantic Council's Wrocław Global Forum in Wrocław, Poland on June 13. "There is no issue that is a greater threat to Ukraine's long-term success today than institutionalized corruption," said Geoffrey R. Pyatt, US Ambassador to Ukraine. "It's a bigger threat than Russian tanks."
"The government has to be obsessed with getting rid of corruption…with fiscal stability and balanced budget…with ensuring equal access to opportunities…and simplifying business," said Pavlo Sheremeta, Chair of the Advisory Board of the Lviv Business School and former Ukrainian Minister of Economic Development and Trade.
Ukrainian President Petro Poroshenko has pledged to bring corruption under control and has reined in some of the country's richest tycoons. "The key issue is the 'de-oligarchization' of the country," Poroshenko told ICTV in March 2015. "We are trying to bring order to the government, whereas the oligarchs want chaos."
But it's not enough for the government to be obsessed with getting reforms right after the Euromadian, Sheremeta, said. Society and the private sector have a large role to play.
"Yesterday I was so happy to learn from Marshal [of the Polish Sejm Radosław] Sikorski this phrase that there was a national obsession in Poland about joining the European Union and NATO. He said 'We would eat grass for it.' And I'm thinking, where is our Ukrainian obsession?" asked Sheremeta.
Pyatt and Sheremeta were part of a panel that discussed Ukraine's reform efforts in a time of war. Aivaras Abromavičius, Ukraine's Minister of Economic Development and Trade; Eugene Czolij, President of the Ukrainian World Congress; Andriy Sadovyi, Mayor of Lviv, Ukraine; and Oksana Syroyid, Deputy Chairman of the Verkhovna Rada, Ukraine's legislature, also participated in the panel, which was moderated by Atlantic Council Executive Vice President Damon Wilson.
Reforms Underway but More Progress Needed

Abromavičius, Pyatt, and Sadovyi highlighted the reforms that the government has passed.
On March 2, the Verkhovna Rada adopted eight important reform laws making changes to the budget, taxation, pensions, and energy pricing. And on April 1, it quadrupled gas prices for households. Prices had been subsidized for years. The parliament also passed a law to open up the Ukrainian gas market to greater competition.
"The system fears decentralization," Mayor Sadovyi said. "Only recently have we been making some progress [toward decentralization], but it needs to be done more rapidly."
Pyatt said that readiness to move toward local control can be felt all over the country, from Lviv to Odesa to Kharkiv.
But the economy is still in bad shape. Drastically higher utility bills will be coming soon and the public will demand economic growth. Local elections are also slated for October 25, 2015.
"In order for Ukraine to achieve the tipping point in reform, more needs to be done," Sheremeta said. "The negative scenarios are looming," he warned. One is the Greek scenario, which is austerity without growth.
Abromavičius said it's partly a communications problem: "There [are] a number of reforms that have already been passed that is simply poorly communicated out to the general public." The government is beefing up its communications efforts in every department and at the National Council of Reforms.
Russian Tanks and Disinformation
"Ukraine is not only fighting in the east," Czolij reminded the audience. Russian disinformation is meant "to convince the international community and Ukrainians…that Ukraine is either a failed state or will become [one] shortly hereafter," he said.
He described Russian disinformation as "one of the biggest challenges for Ukraine today," noting that the Kremlin will spend 643 million euros subsidizing media in 2015.
A recent New York Times expose showed that the Kremlin has set up sophisticated, lavishly staffed online trolling operations. RT, launched by the Kremlin in 2005 as Russia Today, is a television channel available in English, Spanish, and Arabic and is expanding into German and French. Sputnik, a Kremlin-controlled news agency, is ramping up efforts to broadcast in 30 languages.
"We are so vulnerable in delivering our information," Syroyid agreed. "The headquarters of major media are still based in Moscow," which "shifts the angle of perception."
What's Needed from the West?
"There is no conflict, and there is no crisis. There is a war," said Syroyid. "And Ukraine is determined to succeed."
Syroyid stressed the need for help with transforming state institutions, while Mayor Sadovyi called for greater media freedom and more education for young people who will work in state ministries in the future.
What's at Stake?

Czolij urged international leaders to "see the urgency of the situation in Ukraine" and act now. The international community "shouldn't treat Ukraine as though it was business as usual." The stakes are too high, Czolij and Pyatt agreed.
"We cannot afford to allow Ukraine to fail," said Pyatt. "Because this experiment in democratic revolution is not just about Ukraine and 46 million Ukrainians. It's about the whole Russian periphery," said Pyatt. "Remember, Ukrainians are the first people in history to fight and die under the flag of the European Union."
"[I]f the international community doesn't react in a decisive, clear manner today," Czolij warned, "then Section 5… of the NATO Treaty will be tested by President Putin and NATO will then have to decide whether to sacrifice another country or whether to engage into a third world war."
Melinda Haring is editor of Ukraine Alert at the Atlantic Council.