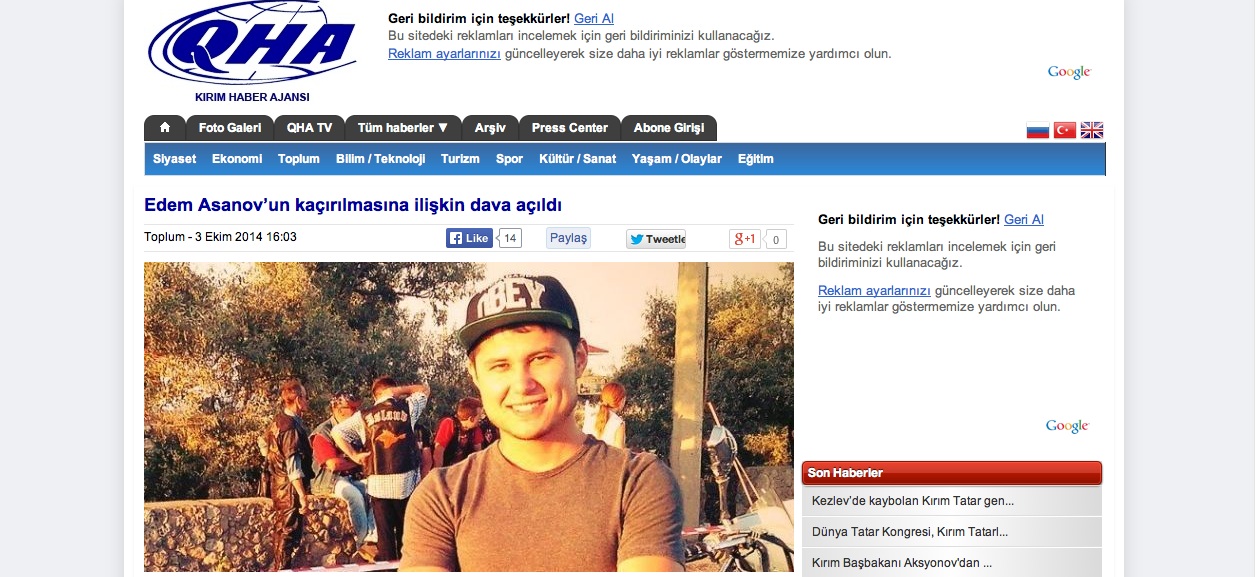 19 Tatars Abducted or Disappeared Since Moscow's Takeover of Crimea
At least nineteen ethnic Tatars have been abducted or have disappeared in Russian-ruled Crimea, four of them in the past ten days, Tatar and human rights activists say. Russian authorities up to the office of President Vladimir Putin have promised to investigate the disappearances, which began in the first week of Russia's invasion of the peninsula. But they have made no arrests and reported no progress in finding the missing men.
Many of the vanished men were active in Tatar community organizations that have protested Russia's seizure of Crimea from Ukraine. In some cases, witnesses or video cameras have glimpsed the moment of their disappearance—unidentified men surrounding them on the street or bundling them into a van, family members and human rights groups have said. In two of the cases—one of them hours ago—bodies of the men have been found in remote locations.

The disappearances are a dark, silent Russian operation in Moscow's campaign to intimidate the estimated quarter-million ethnic Tatars, who widely support Crimea's return to Ukraine, according to Tatar leaders such as Mustafa Djemilev, the longtime Tatar leader and member of Ukraine's parliament. On Friday (October 3), Djemilev told Council of Europe legislators meeting in France that a total of eighteen Tatars had disappeared. That day, Apselymov Eskender, 23, vanished after leaving his home for work, to become the latest case.
Tatar Support for Ukraine
The Tatars form about 12 percent of Crimea's two million residents. They are the peninsula's indigenous people, ethnic Turks whose forebears ruled a Muslim state until its annexation in 1783 by Russian empress Catherine the Great. Under Soviet rule, Moscow exiled Crimea's Tatars en masse to Central Asia during World War II, an ordeal in which half of the deportees died.
Russia's crackdown now aims to stamp out all suggestions of loyalty to Ukraine, Djemilev and other Tatar leaders have said. The campaign has included the closure of all independent Crimean news organizations and the office of the main Tatar political and cultural organization, the Mejlis. Crimeans who have publicly protested Russia's takeover, including film director Oleg Sentsov, have been arrested. Sentsov and at least four other defendants have been ordered to stand trial in Moscow on terrorism charges.
Ten Days, Four Missing
On September 27, unknown men driving a dark blue Volkswagen Transporter grabbed Islam Dzhepparov, 19, and Dzhevdet Islamov, 23, from a street in the village of Sary-Su, east of the capital, Simferopol. Witnesses noted the van's license plate number, and relatives of the men appealed to Crimea's Russian prime minister, Sergei Aksyonov. Authorities have said their investigations into the men's abduction—and other public, daylight seizures of Tatars as far back as March—have found nothing so far.
Two days later, Edem Asanov, 25, a worker at one of Crimea's coastal resorts, disappeared on his way to work. Asanov's body was found this morning, left in another, abandoned, resort near the town, the news website ru.krymr.com reported this morning.
The past months' abductions or disappearances include those of three men in May—two of them Tatars—who had been active with a pro-Ukrainian organization that has protested the Russian takeover. "All three men took part in a demonstration," back in February, against the initial Russian takeover of Crimea, according to a BBC account of their disappearances. After Timur Shaikmardanov, a Tatar activist, vanished, one of his friends, 33-year-old Seiran Zinedinov began to investigate by meeting with Shaikmardanov's wife on a highway near the capital, Simferopol. Hours later, Zinedinov also disappeared.
Prime Minister Perplexed
Zinedinov's mother wrote directly to Putin, and received a letter from his office saying that officials were working to find her son. The Crimean prime minister, Sergei Aksyonov told a BBC interviewer that police and the Russian domestic intelligence agency, the FSB, had been unable to learn anything.
"When journalists started asking me questions about these disappearances, I went up to my office and phoned the head of the FSB, the security services, and asked if anyone had been detained," Aksyonov told BBC correspondent Lucy Ash. "Then I phoned the head of the police and asked if anyone had been detained." Hands raised and looking perplexed, the prime minister said, "Nobody was put in jail or arrested. We don't allow any dark goings-on on this territory."
The first Tatar to disappear under Russia's rule was—until Asanov's body was discovered today—the only one whose fate was known. Reshat Ametov, a 39-year-old construction worker and Tatar community activist, had gone on his own March 3 to voice his objections to Russia's takeover to the men who had conducted it: Russian-sponsored forces who had taken over the peninsula's parliament in Simferopol. A television crew from the Crimean station ATR filmed the soldiers, in uniforms without insignia, marching Ametov across the public square and pushing him into a car that sped away.
Two weeks later, Ametov's body was found in a wooded area.
Crimea's wave of disappearances parallels that of recent years in Russia's north Caucasus region, human rights activist Halya Coynash of the Kharkiv Human Rights Protection Group wrote over the weekend. She cited an account of the Caucasus disappearances by the Russian human rights group Memorial: "Abductions are carried out by staff both of the local, and the federal enforcement bodies. A number of the abductions take place according to the classic, 'Chechen' scenario, when armed men in masks burst into a home and take the person they want away. However many abductions are carried out very 'professionally'—a person leaves his home and doesn't return, or later he's found murdered."
James Rupert is an editor at the Atlantic Council.