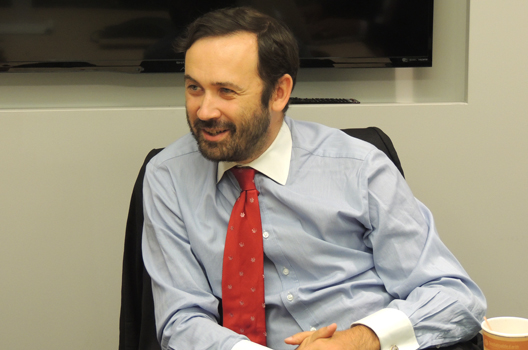 The United States must expand the scope of its sanctions well beyond Russian President Vladimir Putin's inner circle if this effort—a response to Russia's annexation of Crimea and its support for separatists in eastern Ukraine—is to have any real impact, says a Russian lawmaker.
"The [US] government machine is doing what it can do, but it is doing … more harm than good," Ilya Ponomarev, a member of the State Duma, Russia's lower house of parliament, said in an August 26 interview with the New Atlanticist in Washington.

The Obama administration, in coordination with the European Union, has imposed sanctions on a number of Russian and Ukrainian entities—including defense companies, Putin's closest associates, banks, and energy conglomerates—since Russia annexed Crimea in March 2014.
But those actions do more to satisfy Western public opinion than deal with the root of the problem, said Ponomarev.
In fact, the sanctions have only helped burnish the credentials of targeted officials as "certified Putinist," fast-tracking them for promotions and Kremlin support, Ponomarev said, adding: "In Russia, there is actually a competition to be on the sanctions list."
He advocated slapping penalties on "not just 150 guys," but on the entire government apparatus, which he said comprises at least 1.5 million people.
For now, all sanctions have succeeded in doing is turn Russian public opinion against the United States, noted Ponomarev. "Russians say, 'We're poor because of Obama. The worst President in Russian history is Obama.'"
A climate of repression

Ponomarev was the lone dissenter when the State Duma voted 445 to one in March 2014 to approve Russia's annexation of Crimea. His Duma colleagues branded him a "national traitor" and stripped him of legislative immunity so that he could be prosecuted for misappropriation of funds. On August 26, a Moscow court upheld his arrest in absentia. The two-term legislator from Russia's third-largest city, Novosibirsk, now lives in exile in the United States.
"The message [to critics] is: If you want to leave Russia, leave. But if you are staying here you are assuming a certain, as they call it, professional risk of being an opposition politician in Russia," said Ponomarev. "You can be beaten, poisoned, or sent to prison."
It's not Putin who gives the orders to target the opposition, but low-level officials eager to "showcase their loyalty" to the Russian President in the hope of securing promotions, said Ponomarev. "That's what is dangerous."
Government critics are routinely targeted. On February 27, Boris Nemtsov, leader of the pro-democracy Republican Party of Russia-People's Freedom Party (RPR-PARNAS), was assassinated near the Kremlin. At the time of his murder, Nemtsov was investigating Russia's involvement in the Ukraine conflict.
On August 26, Ilya Yashin, the deputy leader of RPR-PARNAS, was arrested in Russia's western Kostroma region for a "noise" violation.
Such incidents only boost public support for RPR-PARNAS in Kostroma, said Ponomarev. He believes the party can actually do well in elections there, but says the Kremlin only allowed Yashin to stand for office because it is confident he cannot win.
Russian officials also target others they perceive—rightly or wrongly—to be government critics. On August 25, a military court in Rostov-on-Don in southern Russia sentenced Ukrainian filmmaker Oleg Sentsov to twenty years in prison for allegedly plotting terrorist attacks in Crimea. Alexander Kolchenko, a Ukrainian activist, was tried in the same case and received a ten-year sentence.
The Obama administration described the punishments as a "miscarriage of justice."
Arming Ukraine

In a February 2015 report, the Atlantic Council, Brookings Institution, and the Chicago Council on Global Affairs urged the Pentagon to send defensive weapons to Ukrainian soldiers battling Russian-backed separatists.
But that's not the only way to achieve military parity between the Ukrainian army and the separatists, said Ponomarev. He said such hardware would be expensive and would give Russia the perfect excuse to accuse Washington of meddling in Ukraine.
Many former Warsaw Pact nations are well-suited to helping Ukraine "for a fraction of the cost associated with supplying hardware from American soil," he said. Ponomarev added that such an approach would also counter Putin's image of a "Russian wall" by promoting Slavic unity.
More than a year after Ponomarev criticized Crimea's annexation in the State Duma, he said most Russians still support their country's actions in eastern Ukraine.
"When I tell them that it is an aggression, it is a war, it is imperialism, people start to [get upset]," he explained. "They say, 'Why are you saying this? We are the good guys. We are not the bad guys.'"
But that sentiment could rapidly shift as more Russians feel the pain of a shrinking economy. "I think 2017 will be the year when things start changing in terms of public perception," Ponomarev predicted.
The day after Putin

Bleak economic prospects and a repressive government have forced many Russians to leave their country. But there might actually be a silver lining as exiled politicians get a chance to reinvent and renovate their thinking, said Ponomarev.
In exile himself, Ponomarev ponders the question: what happens the morning after Putin is gone? While Putin has made a conscious effort to keep opposition rivals out of governance roles, a post-Putin Russia will need experienced and entrepreneurial young leaders, and the US diaspora is the perfect incubator for such talent, he said.
As he contemplates Russia's future, Ponomarev hopes to avoid the mistakes of Ukraine where, he pointed out, much of the ruling elite served in the government of ousted President Viktor Yanukovych.
"Being in the former establishment means you are infected with the former governance [and] business practices," he said. "You have a certain degree of tolerance [for corruption]. That's bad."
So what would Ponomarev do differently?
"I would not be that afraid of cracking down on the previous government. Even fresh people who have no experience would be better than those [who have] experience but are infected," he said.
Ashish Kumar Sen is a staff writer at the Atlantic Council.