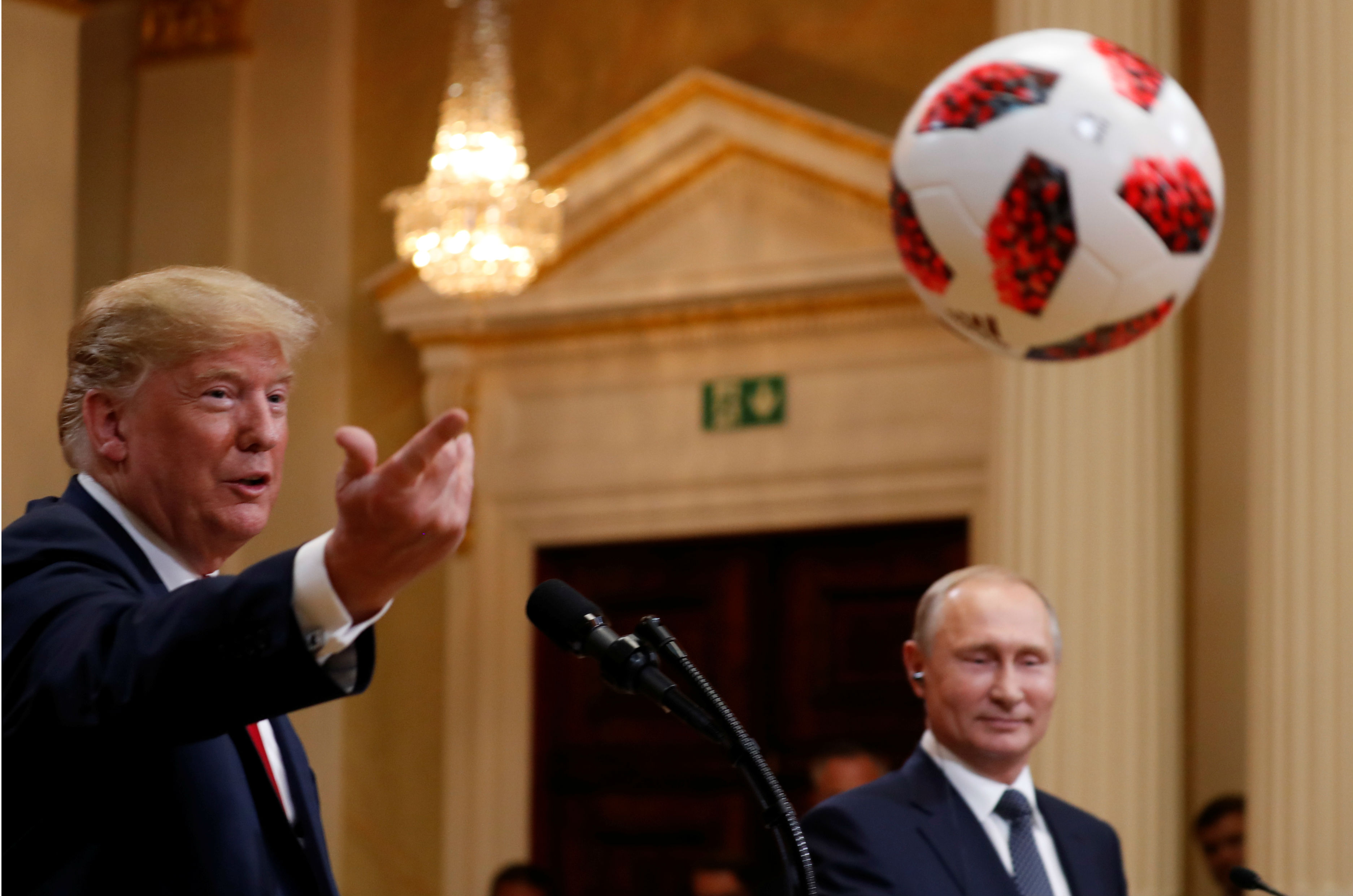 There's no dancing around it. Donald Trump got schooled in Helsinki.
President Vladimir Putin put on a hell of a show. The masterfully prepared former spy buttered up the US president at every opportunity, and even tossed him a soccer ball from the just-completed World Cup that Russia hosted to lighten up the press conference.
Smart analysts knew that this was coming. Michael McFaul, former US ambassador to Russia, pointed out in The Washington Post that Putin has a far better understanding of international affairs than Trump after two decades in power.
Laying all that aside, the Trump-Putin summit was a disaster for US interests and how the world perceives America. One commentator called it a press conference of platitudes. It was far worse. The right phrase is moral equivalency.
Trump looked like an insecure junior partner with his bright red tie and contrived power poses. Putin, who often looked bored in a muted blue tie, spoke first and talked about specific countries and specific foreign policy problems. When Trump got the microphone, he couldn't stop talking about his "brilliant campaign" and how he won a race two years ago fair and square.
Putin couldn't have been more delighted.
The fireworks came when a journalist asked what Trump holds Russia responsible for. Rather than saying interfering in the 2016 US presidential election, the downing of flight MH-17 over Ukraine and the death of 298 innocents in 2014, the illegal annexation of Crimea, the invasion of Georgia, the invasion and occupation of eastern Ukraine, or the poisoning of a former KGB spy in Salisbury, England, he said we are all to blame. Nothing could be further from the truth.
Naturally, Putin denied interfering in the US elections, cleverly offering Russian cooperation to get to the bottom of things.
When pressed, Trump refused to say whether he believes his own intelligence agencies or Putin.
What followed didn't generate many headlines, but it was far more revealing about Trump's understanding of Putin's murderous regime. "I don't see any reason why it would be [Russia]," Trump said, even though his intelligence agencies are convinced it was.
There's every reason to believe it was Russia. By letting Putin off the hook in such a public setting, Trump just gave him a green light to interfere not just in future US elections but wherever he pleases without fear of the slightest confrontation.
Trump went out of his way to be conciliatory. Before the summit, he took to Twitter to blame the United States for poor US-Russian relations, blasting the "Rigged Witch Hunt" and repeatedly praising Russia for hosting the World Cup. After bashing German Chancellor Angela Merkel over the decision to greenlight Nord Stream 2, the controversial $11 billion gas pipeline from Russia to Europe that will circumvent Ukraine and give Russia more control over European gas, Trump more or less shrugged when in the presence of Nord Stream 2's biggest backer.
There is a silver lining. Nothing happened. Trump didn't give anything away during the public part of the summit.
Many had feared that Trump would gamble away Crimea or promise to lift US sanctions on Russia. He did neither. US policy on Crimea remains the same: Crimea is Ukraine.
Trump himself didn't mention Ukraine during the press conference. Putin did, and he said that the United States needs to push Kyiv to work harder on Minsk, which is the failed ceasefire agreement that the separatists he supports in eastern Ukraine continually violate. It's a totally bogus thing to say, but Trump let him get away with it. Anyone who has followed Ukraine over the last four years knows that solving the conflict depends on political will in Moscow.
Monday's Trump-Putin summit revealed a pressing need to reinvigorate Russian studies at universities across the United States. The president doesn't seem eager to educate himself, but there is always hope for the American public.
It's no secret that Russian studies departments have dried up. One professor at University of Virginia told me that interest in Russia waxes and wanes according to how menacing Putin is. US experts on Russia can barely make a living in the United States, living from grant to grant. It's time to step up public funding for regional studies and language grants again.
Trump doesn't have much of a reputation as a reader. But there's a first time for everything, and if he wants to open a book, an excellent place to start would be Mr. Putin: Operative in the Kremlin by Fiona Hill, his own National Security Council senior director for Russian and European Affairs.
Melinda Haring is the editor of the Atlantic Council's UkraineAlert blog and a fellow at the Foreign Policy Research Institute.