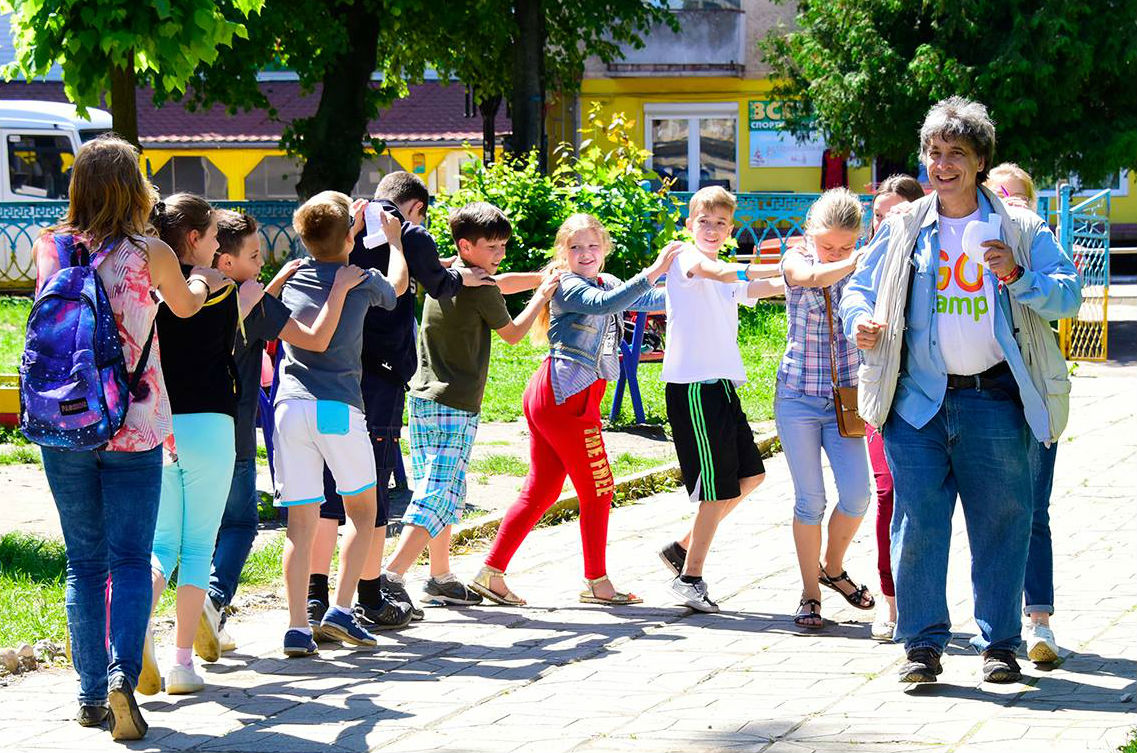 The human toll of the Russia-instigated war in eastern Ukraine, which has claimed over 10,000 lives since 2014, remains underreported. Newspapers rarely document the daily grind of life in the conflict zone, which has lost any sense of normalcy for thousands of Ukrainians who wish to live in peace. For schoolchildren along the contact line in the Donetsk and Luhansk regions, this disruption is especially stark. The conflict has been occurring for nearly four years, but going to class can still abruptly shift into a dash for cover amid a deadly hail of shells and bullets.
Although the concept of sanctuary for schoolchildren can no longer be taken for granted in eastern Ukraine, people from around the world have stepped up to offer respite. This past summer, the nationwide summer camp initiative GoCamp welcomed six hundred students from twenty-four schools in the war-affected Donbas to GoCamp East, a summer program held in Kozyn, near Kyiv, for two weeks of English language learning. During those fourteen days, the students were able to leave their conflict-ridden towns behind and immerse themselves in new ideas and opportunities.
The innovative program is part of the national educational initiative GoCamp, which involves over seven hundred schools across Ukraine. The program is run by Global Office, a nongovernmental organization that was co-founded in 2016 by Mustafa Nayyem, a member of parliament in Ukraine and a prominent reformer in the post-Maidan era.
"If we do not invest in the future, our children and nephews will encounter the same problems that we have," Nayyem told UkraineAlert in 2016. "Many children in Ukraine have never seen foreigners."
In just two years, the project has connected over 69,000 Ukrainian schoolchildren between the ages of ten and fifteen with hundreds of trained foreign volunteers from dozens of countries. Students, often from more remote areas with less educational opportunities, apply for entry with a motivational video. Summer camp and after-school lessons are taught in English, French, or German by local teachers with volunteer support, and include special tracks focusing on science, technology, engineering, arts, and math, global citizenship, leadership and career exploration, and sports and health. Class time is also supplemented with teambuilding games and cultural activities.
"It's about helping young people improve their English as a means of being more employable—getting more and better jobs—but also about having access to wider sources of information, so they can navigate through the world of information and sort of make their own minds up about the world," explains Simon Williams, director of the British Council in Ukraine, which supports GoCamp East, along with the British Embassy in Ukraine, the European Bank for Reconstruction and Development, and other international partners.
But GoCamp East has a special significance for Ukraine's development. The camp brings students from the conflict zone to engage not only with foreign volunteers, but also with their peers from across Ukraine. Through group discussions on critical thinking, tolerance, civic education, and healthy living, students dispel stereotypes, break down barriers, and grow together.
At the same time, the program has a therapeutic value for the participants, many of whom have lost a loved one to the war. It provides them with a sense of normalcy and with the typical experiences of their peers across the country. Furthermore, it helps them feel reconnected to the wider world.
"So many children wanted to be here—we are very happy to get this opportunity," said Varvara, a student from the Luhansk region who participated in GoCamp East this past summer.
Kremlin-controlled outlets dominate the information space in eastern Ukraine and spread disinformation across the country to sow divisions in society. Significantly, GoCamp East helps students on the frontlines of this information war develop critical thinking skills. The next time GoCamp East alumni encounter fake news or stumble across propaganda leaflets, they will likely be better equipped to verify the facts, checking in with peers across the contact line, and perhaps even sharing their findings with family and friends at home.
The GoCamp project is another remarkable example of the determination of the Ukrainian people to embrace a democratic and prosperous future. Ukrainian schoolchildren are honing essential language and technical skills for the global job market and gaining intercultural understanding from their non-Ukrainian mentors. GoCamp is increasingly linking Ukraine to Europe and the wider world.
GoCamp East is helping to bridge the artificial, Russia-imposed divide between east and west in Ukraine. The Kremlin seeks to polarize Ukraine, but the systematic training of Ukrainian youth in foreign languages and career development as well as diverse peer-to-peer interaction will steel them against negative Russian influence. With adequate support, the younger generation may soon become a driving force for conflict reconciliation in eastern Ukraine.
Peter J. Marzalik is a project assistant at the Atlantic Council's Eurasia Center. He tweets @PeterJMarzalik