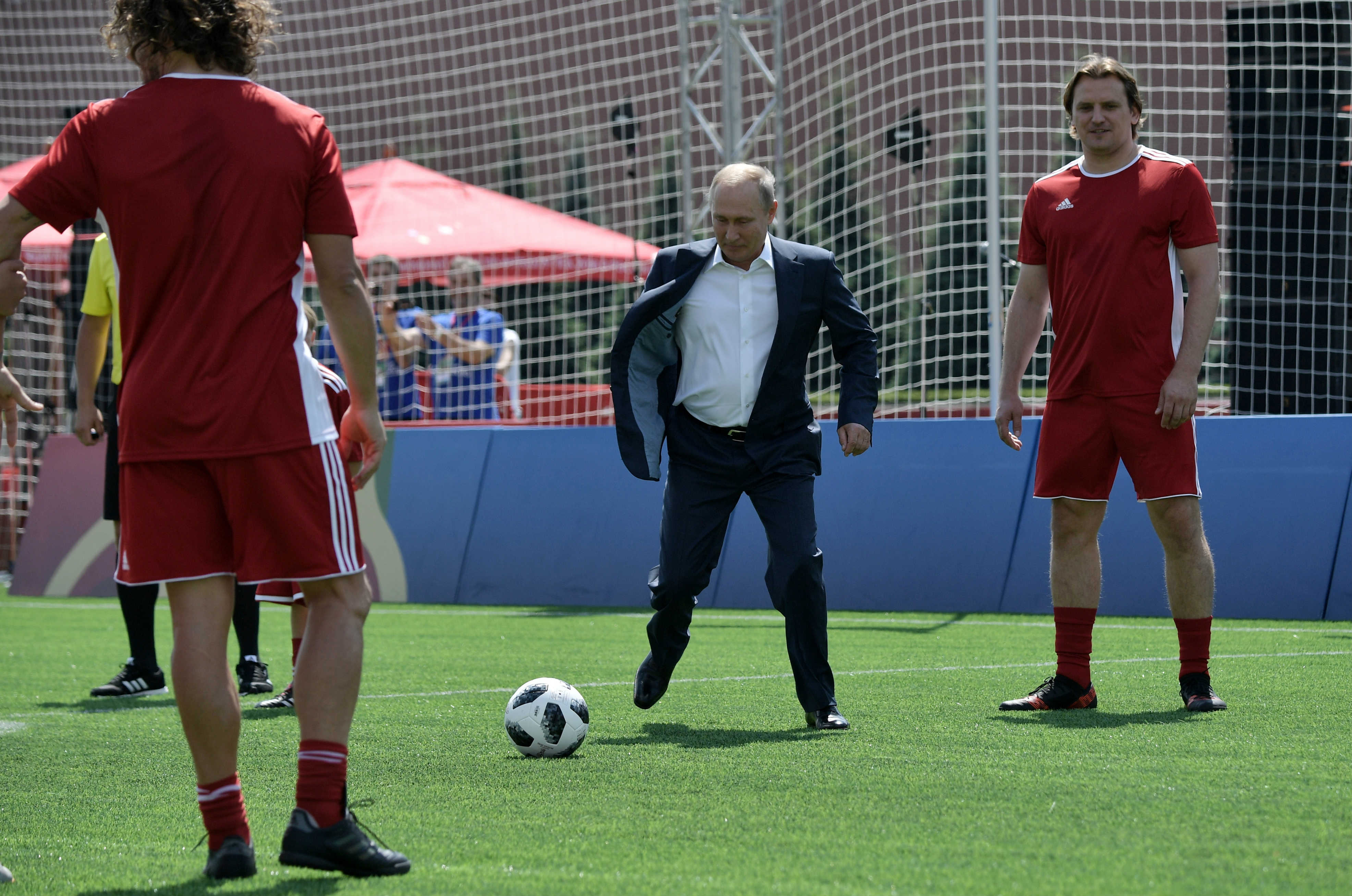 A Russia-Ukraine water war may emerge after the World Cup final on July 15.
Just as President Vladimir Putin made his move to invade Crimea immediately after the conclusion of the Winter Olympics in Sochi, he could decide that it is once again time for decisive action after the Russia-hosted World Cup wraps up.
Currently, a tense situation is building on and around the Black and Azov seas. Ukraine has cut off the flow of water to Crimea; that and a drought are pushing the Russia-occupied peninsula to ration water. At the same time, Russia is quietly strangling ship traffic to Berdyansk and Mariupol, Ukraine's two major steel exporting ports on the Sea of Azov. A Russian-instigated military response is not implausible.
For Russian authorities on Crimea, the bone-dry canal from Ukraine is a convenient scapegoat. Without Dnipro River water flowing from Ukraine through the North Crimea Canal, agriculture on the peninsula has collapsed. A new Euromaidan report estimates that, with this summer's drought, Crimea may only have adequate water for 1 million of its 2.5 million inhabitants.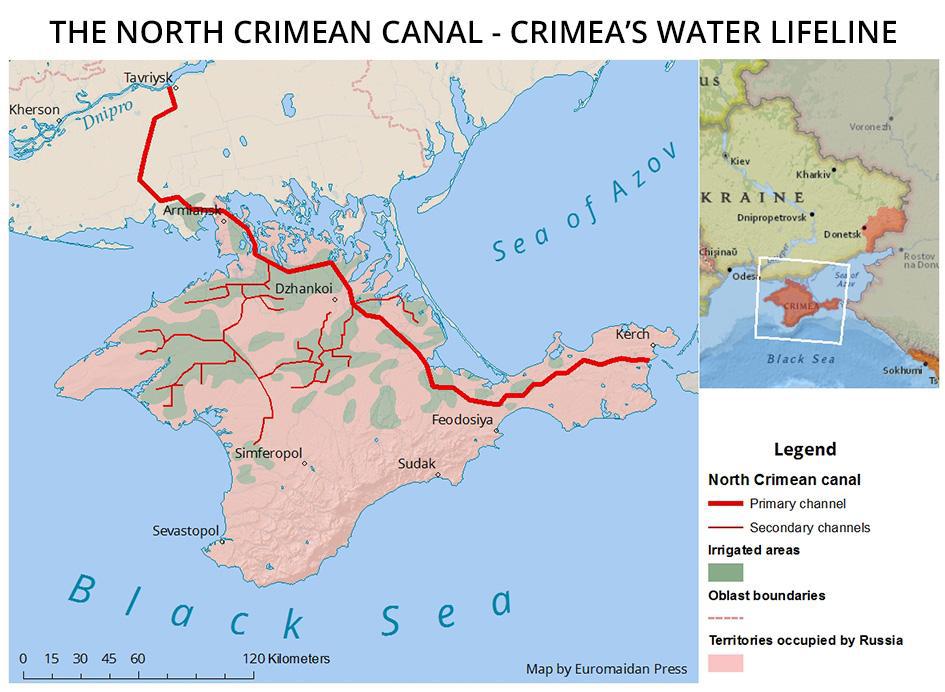 Credit: Euromaidan Press
But even in April 2014, when Ukraine shut off water flows to Crimea, the canal was a far cry from its glory days as a "Great Construction Project of Communism." With the collapse of the Soviet Union, canal maintenance also collapsed. By 2013, water flows were one-third of historic highs in 1980s. And there are new claimants to the water. It now irrigates fields in Ukraine's drought-struck Kherson region.
Ukraine's position is that Dnipro water will return to Crimea when Crimea returns to Ukraine.
To get around this, Russia seems to be creating a bargaining chip: freedom of navigation on the Azov. On May 15, Putin inaugurated a new bridge over the Kerch Strait, linking Crimea with Russia's mainland. According to the director of Mariupol port, the new bridge is so low that 144 of the ships that visited the port in the last two years can no longer dock there. It is cutting off shipping to Mariupol and Berdyansk, the ports for two major steel-producing regions, Donetsk and Zaporizhia.
From these ports, there is no easy rail connection to Kherson, Ukraine's closest Black Sea port. A train from Mariupol to Kherson takes twenty hours. The 420 kilometer road trip takes only six hours, but trucking steel makes it uncompetitive in world markets. The Kremlin knows this.
At the same time, Russia has beefed up its Sea of Azov naval flotilla, partly by shifting six shallow draft gunboats by rail from the Caspian Sea. Russia's Azov flotilla now includes six artillery boats, six amphibious ships, and two missile corvettes.
In May, Russian Navy and Coast Guard forces started detaining Ukraine-bound ships for "inspections." Russia can legally do this, based on a 2003 agreement that classifies the Sea of Azov "an internal sea of two states."
Stopping vessels carries an economic cost. Since April, the Russians have stopped and "inspected" as many as fifty Ukraine-bound ships. With some ships detained for as long twenty hours, shipping deadlines are missed. Costs to shipping companies can mount as high as $15,000 per vessel, Ayna Chagir, Mariupol Port spokeswoman, tells the Kyiv Post.
Shipping at both ports had been declining, but this pressure is accelerating the trend. Through May, cargo to Mariupol is down 14 percent year over year. Now, insurers are raising rates, shippers are looking for alternatives, and some seamen are refusing to go the Sea of Azov.
On the water, Ukraine has no navy ships and only a few Border Guard patrol boats.
With a disproportionate conflict increasingly possible, Ukrainian strategists increasingly talk of creating a "mosquito fleet." In this scenario, Ukraine would put to water small, high speed power boats armed with shoulder-held ship-killing missiles, Mykhailo Samus, deputy director for Foreign Affairs of the Center for Army, Conversion, and Disarmament Studies, writes.
With tensions rising, the main hope is that the Kremlin is following an old Soviet ploy: create a problem, then offer the solution. The tradeoff would be water flows to Crimea in return for freedom of navigation for Ukraine in the Sea of Azov.
But Russia also has two possible military responses to Ukraine's actions.
A Russian military push to the left bank of the Dnipro would be costly and difficult to hold. This "land corridor" from Russian-controlled Donetsk would mean driving 350 kilometers west and holding a long thin line against partisan and conventional attacks from Ukraine.
Plus, it's unlikely Ukraine will be blindsided again by a Pearl Harbor-style surprise attack. Ukraine has wargamed many times over defense strategies against a new Russian land grab. Meanwhile, the United States and the European Union would turn the sanctions machinery into high gear.
A less difficult military strategy for Russia would be to break out of northern Crimea in an eighty-five kilometer race to the Dnipro headwaters of the canal. From a dam at Tavriysk, the canal elbows through southern Kherson region, stretching for 115 kilometers to Russian-controlled Crimea. To have a protective buffer around the canal, Russia would have to control about 3,000 square kilometers. Nevertheless, sabotage of the 115 kilometer aqueduct would be easy—by drones, cruise missiles, or special forces units on the ground.
A deadline may be looming. Sunday, July 15 is the final match of the World Cup.
One week before, at the July 9 Ukraine-EU Summit, President Petro Poroshenko plans to discuss Russia's growing military presence in the Azov with EU leaders. Poroshenko wrote last week on his Facebook page: "We look forward to a firm position of the EU regarding new Russian challenges for security in the Black and Azov Seas."
One week later, on July 16, Presidents Trump and Putin meet in Helsinki. Restoration of Ukrainian water for Crimea in return for freedom of the seas in the Azov could as emerge as "a deliverable win-win."
Four years ago, I was a correspondent at the Sochi Winter Olympics. Fresh from covering Ukraine's Maidan protests, I asked on a mid-February conference call with experts in Moscow and Washington: what if Putin invades Crimea?
I was all but laughed off the line.
At the time, Putin was basking in the favorable Olympics publicity, smoothly socializing with visiting officials. On the closing night of Sunday, February 23, the fireworks were spectacular. But Russia's leader looked tired.
We now know that he had been up all night meeting with security service chiefs, planning the takeover of Crimea, 500 kilometers to the west.
James Brooke is the editor-in-chief of Ukraine Business News and a former New York Times correspondent.