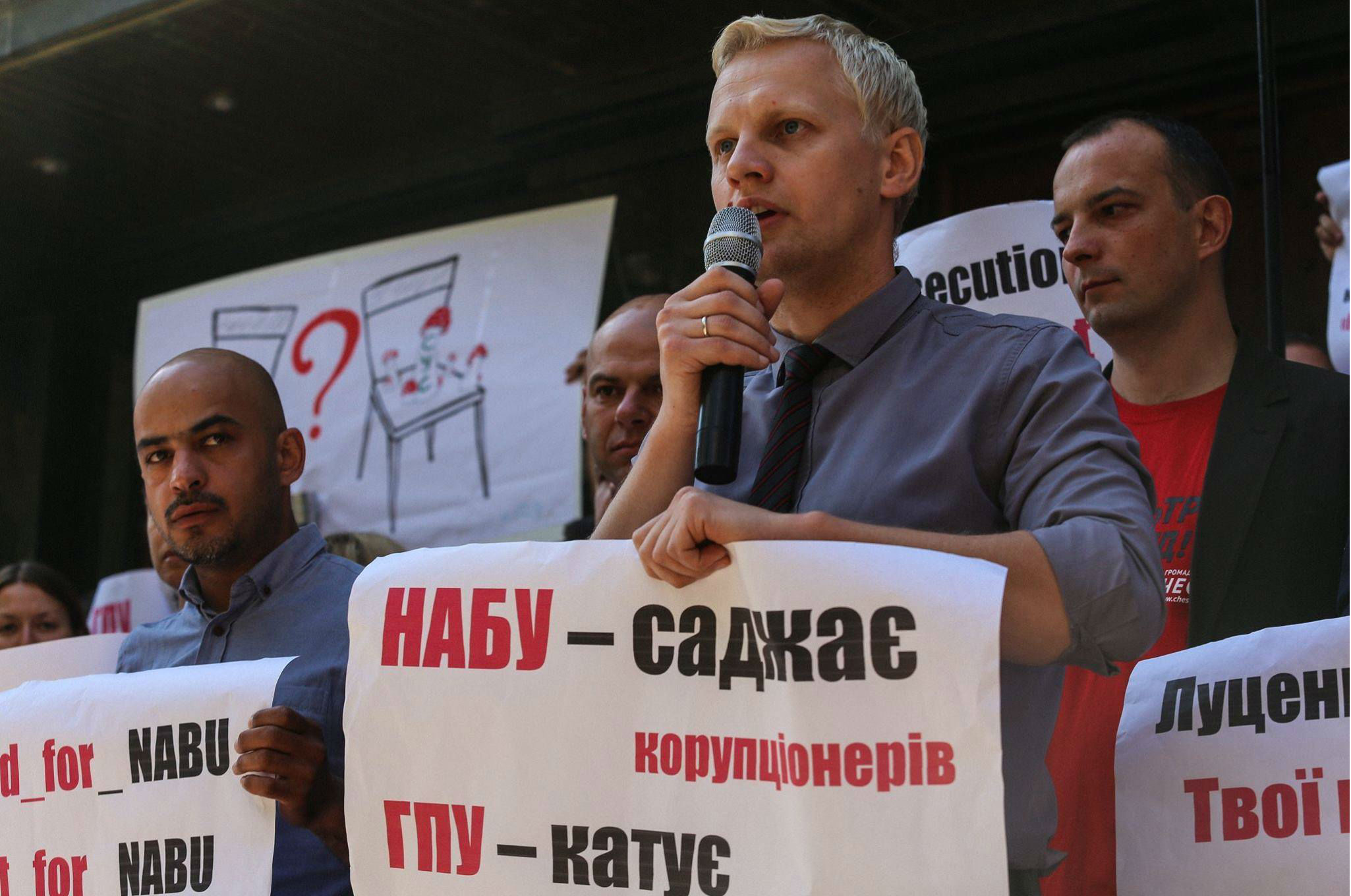 In October 14, 2014, activists unveiled a three-meter high set of flesh-colored buttocks in front of Ukraine's parliament. Giggles aside, the stunt was a serious one, meant to focus Kyiv's attention on parliament's foot dragging on corruption. An idiomatic expression in Ukrainian, "to be covered by an ass," means that something awful will happen. Through a grotesque symbol that no one could look away from, activists warned parliamentarians that something awful would happen if they didn't pass a raft of anti-corruption measures, including the creation of the National Anti-Corruption Bureau of Ukraine and a law that would require public officials to disclose their assets online.
It worked. The bills passed, and are now seen as some of the country's most notable reform measures.
The activists behind the giant buttocks were from the Anti-Corruption Action Center, or AntAC, a powerful Ukrainian NGO that advocates for anti-corruption measures. With his white blond hair, prominent facial mole, and uncompromising persona, the organization's chairman Vitaliy Shabunin has become the face of the anti-graft movement. Through in-depth analysis of legislation, irreverent campaign tactics, and a willingness to speak boldly—Shabunin and his staff wear black t-shirts emblazoned with "Ukraine Fuck Corruption" everywhere—AntAC has helped make the fight against corruption Ukrainians' number one priority.
But AntAC's prominence also makes its activists a target, and Shabunin is no exception.
On June 8, Shabunin punched video blogger Vsevolod Filimonenko after Filimonenko had harassed Shabunin, his mother-in-law, and a colleague on separate occasions. In response, the thirty-three-year old activist faces up to five years in jail if convicted.
The problems began last spring when Filimonenko turned up at Shabunin's house and asked his mother-in-law a series of leading questions about the purchase of Shabunin's home.
Last spring, Filimonenko also tracked down Shabunin in a trafficked section of Kyiv in the middle of the day and accused him of corruption. Filimonenko was joined by a cameraman and a third man.
"It was impossible to find me accidentally," Shabunin said. He thinks the Security Service of Ukraine (SBU) was tapping his phone and had sent Filimonenko to harass him. Shabunin had arranged to meet former Odesa reformer Yulia Marushevska; three minutes after the two reformers met on the street, Filimonenko confronted Shabunin with a string of insulting questions for thirty minutes.
On April 9, Filimonenko showed up at Shabunin's house and harassed him again. An hour later, the SBU organized a fake protest with at least six people in front of Shabunin's house.
On May 7, Filimonenko and his cameraman confronted Alexandra Ustinova, a member of AntAC's board, at the Boryspil airport at 6:30 in the morning. Ustinova, who was returning from vacation, had a friend who was recently killed on the frontlines in Ukraine's east. Filimenko taunted her with this. "How could you go on vacation when guys are dying in the east?" he asked, eventually bringing her to tears. (How Filimonenko obtained Ustinova's arrival time—something only the SBU, the airline, and Ustinova would have access to—remains unknown.)
Ustinova and Shabunin are colleagues and close friends, and Shabunin was angry.
On June 7, military officers showed up at Shabunin's door early in the morning with an unknown videographer and gave him a summons to the military enlistment office. At few hours later, the encounter was posted on Filimonenko's YouTube channel under the title "Don't Want to Protect Motherland." The next day, June 8, as Shabunin parked and went to a military enlistment office, Filimonenko approached him again. Shabunin asked if he'd insulted Ustinova and bothered his mother-in-law. Filimonenko said yes.
Shabunin then threw his famous punch, knocking Filimonenko to the ground. Shabunin left and went to his appointment; when he re-emerged, he was surrounded by journalists.
Filimonenko reappeared and used pepper spray on Shabunin and some journalists who were caught in the crossfire.
No charges have been filed for the pepper spray, but Shabunin was initially charged with "causing bodily harm," which carries up to three years in jail. On January 15, prosecutors changed the charge to assault on a journalist, which carries a longer sentence.
Shabunin deemed the move "clear political pressure" and "a mistake," and others agree. In a recent statement, the Reanimation Package of Reforms—a coalition of eighty civil society organizations—called the recategorization of charges "a continuation of political pressure on Vitaliy Shabunin…as well as pressure on civil society in general."
It would be wrong to see the harassment of Shabunin as a "standalone incident," wrote Maxim Eristavi, co-founder of Hromadske International and an Atlantic Council nonresident fellow, in a statement. He sees it as "part of a large campaign against every fierce dissenting voice that President Poroshenko, facing collapsing ratings, has launched ahead of a crucial round of elections" in 2019.
These tactics should sound familiar. Russia sentenced its leading anti-corruption fighter Alexei Navalny to five years in jail on bogus charges, too.
Shabunin says that Filimonenko is a well-known provocateur, not a journalist, and other media organizations and journalists agree.
The case highlights one of Ukraine's long-standing problems: selective justice. Since the start of the Euromaidan, journalists from Radio Free Europe/Radio Liberty, Nashi Groshi, and other outlets have been attacked, with no criminal charges ever filed. And when they were, prosecutors have wrongly classified the cases as hooliganism. For example, in December, a Kyiv court gave Yuriy Krysin a four-year suspended sentence on hooliganism charges for killing Vesti journalist Vyacheslav Veremiy.
Shabunin believes he's being targeted because AntAC has been so successful at explaining reforms to the general public and in communicating with the international community. "We stopped them so many times that for the president it becomes personal," Shabunin said.
In December, the Petro Poroshenko Bloc and the People's Front wanted to pass a bill that would curb NABU's independence, making it easier to dismiss its chairman. AntAC sounded the alarm and the international community backed it. The ruling elites lost. AntAC also started a campaign more than eighteen months ago to press the presidential administration to put an anti-corruption court into place. When Poroshenko "tried to fool partners with his anti-corruption bill" in late 2017, as Shabunin put it, the organization was the first to explain where the measure fell short.
AntAC is also a problem for the presidential administration because it's trusted by the diplomatic community and international donors. When Secretary of State Rex Tillerson visited Kyiv, he met with civil society representatives, including one from AntAC.
Imprisoning Shabunin would be a personal tragedy as well as a political one; he is the father of two small children. When asked what a jail sentence would mean for his family, the normally loquacious activist grows somber. "I don't think about it," he said. And then quickly adds that he'd make every preparation to take care of his family.
Those who are working for a reformed Ukraine hope it doesn't come to that. If it does, Ukraine's activists may have to roll out the giant buttocks again, this time to face the presidential administration.
Melinda Haring is the editor of the UkraineAlert blog at the Atlantic Council. She tweets @melindaharing.