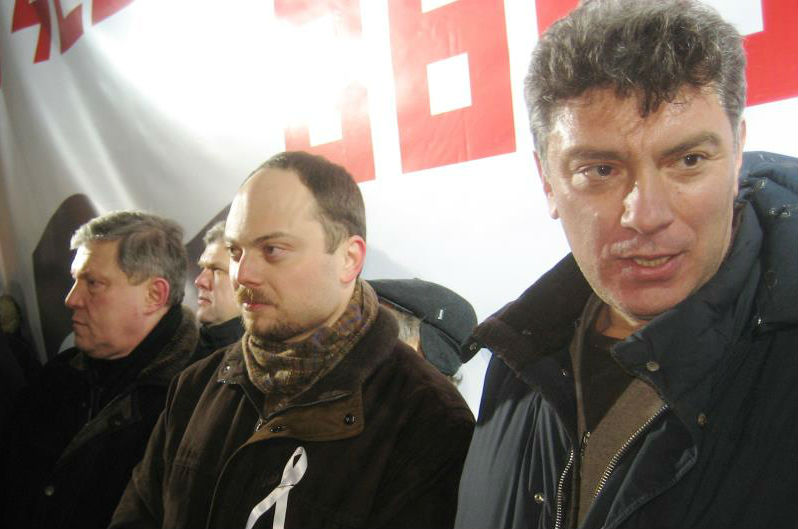 Vladimir Kara-Murza has regained consciousness in a Moscow hospital after falling gravely ill on May 26, and the Russian opposition leader's father now says his son was poisoned.
The 33-year-old Kara-Murza—a leading member of the opposition Republican Party of Russia–People's Freedom Party (RPR-PARNAS), which Boris Nemtsov co-led until his assassination—had been in a weeklong coma on life support with severe kidney failure.
"Vladimir has come out of a coma," Russian oligarch Mikhail Khodorkovsky announced in a June 2 tweet. No official diagnosis exists to explain his sudden illness, though doctors say Kara-Murza's health is now improving. On June 4, the BBC reported that Kara-Murza's father—who until now attributed his son's collapse to an accident—thinks his son was poisoned.
This wouldn't be the first time a critic of Russian President Vladimir Putin has suddenly fallen ill or died. In recent years, the Kremlin or its functionaries have poisoned several high-profile opponents, including crusading Russian journalist Anna Politkovskaya (who was later shot), former Ukrainian President Viktor Yushchenko, and former KGB operative Alexander Litvinenko.
"After the assassination of Boris Nemtsov, the collapse and severe, life-threatening medical condition of Kara-Murza raised suspicions among his friends that he may have been deliberately poisoned," wrote Ariel Cohen, Senior Fellow at the Atlantic Council.
"Looks like he was poisoned," Ilya Yashin, a leading Russian opposition figure, said May 28. "If investigators will start working, they should find the criminals in the Kremlin."
Kara-Murza "is an extremely brave Russian patriot who wants what is best for his country. That alone makes him a threat to a regime that pursues its own corrupt interests," wrote David J. Kramer, Senior Director for Human Rights and Democracy at the McCain Institute.
Until now, his family had tried to downplay the news, maintaining that while he showed "symptoms of poisoning," there was no evidence of foul play.
Yashin paid tribute to Kara-Murza during the May 28 rollout of the official English version of the Nemtsov report, Putin. War, at the Atlantic Council, noting that "he's a very talented guy, and he's a very active opposition politician."
Contrary to Putin's claim that no Russian soldiers are in Ukraine, the report alleges that at least 220 Russian soldiers have been killed in action there.
After Nemtsov was shot dead February 27 in plain sight of the Kremlin, opposition activists thought they would be safe for a time, Yashin said.
Kara-Murza is a coordinator for Open Russia, a nongovernmental organization set up by Khodorkovsky, a prominent Putin critic who spent more than a decade in a Russian prison and now lives in Switzerland.
"The Kremlin views Khodorkovsky and Open Russia not as democratic opposition but as opponents of Vladimir Putin personally," Cohen noted.
On May 23, Kara-Murza traveled to Kazan, Russia, to organize the first lecture in a series sponsored by Open Russia with Andrei Zubov, a professor who was fired from Moscow University after protesting Russia's 2014 annexation of Crimea.
Three days later, Kara-Murza was visiting the offices of the Russian Legal Information Agency when he collapsed, and an ambulance was called. Some people initially speculated that he might have gotten food poisoning while in Kazan.
Open Russia recently released a documentary criticizing the Kremlin-backed leader of Russia's Chechnya region, Ramzan Kadyrov.
Kara-Murza, a dual Russian-British citizen, lives in Washington with his wife and three children. He travels frequently to Russia to lead seminars and other events for opposition activists.
"Vladimir has a very rare ability to effectively reach out to very different audiences. He can keep a room full of experts in Washington enthralled and connect to ordinary people in the regions of Russia," observed Miriam Lanskoy, Director of Russia and Eurasia at the National Endowment for Democracy. "He returned to Russia after several years in the US to support local civil society in the regions, which is testimony to his courage and selfless conviction in the ultimate meaning of this work."
Added Cohen: "Educated in the United Kingdom and having spent most of his life in the West, Vladimir is at trusted interlocutor and a reliable analyst of Russian affairs."
Besides working with Open Russia, Kara-Murza was a political ally and close friend of Nemtsov, who was the godfather of one of Kara-Murza's daughters. That, said Yashin, illustrates just how tightly knit Russia's opposition has become.
"We all are thinking about him and worrying. I'm glad there is improvement. It gives us hope he'll recover," wrote Natalia Arno, president of the Free Russia Foundation, which released the official English version of the Nemtsov report.
We wish Kara-Murza a speedy recovery.
Melinda Haring is editor of Ukraine Alert at the Atlantic Council. Simon Hoellerbauer contributed to this report.