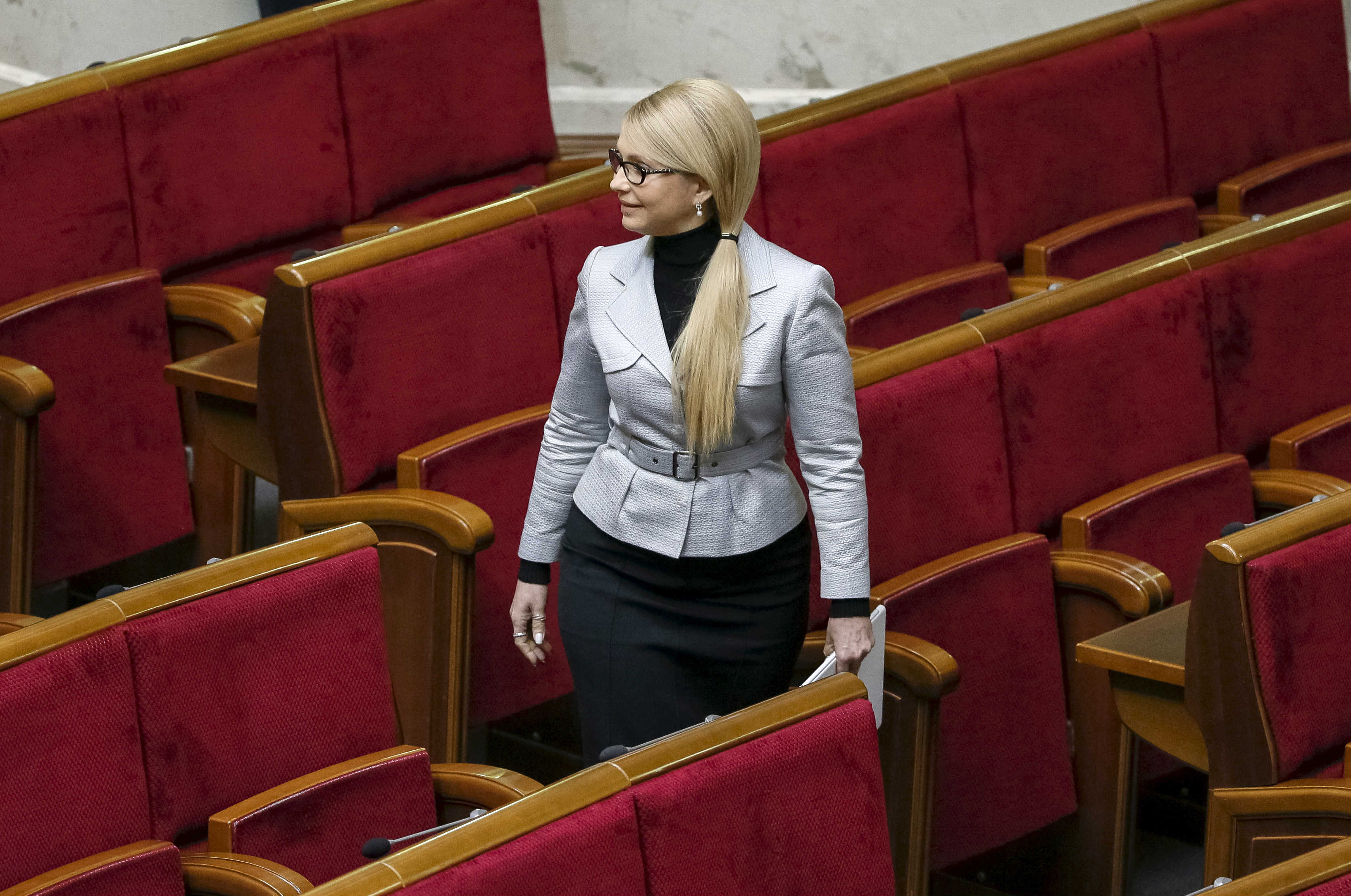 Ukraine will likely avoid early parliamentary elections this year. Some analysts feared that early elections would bring populists to power, while others reasoned that they might bring more reformers into parliament. Barring a collapse of the thin parliamentary majority that made Volodomyr Groisman Ukraine's prime minister on April 14, he has one year to perform before he can be dismissed. This timeframe means that there won't be parliamentary elections until the summer of 2017 at the earliest. However, that has not stopped Ukraine's politicians from jockeying and preparing for future elections.
Based on an average of the four latest polls asking members of the public who they would support if parliamentary elections were held today, the numbers show that Yulia Tymoshenko's Fatherland party and Mikheil Saakashvili would be the big winners. But the details paint a more nuanced picture for Ukraine.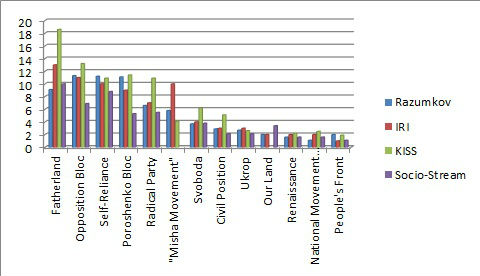 A graph representing the results of the last four polls.
These four polls taken over the last two months show Tymoshenko's Fatherland party in the lead with 12.9 percent. In the May 2014 presidential election, Tymoshenko received 13 percent against Petro Poroshenko, but her party slipped to 5.5 percent in the October parliamentary election that year. However, her populist slogans and recent opposition to the government have allowed her to regain standing with her core voters. Her current polling translates into fifty seats in parliament, up from her current nineteen. In addition, it is now likely that her party could win an additional ten to twelve single-mandate seats in Kyiv and the west; that would give her more than sixty MPs if elections were held today.
The Opposition Bloc is currently running second at 11 percent in the latest polling averages. This would give the party forty-three MPs from the party list, assuming its eleven incumbents from single-mandate districts would be reelected. In addition, given the general discontent with the government, it is now likely that Opposition Bloc candidates could also win at least fifteen districts in Donetsk, Dnipropetrovsk, Kharkiv, and Zaporizhia. If and when elections are held in the fifteen occupied districts of the Donbas, that might add another fifteen seats to the Opposition Bloc's total. That would give the Opposition Bloc close to seventy MPs if the elections were held today, and around eighty-five MPs if elections are held in the occupied Donbas.
"Slow and steady wins the race" seems to be Self-Reliance's strategy at the moment. Currently the polling average has it at 10.4 percent, which would give it forty-one seats in parliament. This would be a noticeable increase from its current twenty-six. It is possible that in the west, Self-Reliance might be able to win a handful of single-mandate districts if the government's popularity doesn't improve. That would give the party around forty-five seats in the new parliament.
The party in power always suffers the most when there is public discontent. As a result, the Poroshenko Bloc is currently polling at an average of 9.6 percent. That would translate into thirty-seven seats in parliament. However, with the powers of the incumbency (and now control of the prime minister's post, too), the party would certainly be able to increase its numbers to around 13 percent. In addition, the party will retain roughly two-thirds of the sixty-eight single mandate seats it won in 2014. That would give the Poroshenko Bloc close to ninety MPs if elections were held today. Since the Poroshenko Bloc once had 150 MPs in the faction, it would have the most to lose from new elections.
Oleg Lyashko's Radical party is also now in opposition to the government, and its numbers are averaging 7.7 percent. This would give the Radicals thirty MPs if elections were held today, up from their current twenty-one. They remain unlikely to win any single-mandate districts, however.
The newcomer on the political stage is the so-called "Misha Movement," led by Odesa Oblast Governor Mikheil Saakashvili. While his yet-to-be-created party isn't included in all of the polls yet, it would be a winning force in early parliamentary elections. The Misha Movement, for lack of a better name, is currently averaging 6.6 percent, but the reliable International Republican Institute poll puts him as high as 10 percent. This would give the movement twenty-four seats in the next parliament. It is also reasonable to calculate that candidates backed by Saakashvili could win up to a dozen single-mandate districts, giving the former Georgian president thirty-five seats in the next parliament.
However, Saakashvili has upward potential to increase his party's rating. Historically in Ukraine, a party will receive votes based on half of their leader's favorability rating. While Saakashvili's rating is sliding, that formula could still give his party 15-17 percent of the vote—and put him in competition with Tymoshenko for first place. In that scenario, Saakashvili is looking at closer to eighty MPs in the next parliament.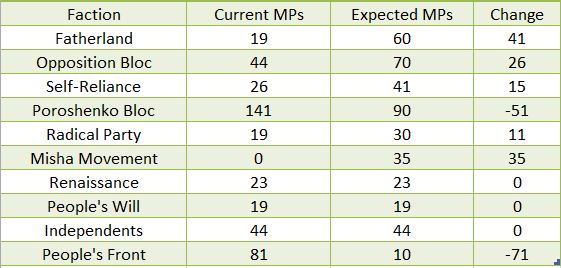 An estimate of the number of seats in parliament each major party would win if parliamentary elections were held today, based on current polling averages.
As for other parties, none are currently averaging more than the five percent minimum required to win seats in parliament. Freedom party is closest at 4.5 percent, and would probably retain its six single-mandate districts. The MPs from the Renaissance and People's Will factions are likely to be reelected given their financial resources. The same goes for the forty-four current independent MPs. Ukrop, oligarch Ihor Kolomoisky's political project, was once promising but now appears to be withering as the oligarch and his team lay low in Geneva following the arrest of Gennadiy Korban. Our Land, the constructive opposition party created for local elections last year, could win some single-mandate districts if there is an effort to develop and maintain the party.
The only real beneficiaries of new parliamentary elections at this time would be Tymoshenko and Saakashvili. The clear losers would be People's Front and the Poroshenko Bloc. Of course, much can change in a year. The IMF is expected to release another tranche soon and some analysts expect the new government to make a big reform push this summer. If ordinary Ukrainians begin to feel the effects of the economic recovery, and key Poroshenko proposals like decentralization, judicial reform, and the removal of parliamentary immunity are passed, then prospects for the Poroshenko Bloc might improve. However, if the economy remains sluggish, then Opposition Bloc and potentially other Russian-oriented parties might do well in future elections, making reforms even harder to pass. Thus, while new parliamentary elections are unlikely this year, the president must seize this moment to act decisively, or Ukraine will miss another opportunity to put much-needed reforms into place.
Brian Mefford is a Nonresident Senior Fellow at the Atlantic Council's Dinu Patriciu Eurasia Center. He is a business and political consultant who is based in Kyiv, Ukraine. This article has been adapted from Mefford's blog.