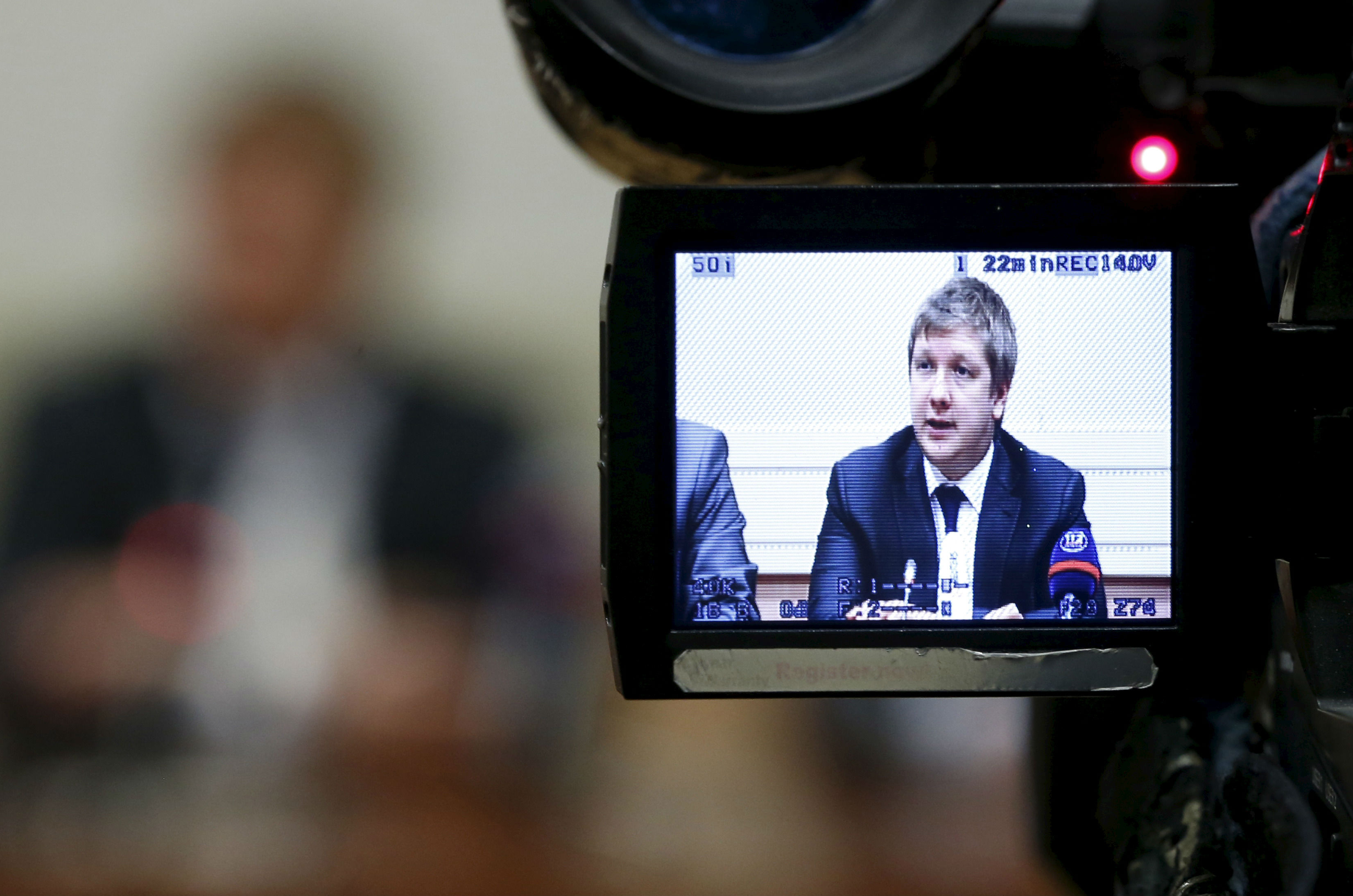 It's no secret that the Atlantic Council has been bullish on Ukraine's reforms. In particular, we often cite gas reform as the one that massively curbed corruption in Ukraine since the Euromaidan. But after an hour-long conversation with Naftogaz CEO Andriy Kobolyev on December 8, I came away with a different picture.
Since the thirty-nine-year-old soft-spoken CEO took over in 2014, Naftogaz has turned a profit for the first time in five years. It has also become the biggest user of the ProZorro e-procurement system that has saved taxpayers more than $1 billion, and it beat Russia in the Gazprom vs. Naftogaz case at the Stockholm Arbitration Tribunal earlier this year. In other words, Kobolyev has had an incredible run.
But gas reforms have stalled. Kobolyev said that he hasn't seen much progress since May 2016.
"Without [further] changes, nothing is possible," he said during our interview in Washington. "The problem with our gas reform is that we should finish the surgery." Finishing the surgery means liberalizing gas prices, improving Naftogaz's corporate governance, and unbundling the giant state-owned oil and gas company.
On October 12, Prime Minister Volodymr Groisman refused to liberalize gas prices, even though the government had previously agreed to automatic rate hikes as part of its $17.5 billion program with the International Monetary Fund. Under the IMF-backed price adjustment, consumers would have seen an 18 percent increase this season, while the government's plan is closer to 5 percent.
Of course, liberalizing prices will hurt consumers initially, but Kobolyev argues that market prices are the only way to give consumers more choice and end oligarch Dmytro Firtash's gas monopoly over households. Regulations force Naftogaz to provide gas to households through private intermediaries. Most of these intermediaries are controlled by Firtash, who also controls the regional distribution networks.
If the government allows market prices, it won't need to constantly adjust the price, Kobolyev noted. Gas should be like oil, which reflects the world price, he argued.
While acknowledging that the issue is highly politicized, "it can be used for the benefit of the government," he said, adding that it's very feasible to liberalize the market now by creating a subsidy system that will reward consumers who decrease their consumption. The message would be clear, he said: "If you save, the rest is yours."
He wants to give people a credit card preloaded with funds to cover their gas bill; at the end of the heating season, they will be able to withdraw any remaining funds. Decreasing consumption is important, because Ukraine consumes more than three times the amount of gas that Poland does per capita. He said opposition leader Yulia Tymoshenko did something similar in the past, and many people in rural areas remember and like the idea.
Victoria Voytsitska, a parliamentarian and secretary of the Rada's energy committee, agrees that gas reform isn't working for consumers. Consumers are paying more, and these higher prices were meant to give them greater choice. Instead, consumers are still subject to "the slavery of Dmytro Firtash," who controls 75 percent of the gas market for households. Now, "there's no benefit for consumers," and "no more choice," Voytsitska said. She has fielded hundreds of complaints from ordinary citizens this season who are being charged for gas they didn't use and then cut off just as temperatures fall, she told me in a November 27 interview.
Kobolyev also said Naftogaz has evidence that gas is being stolen by regional intermediaries. The company took control of a regional gas supplier in Kropyvnytskyi (better known as Kirovograd) this summer and gained access to customer data. In the list of customers that the regional intermediary provided, his company found fake ones: the company had been misappropriating gas from Naftogaz. He forwarded the case to the general prosecutor's office. He suspects that similar manipulations are abundant in other regional gas suppliers, and said the situation needs to be changed immediately.
The last issue that needs urgent attention is Naftogaz's supervisory board. In September, three independent board members resigned, citing political meddling and saying that they didn't have enough decision-making authority.
The government has since named four people to the supervisory board, and all seem well-suited to the job, Kobolyev said, but they need more authority. The supervisory board approves contracts, loan agreements, and procurement. However, the corporate governance reform plan agreed to with international donors in 2015 suggests that the board should also approve the company's strategic and financial plans as well as appoint executives. This is still not the case.
Kobolyev is not the first to warn that gas reforms are stalling. The IMF, the European Bank for Reconstruction and Development, and independent analysts don't like what they see either. Some argue that there's a real fight for control over Naftogaz between the government and Kobolyev and his reform-minded team, who want to do the right thing.
Throughout our conversation, Kobolyev is quick to present the steps the government needs to take as opportunities, and is reluctant to point fingers. He's shrewd and chooses his words carefully.
As we say goodbye, I asked him when he's going to run.
"For what?" he asks.
"Office," I said.
He laughs and says that he wants to run Naftogaz.
Melinda Haring is the editor of the UkraineAlert blog at the Atlantic Council. She tweets @melindaharing.