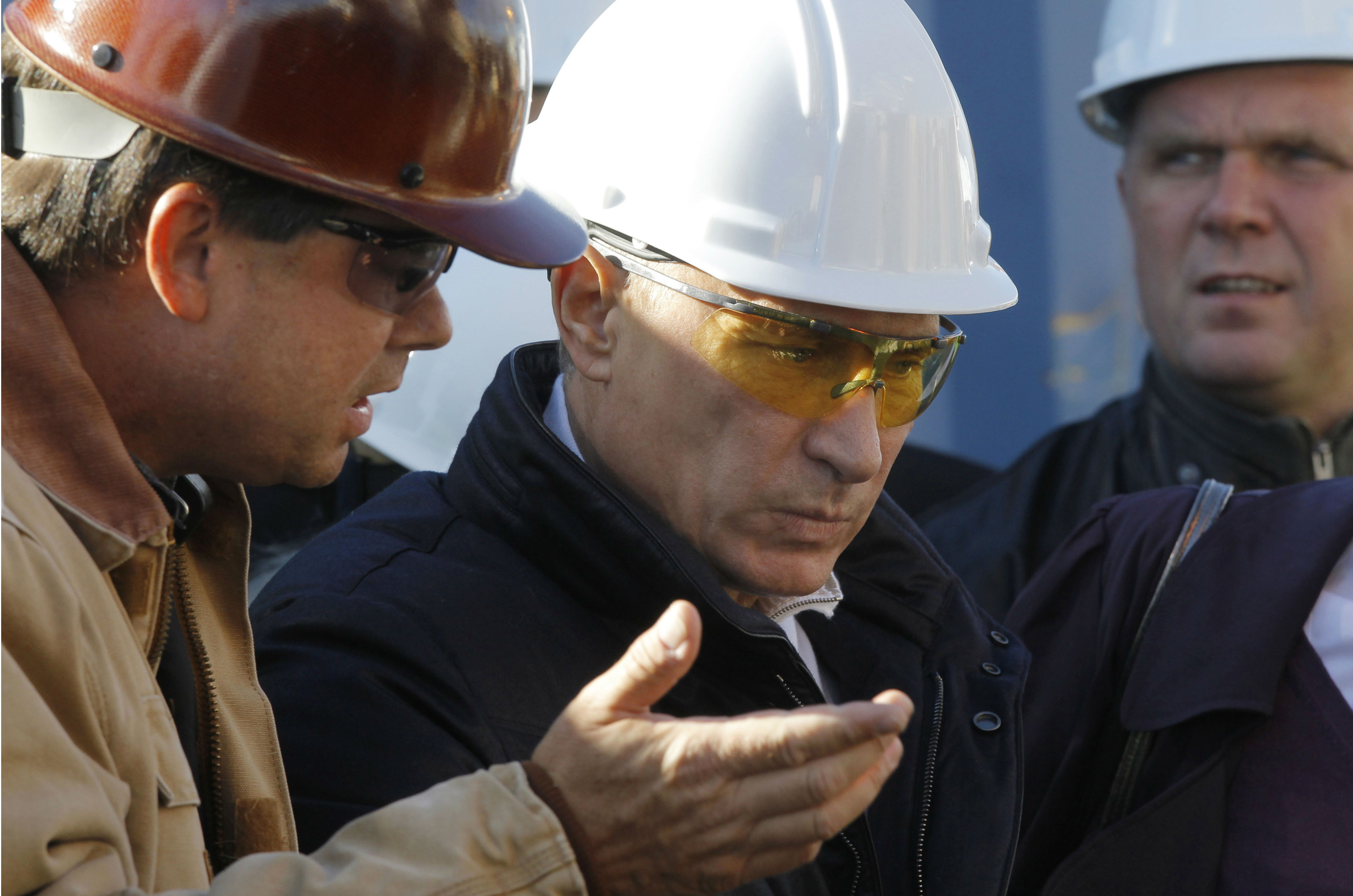 Ukraine—a country that rejected aggression and militarization when it broke away from the Soviet Union—is fighting three wars today: the front in the east against an expansionist power, the battle within to defeat cronyism and corruption, and an economic war to reorient trade flows and modernize its economy. The world's attention, as well as that of the Ukrainian public, is understandably focused on the first two fronts; yet we must not ignore the economic front. Energy diplomacy is a missing pillar in Ukraine's defense and foreign policy today.
Energy is a lever of geoeconomics and geopolitics everywhere in the world. In Ukraine's case, energy is a matter of national security if not sovereignty. Few observers would disagree with the assessment that years of mismanaging Ukraine's gas trade with Russia is what led, in large part, to the political crisis of 2013 and the subsequent ousting of the Yanukovych regime. The Kremlin's strategy to force a client-state relationship on Ukraine was built on a gas addiction, which corrupted politicians through rent-extracting opportunities and various shady schemes. Mispriced energy imports held back economic modernization, perpetuated wastefulness, and quashed all efforts to increase domestic gas production.
Ukraine is a resource rich country, but due to a lack of investment and technological backwardness, we remain import dependent. Not only is our production well below capacity, we don't use the energy we do have efficiently. Our energy security agenda must combine greater domestic production and a range of measures to decrease the energy intensity of Ukraine's economy.

Much has been achieved on the energy front since the Revolution of Dignity. The hardest step to make was removing gas subsidies and establishing a market price—a previously intractable issue. Billions were stolen from the state by unscrupulous politicians and well-connected tycoons as they manipulated an opaque system of subsidies. Market pricing put an end to this practice. The new law on the gas market aims to stimulate competition, new legislation on the electricity market is under way, and the Rada is about to pass a law on Ukraine's energy regulator.
In 2015, we exposed the artificial nature of Ukraine's addiction to Russian gas and demonstrated to the world and to our belligerent neighbor that we can source our gas needs elsewhere. Naftogaz has started its corporate reforms, and we are already seeing results in more efficient management practices, increased transparency, and cleaner balance sheets. For years, this state-owned enterprise was known as "a black hole" of the state budget, and we have finally turned a corner. Recovering from multibillion dollar losses in 2012 and 2013, government analysts expect Naftogaz to break even this year.
While we are making steady progress, foreign investment from the world's leading energy companies could galvanize it even further. This is where energy diplomacy will be paramount. In Ukraine, we must learn to better communicate with investors, explain policy changes, promote opportunities that will arise with privatization, and reinforce fragile business links with our Western partners through diplomatic efforts.
There was a consensus that energy sector reform was key to Ukraine's economic revitalization and thus we witnessed an unprecedented unity of effort. The EU and the United States were instrumental in negotiating our reverse flows, finding technical solutions for many issues in the energy sector, and setting up special financial packages to buy gas in the interim period from EU suppliers. We owe our progress to the leadership of a few reform champions as much as to pressure from the outside. Now it is time to focus on our common agenda, for our energy security is also Europe's. The best way to strengthen ties between Ukraine and the EU is to increase European investment.
Ukraine is a major transit country and Russia is actively trying to undermine this status to achieve its geopolitical objectives. Divide and conquer has been the Kremlin's strategy in its gas trade with Europe. Nord Stream 2 is a major threat to Ukraine's and Europe's energy future. We must actively campaign against it.
Nord Stream 2, if built, would undermine Ukraine's interests. It is incumbent upon us to show leadership on this issue, rather than shift the burden to our international partners. So we need to initiate discussions in the United States and Europe, framing it as an energy opportunity.
A major international initiative is needed that should be systemic rather than sporadic. I expect our leadership to take this project seriously and consider innovative approaches on how to get support and attention from our international partners to cope with the immense challenges we face.
Ukraine's energy interests concern both domestic and international policy. If domestic policy changes are not reinforced with diplomatic efforts, the system will remain fragile and the progress that we've achieved will easily unravel. We need to lock in the gains that we've made and redouble our efforts to push ahead. For that to occur, a special task force is needed to coordinate the efforts of traditional diplomacy with those of the executive and legislative branches.
Olga Bielkova, a UkraineAlert contributor, is a Member of Parliament in Ukraine. She tweets @OlgaBielkova.