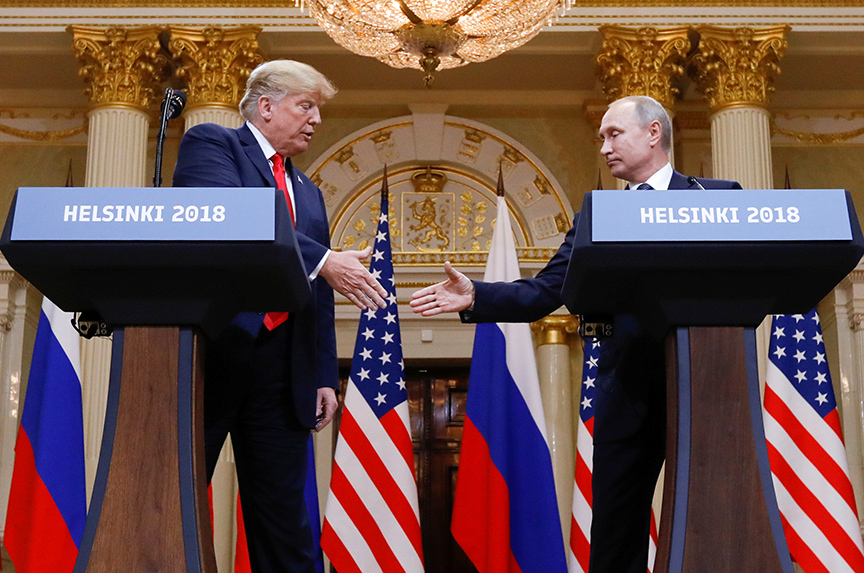 US President Donald J. Trump on July 16 appeared to believe Russian President Vladimir Putin's denials over the US intelligence community's assessment that Russia meddled in the 2016 elections, saying he saw "no reason why" Moscow would have acted in that way.
Speaking at a joint press conference following his first summit with Putin in Helsinki, Trump said: "President Putin was extremely strong and powerful in his denial today" on meddling.
Trump also insisted that there had been no collusion between his campaign and Russia. On July 13, the US Justice Department indicted twelve Russian intelligence agents for hacking the Democratic National Committee and Trump's Democratic presidential rival Hillary Clinton. On July 16, the Justice Department charged a Russian woman who tried to set up meetings between Trump and Putin in 2016. It made clear that the woman, Mariia Butina, was part of a Russian intelligence effort to influence the US elections.
Trump acknowledged that he had been told by some US officials, including Dan Coats, the director of national intelligence, that Russia was behind cyberattacks in 2016. "I don't see any reason why it would be," he said. "We ran a brilliant campaign, and that's why I'm president," he added.
Atlantic Council analysts shared their assessment of the summit. Here's what they had to say:
Alexander "Sandy" Vershbow is a distinguished fellow in the Atlantic Council's Scowcroft Center for Strategy and Security. He served as US ambassador to Russia from 2001 to 2005, and NATO Deputy Secretary General from 2012 to 2016. Follow him on Twitter @ARVershbow.
"The big news, of course, is the president's unbelievable siding with Putin against the US intelligence community on election interference. It will raise questions about whether some of the members of the intelligence community that Trump has appointed will be able to do their job if he doesn't pay heed to the conclusions of their investigations.
"It is kind of ironic that [Trump and Putin] may have actually reached some constructive agreements. On this, we get more clues out of Putin's opening remarks at the press conference than from Trump; that seems to be the standard operating procedure under this administration.
"It is encouraging that they did agree to some kind of intensification of talks on strategic stability and nonproliferation, which could include discussions on extending New START and, most importantly, trying to find some way to resolve the dispute over compliance with the INF Treaty. They also agreed to cooperate on terrorism, to try to produce some kind of de-escalation in Syria, and to minimize risks between Israel and Iran. Whether this is just a statement of intent or something more concrete is hard to tell from what we have heard so far.
"It looks like Trump, at least according to what Putin said, did not compromise the US position on the illegal annexation of Crimea, although it is surprising that Trump didn't mention Ukraine even once in his press conference.
"Putin mentioned two interesting groups that may be established—one a high-level working group of industrial leaders that would provide recommendations on how to improve economic and trade relations, and the second a group of experts, including academics, former diplomats and military officers, to offer ideas for improving relations.
"If it was just about these specific issues, it would have been perhaps a better-than-expected meeting with no major faux pas by the president. Instead, the summit was overshadowed by the mindboggling and potentially treasonous rejection by Trump of his own intelligence community's conclusions and his whitewashing of what the Russians did to undermine our democracy. Some people have compared the interference in the elections to an act of war. The president basically condoned a direct political attack on our system and values.
"Trump's tweets [on July 16] and some comments at the press conference do certainly give credence to those who claim his policy is not America First, but Blame America First. What he said about election interference clearly shows that he is obsessed with any challenge to the legitimacy of the results of the 2016 election. This obsession is blinding him to the fact of Russian hacking.
"A KGB career officer like Putin is trained to lie. In light of the Indictment of twelve senior Russian intelligence officers, his claim that the Russian state has not interfered in US domestic affairs is absurd—unless he claims the twelve were on vacation (Putin has claimed that some of the troops in Eastern Ukraine were on vacation or volunteers, even though some of them were named career Russian general officers).
"The summit might have actually been useful to lower tensions in US-Russia relations, but at the same time, without confronting the threats Russia poses to our country and the international order, it could add up to a return to 'business as usual' without Russia paying any price for its behavior. It is, however, better talking than not talking."
Read the rest of the Q&A here.
Ashish Kumar Sen is deputy director of communications, editorial, at the Atlantic Council. Follow him on Twitter @AshishSen.