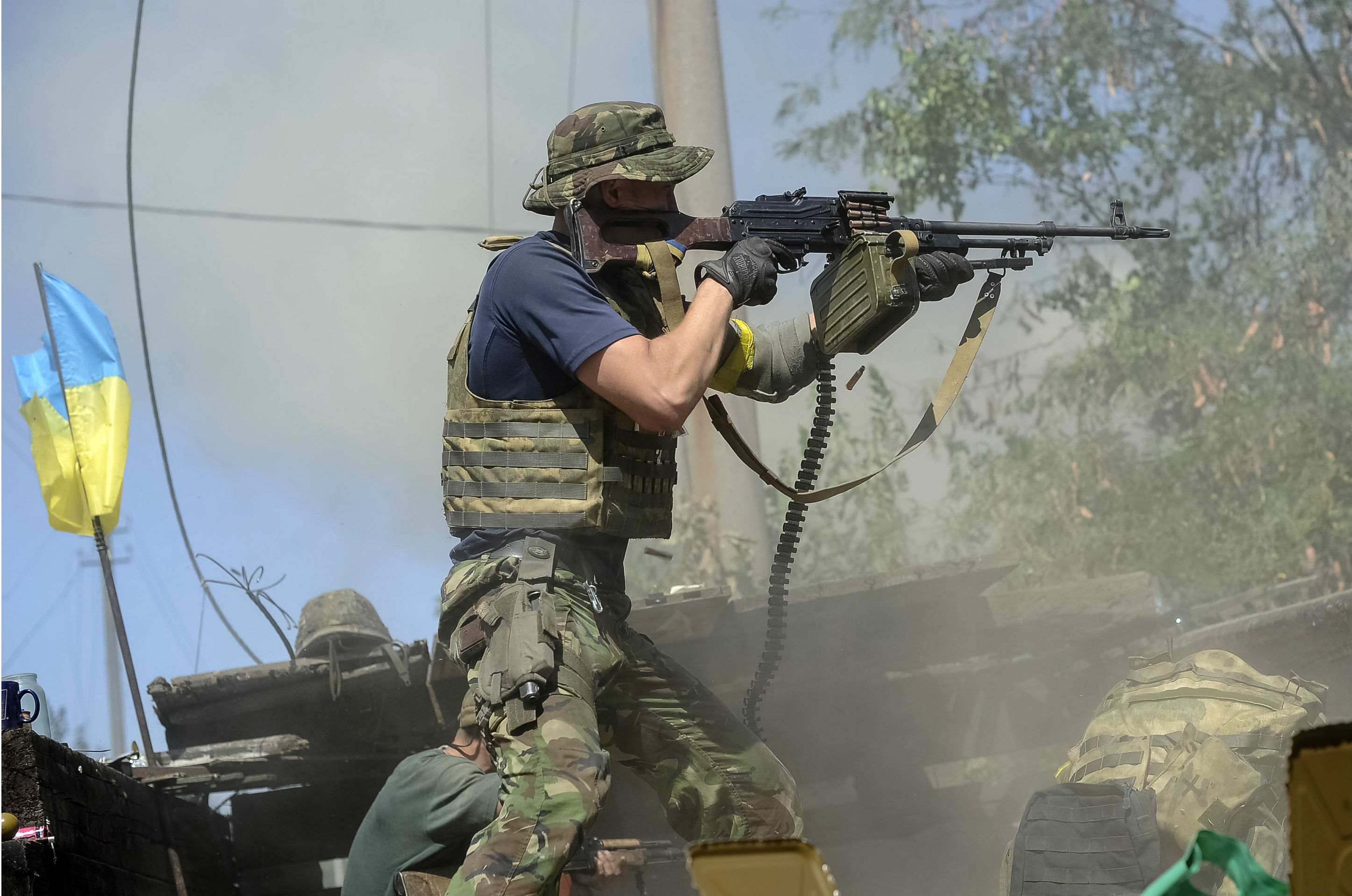 Violence is on the rise in eastern Ukraine again. There have been a number of civilian casualties and a massive number of ceasefire violations. Some have said that last week was the worst of all the fighting in 2018. Meanwhile, Ukraine's army took control over the Donbas operation in April and the talks between US Ambassador Kurt Volker, US Special Representative for Ukraine Negotiations, and Russian presidential aide Vladislav Surkov seem to have broken down. In addition, Ukraine faces presidential and parliamentary elections in 2019.
We asked our Atlantic Council experts and UkraineAlert contributors what's behind the uptick in violence. Should we expect more and more violence up until Ukraine's March 2019 presidential election?
Stephen Blank, Senior Fellow at the American Foreign Policy Council: I believe Putin's recent inauguration for six years is the trigger for the new violence. He desperately wants to break the sanctions and the NATO buildup and to prevent the strengthening of Ukrainian democracy and Western ties before the election. On the one hand, he is exploiting the Trump administration's foolishness in imposing sanctions on our trading partners pertaining to Iran and North Stream and on the other he is also intensifying the pressure on Ukraine. There will be many more examples of this in the coming year.
Michael Carpenter, former US Deputy Assistant Secretary of Defense, Senior Director at the Biden Center, and Nonresident Senior Fellow at the Atlantic Council: Russian hybrid forces in eastern Ukraine have escalated the fighting as part of a campaign of applying pressure on key nodes of the Ukrainian economy and as part of Russia's "creeping annexation" of the Sea of Azov, an interior body of water shared between Ukraine and Russia.
Having recently completed construction of the Kerch bridge linking Ukraine's occupied Crimean peninsula with Russia, the Kremlin is now seeking to exert greater control over the entirety of the Azov Sea coastline. The current fighting is focused (among other places) on the area north of Mariupol, a key port on the Azov Sea and a vital export center for the Ukrainian economy. With a population of 450,000, Mariupol acts as a geostrategic choke point and gateway for industrial products from Donetsk and Luhansk, such as coal and steel, destined for international markets. It is noteworthy, therefore, that the recent spike in violence around Mariupol coincided with Russia's "closure" of a large part of the Sea of Azov for a snap military exercise on May 21-23.
The international community seems largely oblivious to the strategic implications of Russia's increased pressure on Ukraine's maritime flank, and without a forceful international response, the Kremlin will likely keep infringing on Ukraine's freedom of navigation and commerce.
Peter Dickinson, Nonresident Fellow at the Atlantic Council and publisher of Business Ukraine and Lviv Today magazines: There are a number of plausible explanations for the current escalation in eastern Ukraine. It could be part of a Kremlin bid to test the operational capabilities of Ukraine's new military command structures, or an attempt to instill a sense of urgency into stalled negotiations with Russia's Western counterparts. With Kyiv hosting the Champions League Final this weekend and showcasing its charms to global audiences, it may also be seen as advantageous in Moscow to remind international audiences that Ukraine remains a warzone. However, this is all speculation.
The one thing we can say with any degree of certainty is that Russia has decided to dial up the conflict, as it has done regularly throughout the past three years of semi-static warfare. The Kremlin retains full operational control over the Russian hybrid forces in eastern Ukraine and has demonstrated its ability to impose genuine ceasefires whenever it suits Moscow, such as immediately prior to Putin's September 2015 UN speech. Periodic upswings in localized violence have become part of the Kremlin's strategy in eastern Ukraine where they represent a low cost way of keeping Ukraine as a whole destabilized. With little indication that Moscow is serious about withdrawing from eastern Ukraine, we should certainly expect further escalations of this nature as Ukraine's 2019 election cycle approaches.
Evelyn Farkas, Nonresident Senior Fellow at the Atlantic Council and a national security analyst for NBC/MSNBC: The Kremlin will continue to attempt to insert pressure and influence on the Ukrainian government. President Putin is signaling to Ukraine and the West that Russia is willing to continue literally bleeding Ukraine in order to achieve its objectives.
John Herbst, director of the Eurasia Center at the Atlantic Council and former US Ambassador to Ukraine: After flirting briefly last winter with ideas that might facilitate a diplomatic resolution in the Donbas, Moscow's position has hardened. Since the last Volker-Surkov meeting in January, there has been essentially silence on the diplomatic front and Lavrov publicly has criticized Volker. Moscow is probably waiting for the outcome of Ukraine's presidential election and sees advantage in slightly raising the pressure by increasing violence in the Donbas.
Alexander Hug, Principal Deputy Chief Monitor of the OSCE Special Monitoring Mission to Ukraine: This is not a conflict between people or peoples. It is not driven by historical hatreds or grievances, or intractable differences—it is largely politically driven.
Since the Minsk Agreement was signed, the political will to implement it has never been complete.
That has manifested itself in varying degrees of failure to comply with its provisions, namely ceasefire, weapons' withdrawal, de-mining, disengagement, non-forward movement, and safe unhindered access to allow the OSCE SMM to verify compliance.
The uptick we see is a reflection of even less political will to implement Minsk.
Last week, we reported on over 7,000 ceasefire violations (up 40 percent from the previous week); the presence of 41 proscribed weapons, mines, and hardware and personnel in the disengagement areas; and attacks on and threats against SMM monitors and equipment and other attempts to prevent the Mission from verifying compliance.
The use of indiscriminate wide-area weapons in residential areas has resulted in a large number of civilian casualties: 10 SMM-confirmed cases and nine others are pending.
Horlivka was the center of the escalation, with a four-fold increase in the level of violence preceded by the Ukraine Armed Forces establishing new positions in Pivdenne (Chyhari).
If the escalation is caused elsewhere at a political level, it is intensified on the ground by its own dynamics, with tit-for-tat retaliatory strikes.
Adrian Karatnycky, Senior Fellow at the Atlantic Council: It is clear that all violence and military operations launched in the Donbas are tightly controlled and coordinated by the Russian state, which maintains a wide network of military advisers, security service operatives and minders of its satraps in occupied Luhansk and Donestk.
It is equally clear that President Putin is completely uninterested in securing a peace settlement in eastern Ukraine. Expectations by some experts that he might move in such a direction following the "mandate" he received in Russia's presidential election have been dashed.
In the past, Russia's war on Ukraine was driven by Putin's desire to solidify public support by rallying the Russian people around a revisionist agenda aimed at restoring the unity of Russian, Belarus, Ukrainian peoples under Russian hegemony. Today, he is motivated primarily by the opportunities he sees to influence political processes in Ukraine one year before presidential and legislative elections.
As a pro-Russian option is not electorally popular in Ukraine, Putin's interest is in promoting the splintering of the political spectrum, promoting cynicism, and ensuring not only the defeat of Ukrainian President Petro Poroshenko who has coherently rebuilt Ukraine's military capacity, but replacing him with a weak or inexperienced outsider who could potentially sow chaos when he or she assumes office.
Ihor Kozak, defense and security consultant in Ottawa, Kyiv, and Washington: Recent escalation in the Kremlin-provoked fighting in the Donbas clearly demonstrates Moscow's willingness to continue raising the stakes in its conflict with Ukraine and the West, and to further test the reaction of the international community. Having launched and sustained this costly four-year war, it would be naïve to believe the Kremlin will begin de-escalating any time soon or start abiding by the rules of international law, much less respect treaty obligations they long-ago discarded. Time and again, Putin has shown respect only for those who deal with him from a position of strength—signs of weakness provoking only his further bullying. Russia's current regime will not cease playing this bloody game until it is stopped with powerful sectorial sanctions and serious international isolation, as opposed to half-measures that have been put in place thus far. As for Ukraine, sooner or later, it will have to re-claim its territory by force—there is no easy way around it.
Illia Ponomarenko, defense reporter with KyivPost: Behind the violence in the Donbas is the simple logic of stalemate warfare. There, the struggle still goes on for advantageous observation points, for new concealed strongpoints, or convenient sniper posts, or booby trap webs in the no-man's land. If you don't seize a destroyed house on a hill from which you can watch your enemy closely, then your enemy does this, and your troops will be in a greater danger. You need to prevent this somehow. So it is a deadly cat-and-mouse game, a self-sustaining process in which civilians inevitably become its immediate victims. Now it's warm—a perfect time for subversive missions in tree cover zones—so the stalemate combat resumes again and again, and the things that we deem crucial, such as elections, have very little to do with what makes the opposing troops spill each other's blood every single day.
Lauren Van Metre, Nonresident Senior Fellow, Atlantic Council: The uptick in violence coincides with the transition of the execution of the war effort from the security forces to the military with the establishment of a new Joint Force Operations (JFO) that unifies the command and control of all national security assets. As a sign of continuing resolve, General Nayev, head of the new JFO, has made strong statements that the combined forces will defend against any expanded operations by Russia and respond quickly and effectively against shelling of civilians along the line of contact. In the transition, the separatists may very well be testing that resolve. In a further sign of his commitment to defending civilians, General Nayev will be integrating into the command structure a new monitoring group focused on reducing civilian casualties in military operations, and the government of Ukraine is considering a National Protection of Civilians strategy. Moves like these position Ukraine to prove that it can reduce civilian casualties and put the spotlight on Russia's lack of restraint.
Melinda Haring is the editor of the UkraineAlert blog at the Atlantic Council and a fellow at the Foreign Policy Research Institute. She tweets @melindaharing.