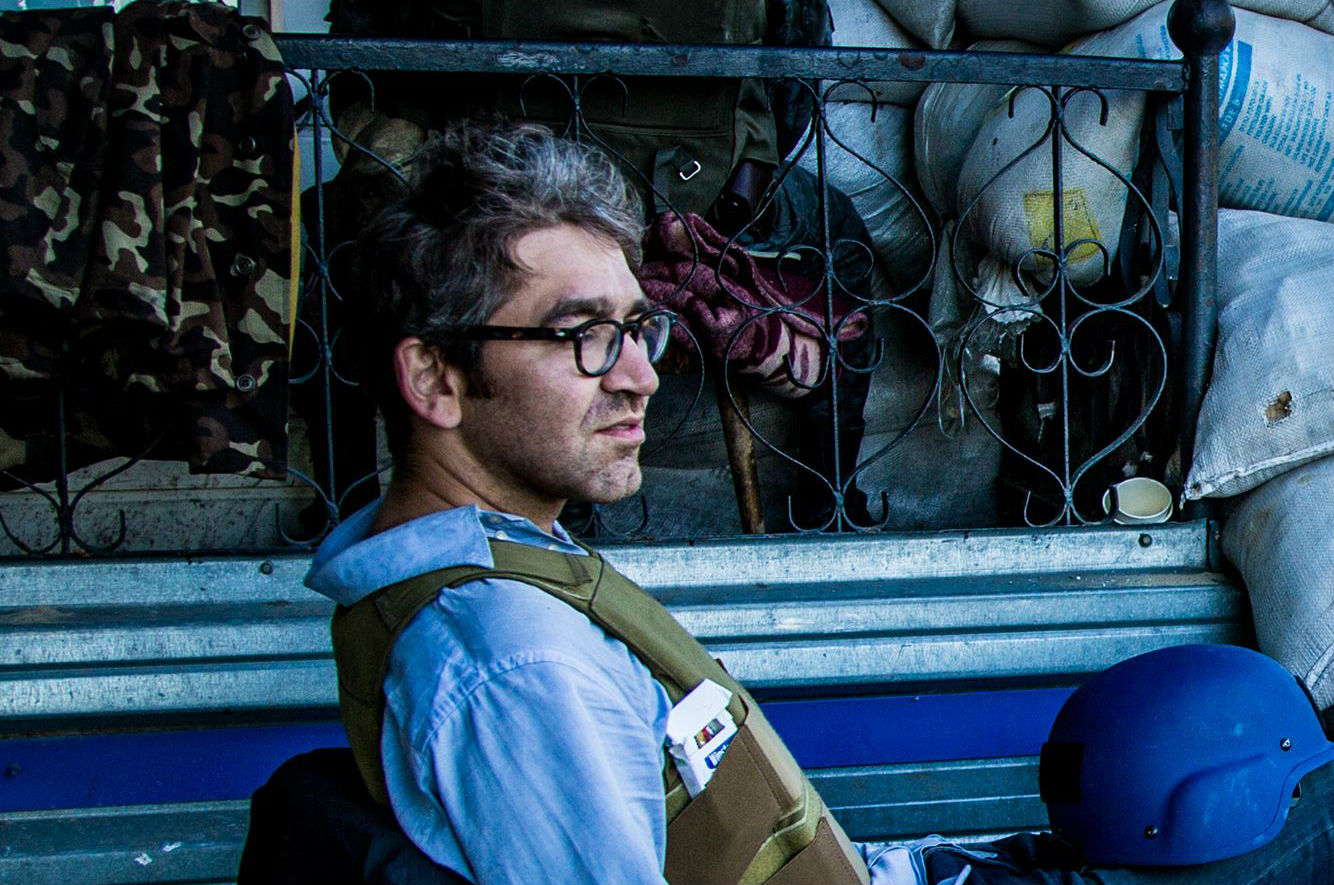 Russia's Foreign Ministry has banned US investigative journalist Simon Ostrovsky from working in Russia. On June 4, it denied a press visa for Ostrovsky, an Emmy award-winning documentary filmmaker and journalist best known for his coverage of the Ukraine crisis for VICE News.
The denial came only days after Ostrovsky contacted Russian soldier Bato Dambayev—who fought in Ukraine as part of the 37th Motorized Infantry Brigade—as part of the journalist's effort to prove that Russian soldiers have fought alongside Russian-backed separatists.
Shortly after the February 2015 signing of the Minsk ceasefire agreement, separatist forces scored an overwhelming victory by capturing Debaltseve, a city which links the railways between Luhansk and Donetsk. The reason was simple: these forces got help from enlisted Russian soldiers and their heavy machinery, including the 5th Tank Brigade from Ulan-Ude, Buryatia, and the 37th Motorized Infantry Brigade from Kyakhta, Buryatia.
Using images that Dambayev posted to social media, Ostrovsky retraced the soldier's journey from his Siberian hometown of Ulan-Ude to Vuhlehirsk, a small Ukrainian city 12.9 kilometers from Debaltseve. Locals remember seeing Russian soldiers of non-European appearance in Vuhlerhirsk on February 18, which coincides with the battle of Debaltseve.
https://www.youtube.com/watch?v=<a href="https://youtu.be/2zssIFN2mso">2zssIFN2mso</a>
The Kremlin's involvement with the war in Ukraine is politically sensitive.
Russian President Vladimir Putin has repeatedly denied that his soldiers are fighting in Ukraine. In his annual call-in show on April 13, Putin said, "Let me give it to you straight and to the point. There are no Russian troops in Ukraine." On May 28, Putin decreed that the death or injury of Russian soldiers in special operations—even in peacetime—can be classified as military secrets.
After Ostrovsky made contract with Dambayev, a campaign of intimidation began in Ulan-Ude and continued to Moscow. Migration authorities visited Ostrovsky at his hotel in Ulan-Ude and threatened legal action. Then border guards at the airport in Ulan-Ude and Moscow's Domodedovo airport thoroughly searched his belongings.
"The Russians have banned me from operating here, so in my case and the case of many other journalists who haven't had their press credentials renewed, Russia has essentially banned the freedom to report," Ostrovsky said in a June 24 interview.
Ostrovsky's visa application went unanswered for months. The Russian Foreign Ministry repeatedly stalled, taking weeks to answer follow-up questions and eventually denying his request without giving any reason.
The Russian Embassy in Washington did not respond to a request for comment. "It is not surprising that Ostrovsky was denied a visa, given the poor state of press freedom in Russia, but it is still outrageous," wrote David J. Kramer, Senior Director for Human Rights and Democracy at the McCain Institute. "We should not resign ourselves into accepting such awful behavior and actions from the Putin regime as the new normal."
Ostrovsky has specific advice for the West.
"One potential measure worth considering is making Russian journalists' access to the US reciprocal," he said. "Western policy makers should make freedom of speech and press access a cornerstone of their foreign policy. They should make it clear to their Russian colleagues that there will be a concrete diplomatic cost associated with every journalist who is kicked out. Otherwise, why wouldn't Russia get rid of all the inconvenient reporters questioning its policy?"
Ostrovsky says he isn't the only one, but that others are afraid to speak out.
"I think too many media organizations have remained silent on this issue, although they have seen the foreign press pool slowly be whittled away as the government refuses to give freelance press visas and refuses to give visas to internet publications," he said, warning that larger outlets may be next. "It's a matter of time before they start imposing restrictions on more traditional outlets that have had bureaus here for a long time."
According to a Levada Center poll, 94 percent of Russians get their news on Ukraine from state-controlled TV. Ostrovsky's reporting is in English and is only available online. Some of Russia's few remaining liberal outlets have reported on his work, but mainstream outlets have not.
So why is Moscow worried about only one foreign journalist?
"They're trying to send a signal to other journalists that their access to Russia is at stake and they need to self-censor if they want to continue operating in Russia," he said.
Ostrovsky is no ordinary journalist. Born in what was then the Soviet Union, his family immigrated to the United States. In his "Russian Roulette" series—which includes 112 dispatches from the frontlines in Ukraine—he speaks flawless Russian and native English, enabling him to gain access to places where many reporters cannot. His videos from Ukraine have garnered more than 2.9 million views.
Ostrovsky has a unique style, which documentary filmmaker Peter Pomerantsev described on June 24 as "the news piece with cinematic dramaturgia, the Woody Allen meets Hemingway presenter [who is a character]."
"I remember when my old friend Simon Ostrovsky did his first news reports. Producers weren't so keen on his style at the time. So he went and redefined the format," Pomerantsev wrote. "And you know what producers are telling TV reporters now? Can you be more like Simon Ostrovsky…"
Melinda Haring is editor of Ukraine Alert at the Atlantic Council.