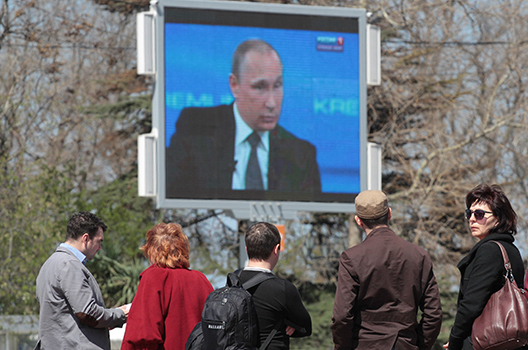 In recent weeks, Russian President Vladimir Putin has been doing what he is best at: war mongering. It began with the Kremlin's accusation that Ukrainian leaders had "chosen terror over peace," despite the fact Russia has not been able to produce any credible evidence of the alleged "sabotage plot" in Crimea. Additionally, neither the OSCE's monitors, witnesses on the ground, nor any independent media have confirmed Russia's claims of an armed confrontation or bombardment by Ukrainian forces.

Andriy Yanitsky, the Ukrainian watchdog that monitors Russian propaganda, has reported that the photograph of a tent that Russian authorities claimed had been used by the saboteurs was in fact a stock photograph lifted from the Internet.
Once again, a Russian disinformation campaign appears to be unfolding. As the Crimean journalist Andriy Yanitsky argues, the very idea of sabotage in Crimea is ridiculous. Why would the alleged saboteurs sneak into Crimea, as Moscow claims, when anyone can easily get into the peninsula through either the Kherson checkpoint or Russia itself?
But the real question is, why is Russia doing this now? Ukrainian intelligence reported that Moscow is actually attempting to cover up a shootout that occurred between the Russian military and the FSB, the security service. This is not entirely implausible, but the ultimate reasons are far more disturbing.
This summer, Russia has been gradually surrounding Ukraine with battle-ready forces. Throughout August, Moscow has placed troops and military hardware in occupied Crimea close to the border. More Russian convoys are reported to have moved into the peninsula on August 11, in addition to warships and planes arriving in Sevastopol. On August 12, Russia deployed S-400 surface-to-air missiles in central Crimea. Russian frigates and submarines have been sailing into to the Black Sea. Three motorized brigades have been moved close to the Ukrainian border: one in Klintsy in the north, and two others in Valuyki and Boguchar in the east. A new division, the 150th Motorized Rifle, has been created and deployed in Rostov, just east of the separatist-controlled area in the Donbas.
In addition, Russia has conducted tank drills with separatist forces in Moldova's breakaway Transnistria, on Ukraine's western border. In order to be able to link up Crimea, the Donbas and Transnistria, Moscow needs control over all of southeastern Ukraine, sometimes referred to by the Kremlin as Novorossiya.
The separatists in the Donbas have not been idle either. Even though there is a supposed cease-fire in place, shelling by militants has increased on a large scale since May. It has come from heavy weapons such as tanks, artillery, and anti-aircraft guns, all of which are banned according to the Minsk II agreement. As a result, both civilian and military casualties have jumped to levels not seen since last year, according to the UN High Commissioner for Human Rights.
Why are things are heating up now? Perhaps because of the upcoming Russian Duma elections in September. The Kremlin needs to whip up a nationalist frenzy in order to distract voters from potential electoral fraud, and the people of Ukraine are apparently expendable. Cynical? Yes. Surprising? Not really. Of course, this "distraction" might amount to something more than just the typical military build-up. Putin is not afraid to start a war if he thinks it will keep him in power.
In a piece in the Kyiv Post, George Weigel, a senior fellow at Washington's Ethics and Public Policy Center, asks why the West finds it so hard to push back against aggression in its own neighborhood. He calls the West's failure to understand that Ukraine's cause is our cause a case of "solidarity deficit."
The EU has begun a series of debates that will include, in October, a review of the sanctions against Russia. One wonders why German Foreign Minister Frank-Walter Steinmeier is talking about lifting sanctions "if there is progress in the peace process," when it is obvious there is anything but. What he should be talking about is military aid to Ukraine. It's true that Russia has escalation dominance, but the Russians are fighting a war of choice. For the Ukrainians, it's a war of survival. A sudden massive Russian offensive will most likely convince even someone like Steinmeier of the need for increased pressure and costs to the Kremlin.
There was a huge drop in separatist activity in October 2015: the month that Russia launched its Syrian campaign. Russia was very eager to create a cease-fire then to ease the burden of the sanctions; Putin personally participated in the negotiations, including a meeting in Minsk in August and a Normandy Four meeting in Paris in October. This shows that despite their denial of any involvement, the Russians are the ones calling the shots with the separatists. It also indicates that with a shrinking economy and large holes in its state budget, Russia understands that it cannot afford two wars. The West can and should use this fact to push back against the Kremlin's aggression with the threat of sanctions and increased aid to Ukraine. Proof that appeasement never works is by now abundant.
Aaron Korewa is a visiting fellow at The McCain Institute for International Leadership. The views expressed here are solely those of the author and do not necessarily represent the opinions of the McCain Institute.