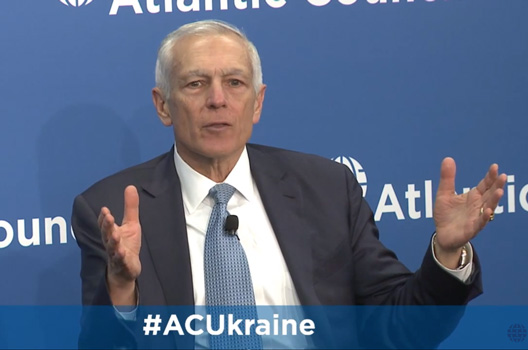 Russian-backed separatists are planning a fresh offensive in eastern Ukraine that could come within a matter of months, retired Gen. Wesley Clark, a former NATO Supreme Allied Commander, warned March 30.
"What is happening now is preparations for a renewed offensive from the east," and this could take place following Orthodox Easter, on April 12, and "most probably" before VE Day on May 8, Clark said, citing multiple local sources he spoke with on a recent fact-finding mission to Ukraine.
"That's what all the talking is about right now, preparing the cover for the next attack," he said.

Given that an attack is "imminent," Clark said the Obama administration should take two specific actions to bolster Ukrainian security forces:
It should share intelligence with Ukraine so the Ukrainians can have "firm warning of a renewed Russian offensive";
And it could prepare an aid package, including lethal assistance that has already been authorized by Congress; deploy it at a staging base; have strategic lift available; and warn Russian President Vladimir Putin that "when we first get the indications that you are coming again we will send assistance, including lethal assistance, to Ukraine."
These two actions would fall within the parameters of the administration's current policy not to provide lethal assistance to Ukraine.
"In the event you can't change [US policy], at least you can have a package and promise it, promote it, explain it, and use it in deterrence … The fact that the United States is coming to the rescue would go like a shot of adrenalin from top to bottom of the Ukrainian armed forces," said Clark.
"At every level, people are very conscious of the fact that they are fighting what they consider the battle for Western civilization," he added. "They are fighting for us."
Seven areas of assistance
Clark briefed an audience at the Atlantic Council on the findings of his mid-March visit to Ukraine. He traveled with retired Lt. Gen. Patrick M. Hughes, former Director of the Defense Intelligence Agency, and retired Lt. Gen. John S. Caldwell, former Army Research, Development and Acquisition Chief. The Atlantic Council and Open Society Foundations sponsored the trip.
Clark specifically laid out seven key areas of immediate military assistance for Ukraine. These are:
Strategic imagery and other electronic/communications intelligence that is detailed and timely enough to be able to provide warning of an impending attack;

Long-range, mobile anti-armor systems, as well as the shorter-range Javelin system, both equipped with thermal imagery;

Secure tactical communications down to vehicle level;

Long-range, modern counter-battery radars able to detect firing positions for long-range rockets;

Sniper rifles with thermal or night vision sights for counter-sniper teams;

Modern intelligence collection and electronic warfare systems effective against Russian digital communications; and

Any counter-unmanned aerial vehicle systems that can be made available on a near-term basis. The urgency here is driven by the pending Russian spring offensive. At the minimum, a palletized, emergency assistance package consisting of as many lethal components as possible should be assembled and pre-deployed for strategic airlift upon commencement of the Russian offensive.
A report produced in February by the Atlantic Council, the Brookings Institution, and the Chicago Council on Global Affairs urged the United States to give Ukraine defensive weapons and $3 billion in military aid over three years in a bid to deter Russian aggression in Eastern Europe.
Clark supported the call to provide defensive weapons, adding that Ukraine's military has fought frontline Russian forces, separatists, and high-technology weapons and drones that even US forces have not had to face.
Jan Lodal, one of the authors of that report and a Distinguished Fellow and former President of the Atlantic Council, moderated the March 30 discussion with Clark. He said Washington's "slowness" to provide this military assistance to the Ukrainians "is a major risk to us."
Minsk II 'roughly in place'
Russia and Ukraine agreed to the so-called Minsk II ceasefire in February. The previous Minsk agreement collapsed within days of its September 5, 2014, signing in Belarus' capital.
At the time of his visit, Clark said, "Minsk II was roughly in place. Some artillery had been pulled back by the separatists, but some had been, according to sources, concealed in forward positions."
Additional military supplies and equipment were being brought into Ukraine from across an open border with Russia, he added.
Under Minsk II, the Organization for Security and Cooperation in Europe (OSCE) is to verify the withdrawal of heavy weapons. However, the OSCE is handicapped by the fact that it has only a couple of observation points, and that Russian military personnel make up more than half of its monitoring missions, said Clark. On these missions, Russian military personnel are free to check out Ukrainian positions and are bound by an "honor code" not to relay this information to Russian forces.
"OSCE is essentially non-functioning," said Clark, who led Operation Allied Force in the Kosovo War during his term as NATO's Supreme Allied Commander Europe from 1997 to 2000.
Putin's bigger goal
Moscow's goal in Ukraine is to bring its eastern neighbor back into Russia's orbit, said Clark. As part of that effort, Russia's war plan has four phases: terrorism, irregular forces, Russian peacekeeping forces, and a de-escalatory phase.
He said Russian special forces known as Spetsnaz had occupied buildings during operations in the eastern Ukrainian cities of Donetsk and Luhansk.
He described Putin as the "military commander" of Russia's actions in Ukraine, but cautioned against simply focusing on the Russian leader's objectives as purely being military or geographical.
"[Putin's] objective in this would be much broader than Ukraine. It would be to shatter the sense of well-being and confidence among the nations of Eastern Europe in NATO protection and, ideally, to drive a permanent wedge between the United States and its European allies, and the Western allies and Eastern Europe," he added.
The United States and the 28-member European Union imposed economic sanctions against Russian officials and companies after Moscow's annexation of Crimea and its aggression against eastern Ukraine, but as Clark said, "there are limitations to what we should expect of sanctions."
"You need a balanced approach," he explained, "You need the sanctions, you need the ability of the Ukrainians to resist, to strengthen their ability to resist, to drive this back into the diplomatic channel and to keep it there."
Ashish Kumar Sen is a staff writer at the Atlantic Council.