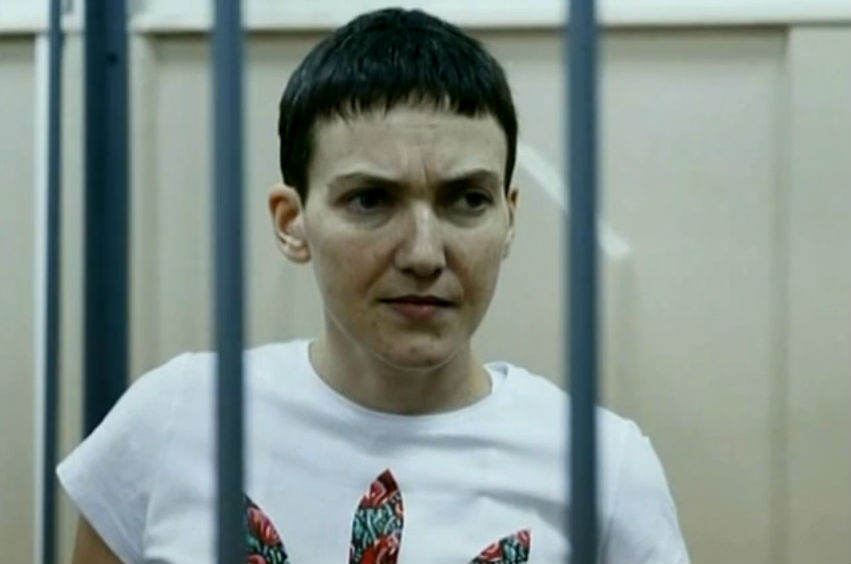 Nadiya Savchenko, Ukraine's most famous female military officer, has languished in a Moscow prison for more than a year since Moscow-backed separatists captured her in eastern Ukraine last June and smuggled across the border to Russia shackled, her head covered by a sack. Now her captors have moved her again—and again under the cover of secrecy—to a detention facility in the southwestern Russian city of Novocherkassk, said to be the worst criminal prison in the Russian Federation, only twenty kilometers from the rebel-controlled area of eastern Ukraine.
It is in the nearby city of Donetsk (not be confused with the Ukrainian city of the same name now controlled by pro-Russian separatists) that Savchenko appeared in a pre-trial hearing on July 30, a legal move that is yet another step in a Kafkaesque exercise reminiscent of 1930s Stalinist show trials. The celebrated helicopter pilot is facing murder charges.
Held behind closed doors, the hearing was off limits not only to press but also to official Ukrainian representatives, whose access to Savchenko has been extremely limited since her capture. In a statement published on their website, Ukraine's Foreign Ministry protested the secrecy of the trial and demanded to be granted access to Savchenko.

The Donetsk court was guarded like Fort Knox, tweeted Savchenko's lawyer Mark Feygin, who arrived for the hearing in a bulletproof vest. The Savchenko hearing was the only item on the Donetsk court's docket on July 30. It lasted less than one hour.
Savchenko's defense requested that her trial be moved back to Moscow. The court is expected to answer that request in 10 days.
Feygin said holding the trial in a Russian backwater is an attempt to limit coverage and access to the proceedings. If the trial takes place in Donetsk, Russia, it'll also further isolate his client, he said, since the Novocherkassk detention center is two hours' drive away. Savchenko said the move endangers her mother and sister, both of whom will likely testify.
Savchenko's entire defense team will have to decamp to both Novocherkassk and Donetsk, creating a logistical nightmare for all involved. Russia's Prosecutor General has rejected appeals to move the trial to Moscow, where authorities held Savchenko this past year and carried out all investigative actions and assessments linked to her case.
The Russian prosecuting agency, the Investigative Committee, initially accused Savchenko of having helped target a June 17 mortar attack against a Russian militia position. The blast killed two journalists, Igor Kornelyuk and Anton Voloshin, who worked for the Russian state-controlled TV channel Rossiya 1.
After a year of unrelenting detention, Savchenko—who turned 34 on May 1—is now accused of direct involvement in the two deaths, attempted murder motivated by hatred toward a social group and, as if to add insult to injury, illegally entering Russian territory.
These charges carry a potential life sentence, Russian Investigative Committee spokesman Vladimir Markin recently told the Interfax news agency, but "according to the Criminal Code of the Russian Federation, women are not given life sentences. Therefore the maximum sentence that Savchenko can receive is twenty-five years," he said.
The court has denied Savchenko's request to be tried by a jury, potentially placing her in the hands of a so-called troika—a judge and two public representatives—in yet another move reminiscent of Stalinist closed trials.
Following her capture in Ukraine's southeastern province of Luhansk, the pilot and former paratrooper was subjected to a "psychiatric evaluation" at the infamous Russian Serbsky Institute, where Soviet authorities for years performed abusive treatments on political dissidents. She launched a hunger strike to protest her detention, calling it off after eighty-three days when she was hospitalized and near death.
The Ukrainian government has urged Moscow to release her, European governments have appealed to Russian President Vladimir Putin on her behalf, and Samantha Power, US Ambassador to the United Nations, has raised Savchenko's case at the UN—all to no avail.
In an attempt to give Savchenko parliamentary immunity and a shot at freedom, the Batkivshchyna party of former Ukrainian Prime Minister Yulia Tymoshenko put the jailed officer on its party ticket during the 2014 Ukrainian parliamentary elections. That makes her not only a member of parliament, but also a member of Ukraine's delegation to the Parliamentary Assembly of the Council of Europe. French philosopher Bernard-Henri Lévy has taken up Savchenko's cause, writing about her case in US and French media.
Ukraine's government, meanwhile, claims Russia illegally abducted Savchenko. The pilot herself told a Ukrainian consular officer she was hauled across the border in handcuffs, with a sack over her head, though the Kremlin insists she entered Russia as a refugee.
Russia hasn't offered a shred of evidence that Savchenko committed any crime, said Feygin, adding that this is irrelevant to the outcome of her trial.
"Facts do not play any role in this process," he said, noting that Putin's government—using its state-dominated news media—is using her case to dramatize its narrative of the war in Ukraine. "Savchenko is only a tiny episode in this huge Ukraine propaganda campaign."
"The only way to save Nadiya Savchenko is through international pressure, there is no other way," Feygin tweeted on the eve of the hearing.
Irena Chalupa covers Ukraine and Eastern Europe for the Atlantic Council.