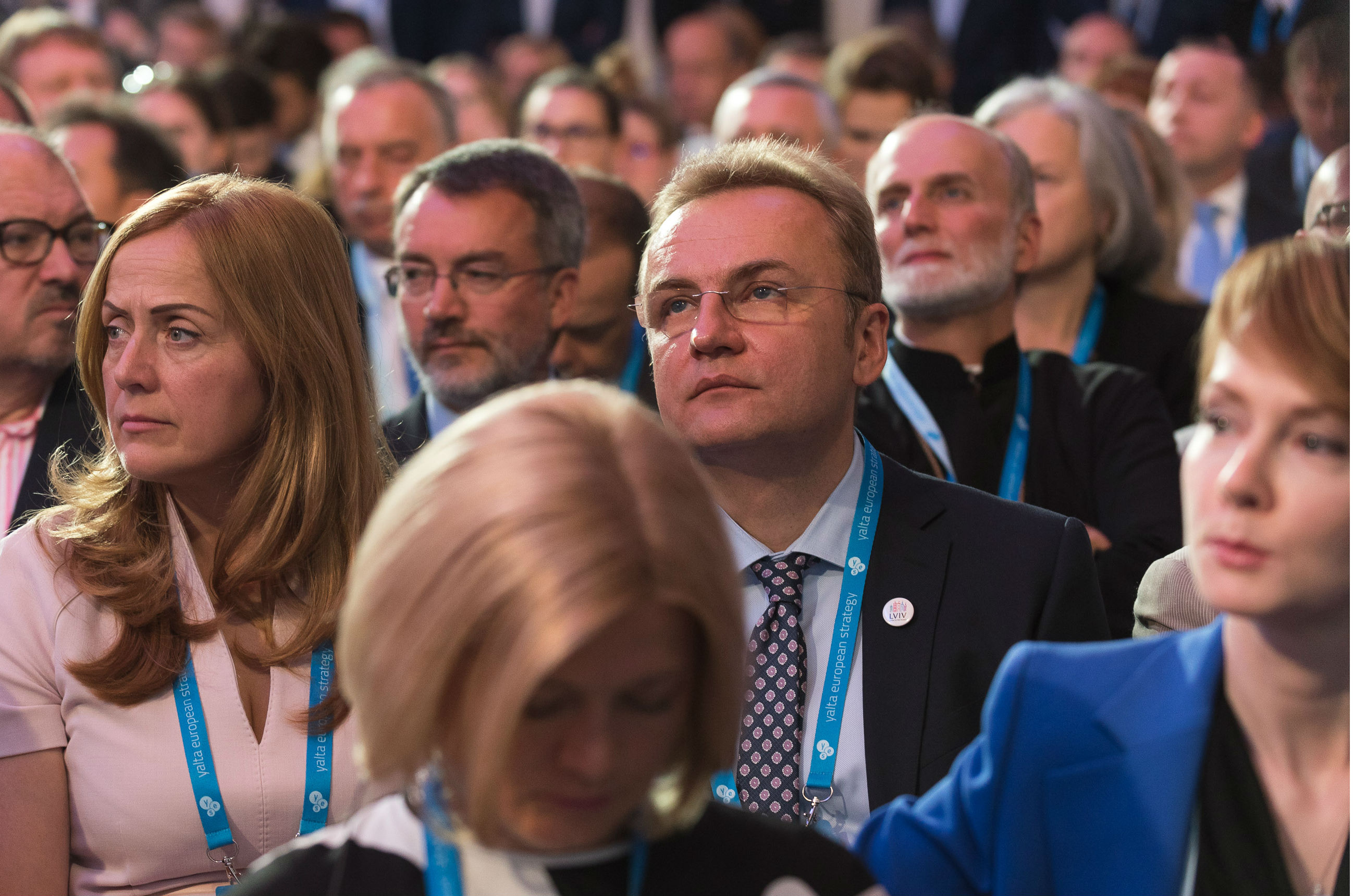 Andriy Sadovyi, the mayor of Lviv and leader of the Samopomich Party, hasn't had an easy year. He was seen as the most likely challenger to President Petro Poroshenko in the 2019 presidential election before a fire at waste facility in May 2016 killed four and sullied his sterling reputation. As a result, his numbers have plunged in some polls.
But the worst is over and Sadovyi is no longer taking a low profile. The forty-nine-year old mayor was in Kyiv for the annual Yalta European Strategy conference, a few days after welcoming lightning rod former Georgian president and Odesa oblast governor Mikheil Saakashvili to Lviv. Poroshenko's administration canceled Saakashvili's Ukrainian citizenship in July, but on September 10, Saakashvili re-entered Ukraine with the help of bodyguards and an enormous crowd of supporters. He gave a long press conference on September 11 on the steps of a Lviv hotel, in the presence of Sadovyi, opposition leader Yulia Tymoshenko, and others.
On September 16, I picked up Sadovyi at the presidential administration building after he'd met with Poroshenko and we spoke on his ride to the airport.
Sadovyi said that Poroshenko is making a "huge mistake" by stripping Saakashvili of his citizenship. "I have had friendly relations with Saakashvili since he was the president of Georgia. Many Ukrainian politicians who are now criticizing him forgot how they traveled to Georgia and stood in line to have their photo taken with him and told everyone how much he's done. Ukraine should be using Saakashvili to help its development, and not fight him," he explained.
"The whole world is watching how this [situation with Saakashvili] will end. This humiliates Ukraine. I believe that the president should fix this mistake, revoke his ruling, and everything should get back on track. Ukraine has work to do."
Sadovyi urged real reformers to lay aside their differences and work for the good of the country. "Our biggest threat today is not Russia but corruption from within, and the absence of domestic unity among politicians. Why? Because most political parties are influenced by the oligarchs," he said.
Samopomich, which means self-reliance, is a relatively new party that doesn't take funding from Ukraine's oligarchs. It's essentially a conservative party that embraces tradition and human dignity, and has welcomed a number of new faces to politics. Critics contend that it's no different from the other parties, but here Sadovyi disagrees. "We are a bone in the throat of the oligarchs," he said.
Oksana Syroid, 41, the deputy speaker of parliament and a Samopomich deputy, agrees. She said she can feel how much the oligarchs hate her every day.
"I personally do not take oligarchic money, neither does the party," she said in a September 17 interview in Kyiv. Doing so would make the party dependent immediately, she added.
Both Sadovyi and Syroid maintain that the party is doing fine in spite of the Lviv trash scandal. One poll showed that Sadovyi's trust numbers plunged nearly twenty points over the course of a year, but Syroid maintains that the polling isn't independent and should be discounted.
Sadovyi concurred. "The party's rating hasn't changed much. In the last parliamentary elections, we had the support of 11 percent, and now we have 10 percent support, according to a survey," he said.
When asked if he'll run for president in 2019, Sadovyi, who favors idioms and has a sly smile, indulges in the cat-and-mouse game beloved by politicians around the world.
"It's hard to forecast what will happen in half a year or a year. Samopomich will be very active in the next parliamentary and the presidential campaigns," he said.
Rather than dwelling on the ugliness of the last year, Sadovyi urged Ukrainian politicians to get serious. "We have to understand that our country is in war with Russia. We have Russian troops; our territory is occupied; people are dying every day. And some politicians are forgetting this," he said.
Sadovyi's city of Lviv is fundamentally different from much of Ukraine. With its extraordinary architecture and cobblestone streets, it looks different and is governed differently. Sadovyi says that "power resides in the people" there and the city is free from oligarchic influence. "And that's what we're trying to do across all of Ukraine."
Recognizing that it'll take time to transform Ukraine, he said that if the government can focus on education and human development for the next ten years, "then we'll have a chance and see essential changes," he said as he hopped out of the car at Borispol airport.
He smiled and waved as he entered the scrum of the crowd without any security or assistants. Now that's self-reliance.
Melinda Haring is the editor of the UkraineAlert blog at the Atlantic Council. She tweets @melindaharing. Alexa Chopivsky and Vera Zimmerman translated the interview from Ukrainian to English.