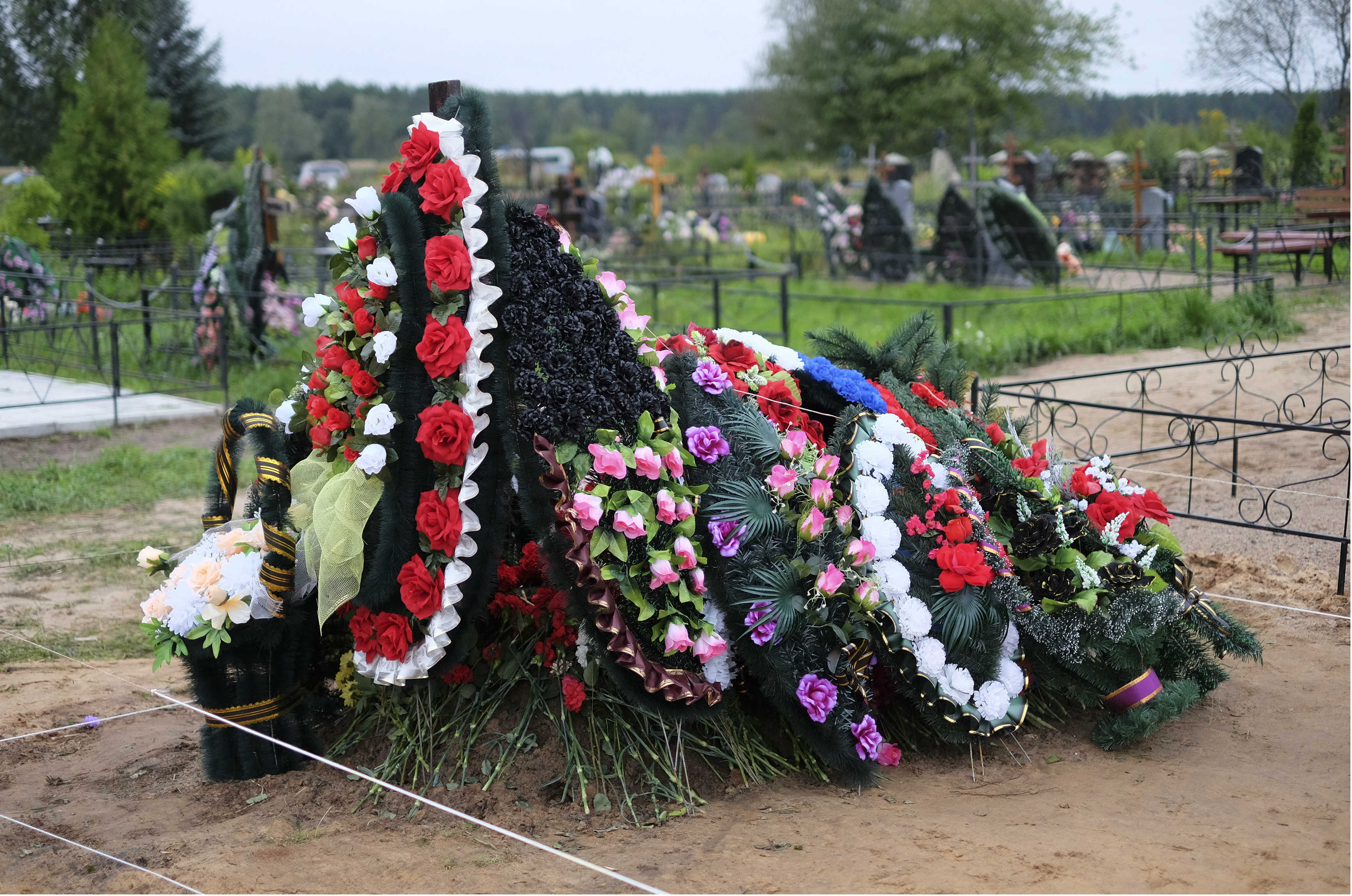 Russian President Vladimir Putin denies involvement in the conflict in Ukraine's east. Despite his continued denials of Russia's involvement in the so-called Donetsk People's Republic (DPR) and Luhansk People's Republic (LPR), a growing body of evidence casts doubts on his claims. Here are ten things everyone needs to know about Russian involvement in Ukraine.
1. Thousands of Russian soldiers have died in Ukraine.

There is a regular flow of vehicles from Ukraine to Russia carrying the words "Cargo 200," which is a Russian military code indicating that a vehicle carries dead bodies. Almost every weekly update from the OSCE Special Monitoring Mission notes this.
The exact number of Russian war dead from Ukraine is unknown; people trying to investigate the deaths of paratroopers from the city of Pskov have been intimidated and threatened or labeled as "Foreign Agents."
Russia expert Paul Goble has suggested that as many as 6,312 Russian soldiers were killed in 2014 and 2015 in Ukraine by combing records of recorded deaths.

That number of deaths is quite possible given how many medals have been awarded to Russian service personnel during the Ukraine conflict. Independent researchers at Bellingcat conclude that "most likely tens of thousands of Russian servicemen participated in or contributed to the war in Ukraine."

2. Some former and current leaders of the DPR/LPR are Russian citizens.
While there are locals in the armies and institutions of the so-called republics, few have leadership roles or any decision-making capacity. Some of the warlords of the so-called DPR and LPR come from Russia and had no ties to the Donbas prior to the conflict there. For example, one of the key actors of the early period of the DPR, Igor Girkin (also known as Strelkov) is a former FSB military intelligence agent from Moscow and a Russian citizen. Fighters with the nicknames Motorola, Bezler, and Babai are among a large number of individuals who are or have been associated with the DPR/LPR and are also Russian citizens. Another Russian connection is Alexander Kazakov, who is a PR consultant to the DPR, and Alexander Zakharchenko, the current leader there.
3. The Kremlin calls the shots in the republics.
The Ukrainian hacker group Cyber Junta broke into top Kremlin aide Vladislav Surkov's email account and the resulting picture of his involvement in the Donbas war is quite conclusive. The Atlantic Council's Digital Forensic Research Lab's analysis of the leaks shows that the former DPR leader, Denis Pushilin, looked to the Kremlin for funds and leadership choices.
This makes sense. Russia takes part in the Minsk ceasefire negotiations, not the separatists. All key negotiations take place within the Normandy Four format, which includes France, Germany, Russia, and Ukraine; Russian representatives are the only voice of the DPR/LNR in these talks. On the front line, Russians speak for the militants. Hromadske interviewed Ukrainian and Russian generals and they both confirmed that they negotiate between themselves.
4. Donbas separatists receive significant military support from Russia.
A 2016 InformNapalm study shows that thirty-one weapons systems found in the Donbas entered service with the Russian military between 2004 and 2015 and have never been produced in or sold to Ukraine.
Another InformNapalm report identifies seventy-five regular Russian military units involved in the war in Donbas.
5. The economies of the "republics" depend on Russian money.
Bild journalist Julian Röpcke showed the extent to which Russia finances the separatist republics; they simply cannot survive without external financing. He estimates that Russia spends approximately €79.1 million per month to pay salaries in the republics.
Röpcke found that "heavily guarded trains" bring "tons of bank notes and coins" into Ukraine, with the key rail arrival points being the important distribution points of Ilovaisk and Debaltseve. The names of these specific places are well known to any person who has taken an interest in the Ukraine conflict as fierce battles were fought for both cities. Regular Russian military units participated in both battles.
6. Numerous media reports document Russia's involvement in the war.
France 24 recently reported that the militants receive ammunition and equipment from Russia, training from Russian instructors, and funding from Russia, as well as humanitarian help (something which is often used as a cover for the rotation of troops).
7. Independent think tanks have presented proof of Russia's involvement.
"Russia is at war with Ukraine. Russian citizens and soldiers are fighting and dying in a war of their government's own making. Russian President Vladimir Putin continues to deny Russian involvement in the fighting, but the evidence is overwhelming and indisputable," an Atlantic Council study concludes.
The Atlantic Council report was released simultaneously with a report titled "Putin.War." which came to similar conclusions. It was the brainchild of Russian opposition figure Boris Nemtsov, who was shot dead in Moscow shortly after he began collecting material for the report.
8. More evidence of cross-border shelling from Russia in the summer of 2014 is emerging.
Bellingcat's latest report shows a large number of firing positions inside Russia, as well as documenting the target sites inside Ukraine. "Thousands of artillery projectiles were fired by the Russian military on targets inside Ukraine in the summer of 2014," the report reads. Before these artillery attacks, Ukraine's army had significant momentum and was retaking many previously occupied towns and cities in the period. The area where the attacks occurred is part of what is today a 400 kilometer stretch of an open and unmonitored border between Russia and Ukraine.
9. The downing of Malaysia Airlines Flight 17 also proves that Russia has been active in the Donbas since 2014.
On July 17, 2014, Malaysia Airlines Flight 17 was shot down over eastern Ukraine, killing all 283 passengers and fifteen crew members on board. The Dutch-led Joint Investigation Team confirmed that the MH-17 airplane was downed by a BUK missile coming from Russia. "The system was transported from Russian territory into eastern Ukraine" and a short time later transported back to Russia, the report says unambiguously.
10. Russia allegedly uses force to kill DPR/LPR militants who have become an inconvenience.
Arseny Pavlov, a Russian citizen known as Motorola, was "killed as result of either an internal feud or Russia removing 'inconvenient' separatist leaders in the field," writes Shaun Walker in The Guardian. According to the article, the leadership of the DPR/LPR "coordinates its actions with handlers in Moscow, who finance and control the political landscape in the self-declared republics, despite claims to the contrary." Those who refuse to follow Moscow's rules are replaced by more obedient ones. Three others in the last six months met a similar fate: Alexander Bushuev, Alexander Nemogay, and Alexander Osipov.
These facts show that the Kremlin does a poor job covering its tracks in the Donbas war. Moscow's support of DPR/LPR militants is obvious, even if not official. Putin is trying to destabilize Ukraine through the so-called republics, using them as dependent tools in his game. It is unlikely that he will remove support for these militants anytime soon.
Vitalii Rybak is an expert at Internews Ukraine and coordinator of UkraineWorld group, a networking initiative. The author thanks Paul Niland, Janet Gunn, Natalya Gumeniuk, Nastya Stanko, Oleksandr Nikonorov, Oleksiy Matsuka, Alya Shandra, Volodymyr Yermolenko, and other UkraineWorld group members for help and consultations. To join UkraineWorld group, please contact Vitalii Rybak: vrybak@internews.ua or ukraineworld.international@gmail.com.