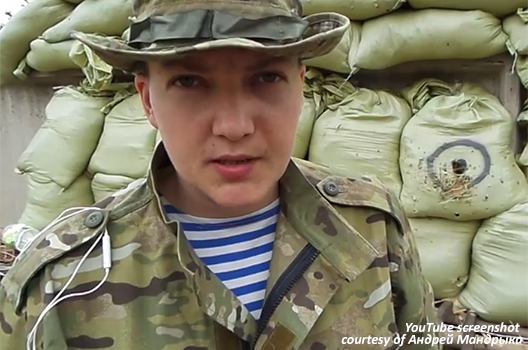 Ukraine Military's Most Famous Female Pilot is Now a Captive of Separatist Rebels
She looks tired, her face slightly puffy, but her blue eyes are calm and clear, and she appears utterly unafraid. Dressed in military fatigues, her hair cut short, she sits in the corner of a white-tiled room, handcuffed to a set of yellow metal bars.

https://www.youtube.com/watch?v=2SnTu9RW_Uw
She is Nadiya Savchenko, a 33-year-old Ukrainian ex-paratrooper and now a helicopter navigator who was captured by pro-Russian separatist militants of the self-proclaimed Luhansk People's Republic. The militants captured Savchenko during a firefight as she was helping a locally-based volunteer battalion. They want to exchange her for four of their men captured by the Ukrainian military, Ukrainian news reports say.
A Ukrainian Defense Ministry spokesman said over the weekend that Savchenko is expected to be released "in the very near future."
In a four-minute video posted to YouTube Savchenko is questioned by an unidentified, unseen man. She looks at him wearily, sometimes with a slight, sad smile.
– How many of you are there against us out there? How many tanks, APCs, officers, how many? asks the anonymous interrogator.
– You think I know this? she replies.
– I think you do.
– I think all of Ukraine is against you, says Savchenko.
The interrogator continues to press for answers on troops and military hardware. "Even if I knew, I wouldn't tell you," answers Savchenko.
(The Savchenko interrogation is part of a longer video in which separatists interrogate wounded, captured members of Aydar, the volunteer battalion she was assisting.)
For Russia's state-controlled media, however, Nadiya Savchenko's calm and focus are the trademarks of a seasoned killer. Organs such as NTV have accused her of being a sniper, and of overseeing the fighting in Luhansk province this month during which two Russian State Television journalists were killed. NTV later dropped that claim, presenting Savchenko as a helicopter pilot taken prisoner during a battle the Luhansk separatist militants fought with the Luhansk-based Aydar battalion.
The Kremlin-loyal daily Komsomolskaya Pravda, which has had direct access to the separatist leaders in eastern Ukraine, including their military leader, Russian army Col. Igor Girkin, also had direct access to Savchenko. Its writer, Nikolai Varsegov, asks Savchenko how she was captured. "I was trying to help our wounded. Two of our APCs [armored personnel carriers] were hit and I went to get the wounded out," she answers.
– Why did you come here, to this land, with arms? asks Varsegov.
– This is our land, answers Savchenko.
– Let's call a spade a spade, continues Varsegov. A junta has carried out a state coup in Kyiv, they overthrew a legally elected president and now they're forcing their rules on the people. People here don't want to obey the junta. They have a right to live by their beliefs.
– They don't want to obey Kyiv, but they want to obey Moscow.
– Let them; if they want to obey Honduras, they have the right.
– The people always have rights, says Savchenko.
– So what do you want from them? asks Varsegov.
– And what does Russia want with its meddling? challenges Savchenko.
– If Russia wanted to get involved you would have order here long ago. For now, we are just watching, responds the Komsomolskaya Pravda journalist.
In a later article, NIkolai Varsegov enhances Nadiya Savchenko's story generously. She now becomes the commander of the Aydar battalion and has a code name: Bullet. It is Savchenko, claims Varsegov, who is responsible for the deaths of two Russian journalists, who were fatally wounded during a battle between the separatist militants and the Aydar battalion.
Sniper, commander, media star, pilot, killer. All these are Nadiya Savchenko according to the accounts presented by Komsomolskaya Pravda and NTV.
While Savchenko is a trained pilot, Ukrainian military regulations bar her from flying in uniform. The armed forces employ her as a navigator for the Mi-34, a small, utility helicopter.
In a 2012 film by the Ukrainian military, the Kyiv native Savchenko describes how all her life she has wanted to be in the sky. To fly fighter-bombers. Her dream was delayed for years when Ukraine's air force university, in Kharkiv, kept denying her application.
To improve her chances of being admitted, Nadiya enlisted in the army and joined the mobile air battalion, but even that step required that she pass a severe test. Women were not allowed to join this elite battalion, Nadiya's commander told her. But, he said, "If you can run 15 kilometers (9.3 miles) in the snow while carrying a 15-kilo (34-pound) paratrooper backpack, you're in."
In 2004-2005, Savchenko served six months with the Ukrainian contingent in Iraq. "Iraq was a survival school. Your values change in war," she said. It was in Iraq, where Nadiya saw several of her comrades killed, that she developed nerves of steel.
Returning from Iraq, Nadiya at last was accepted to the Kharkiv Air Force University. In a class of thirty-nine, she was one of the older students, at age twenty-four. She also was the only one with combat experience. Her fellow students, all male, say they eventually accepted her.
And at long last, Nadiya Savchenko was able to fly. "When I first flew, it was a Yak 52 [a small, Soviet-era, single-propeller trainer]. I thought I was in heaven, this was complete happiness," she says. But despite her piloting skills, she was not permitted to graduate as a bomber pilot, because Ukrainian military rules bar women from flying bombers. Nadiya graduated the Air Force University as a helicopter pilot-navigator.
"I see goals, I don't see obstacles," says Nadiya in the film. "I know I will fly when there's an extreme situation. When the last pilot can't fly, they will call me."
Ukraine today finds itself in an extreme situation. The slow-boil separatist war is not abating despite a unilateral cease-fire declared last week by Kyiv. In the past months several of its military helicopters and a transport plane have been shot down by the pro-Russian separatists. Nadiya was not flying any of them.
Irena Chalupa covers Ukraine and Eastern Europe for the Atlantic Council.