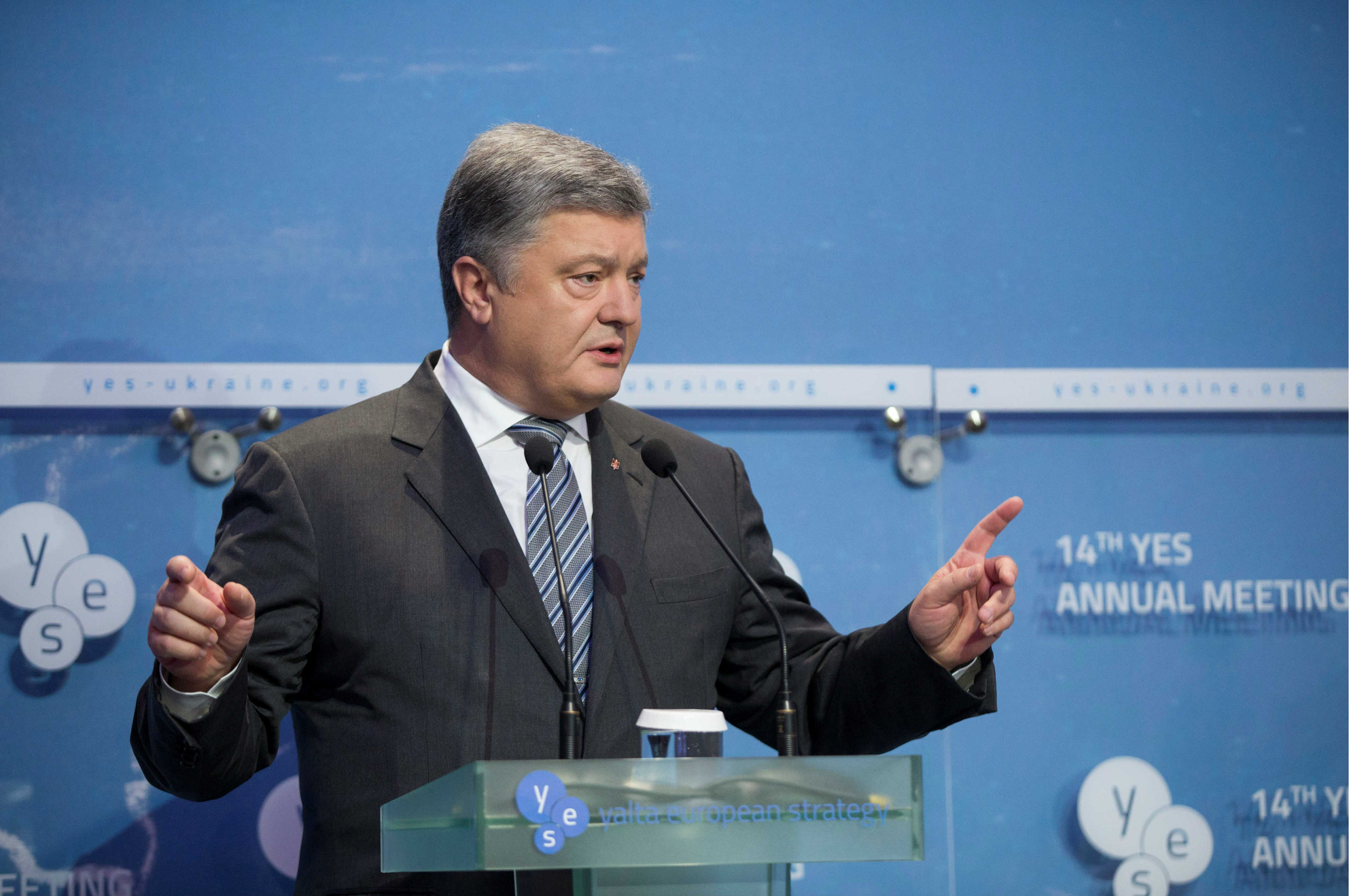 It's no secret that Ukraine's reforms have stalled. Reformers both in and out of government agree, however, that the one change that might reignite the country's push for reform is the establishment of an independent anticorruption court. Ukraine's beleaguered activists have urged the government to adopt it, and the West led by the International Monetary Fund has made it an absolute condition for more assistance.
On September 15 at the Yalta European Strategy (YES) conference in Kyiv, President Petro Poroshenko rejected the idea of an independent anticorruption court. Pointing to anticorruption courts in Kenya, Uganda, Croatia, and Malaysia, he claimed that they are ineffective. (He conveniently left out Indonesia, whose anticorruption commission has successfully conducted investigations, including one that involved a high-ranking official and public procurement expenditures.) Instead Poroshenko wants to form an anticorruption "chamber" within the ordinary court system.
In a classic debater's trick, he turned the question around by asking, "Does the United States have an anticorruption court?"
Former US Secretary of State John F. Kerry answered Poroshenko forcefully in a panel later that day. "The truth is that in our nation, every court is an anticorruption court," Kerry said. "Even now, you see a special prosecutor investigating the president of the United States."
Kerry urged Ukraine to put an anticorruption court into place, and based his argument on his own experience as a federal, state, and local prosecutor. "I think it's vital for Ukraine to grab ahold of the moment. It's not too late," he said.
Poroshenko also claimed that he doesn't have time before his term expires in 2019 to establish an independent anticorruption court. But MP Svitlana Zalishchuk pointed out that a bill that would establish it has been registered in parliament since February 2017. The court could have been in place already, she said. Quoting Czech reformer Vaclav Havel, she said the president has to be the instrument of reforms—and he hasn't been.
While at the YES conference, Poroshenko pointed to progress on other reforms, including recently-passed legislation in the field of education, and movement on pension reform.
He also vowed fast progress on health care reform, privatization, and judicial reform—promises that left many in the crowd skeptical. Health care reform is stuck in parliament, the government hasn't managed any major privatizations (efforts to privatize the Odesa Portside Project, for example, have failed twice), and judicial reform has failed to transform Ukraine's least trusted but most important institution.
In an evening panel at the conference, young reformers in and out of government debated the mood in Kyiv.
Former Minister of Economic Development and Trade Aivaras Abromavičius said there are reasons for optimism on the economy and predicted that GDP growth will soon accelerate. But, he said, "when it comes to politics, things are a bit gloomier."
He pointed to the large number of Western-educated people who have left government service in the last year as a result of interference from the authorities, apathy, or pure exhaustion. He himself resigned in early 2016.
One panelist did not hesitate to sound an alarm. "Winter is coming," said Victoria Voytsitska, a fiery MP with the Lviv-based Samopomich Party. She said Ukraine has advanced greatly in the last three years but that the reforms are still reversible; now that Europe has agreed to Ukraine's visa-free access to the EU, it has lost its leverage to press for further reforms. She worries about gas sector reform and problems with Naftogaz.
Mustafa Nayyem, a lawmaker with the president's Bloc of Petro Poroshenko (BPP) and a catalyst of the Euromaidan Revolution, urged systemic reforms to the structure of parliament. Young people want to run for parliament, he said, but it's too expensive, costing between $3 and $5 million. Lifting immunity on parliamentarians would bring in new blood, since 80 percent of those in parliament want to protect their assets, he said.
Nayyem and Voytsitska also urged the West to protect the National Anticorruption Bureau of Ukraine, which Nayyem called Ukraine's biggest reform achievement.
Pavlo Rizanenko, also with BPP, emphasized the need for national reconciliation, and pointed out that Poland's transition, to which Ukraine is often compared, was smoother because there was consensus among policymakers there. The politicians during the transition understood that reforms were painful and unpopular, and accepted that their political careers would be done after pushing them forward. "And that's where Ukrainian politicians need to grow up, get mature and responsible," he said.
Both Abromavičius and Voytsitska emphasized the need for reformers to better communicate with ordinary people.
Nayyem later walked back some of the other panelists' pessimism. "Please don't panic. Winter will not come to Ukraine. The only one thing we need is leadership."
Former Secretary of State Condoleezza Rice and former European Parliament President Pat Cox moderated the panel. "People want Ukraine to succeed. We have watched the passion of the Ukrainian people. This country deserves to have a chance. But we cannot do it for you," Rice reminded.
It's heartbreaking because there is no shortage of extraordinary leaders in Ukraine. But given the closed nature of politics in the country, Ukraine may be waiting for some time.
Melinda Haring is the editor of the UkraineAlert blog at the Atlantic Council. She attended the Yalta European Strategy conference on Sept. 14-16. She tweets @melindaharing.