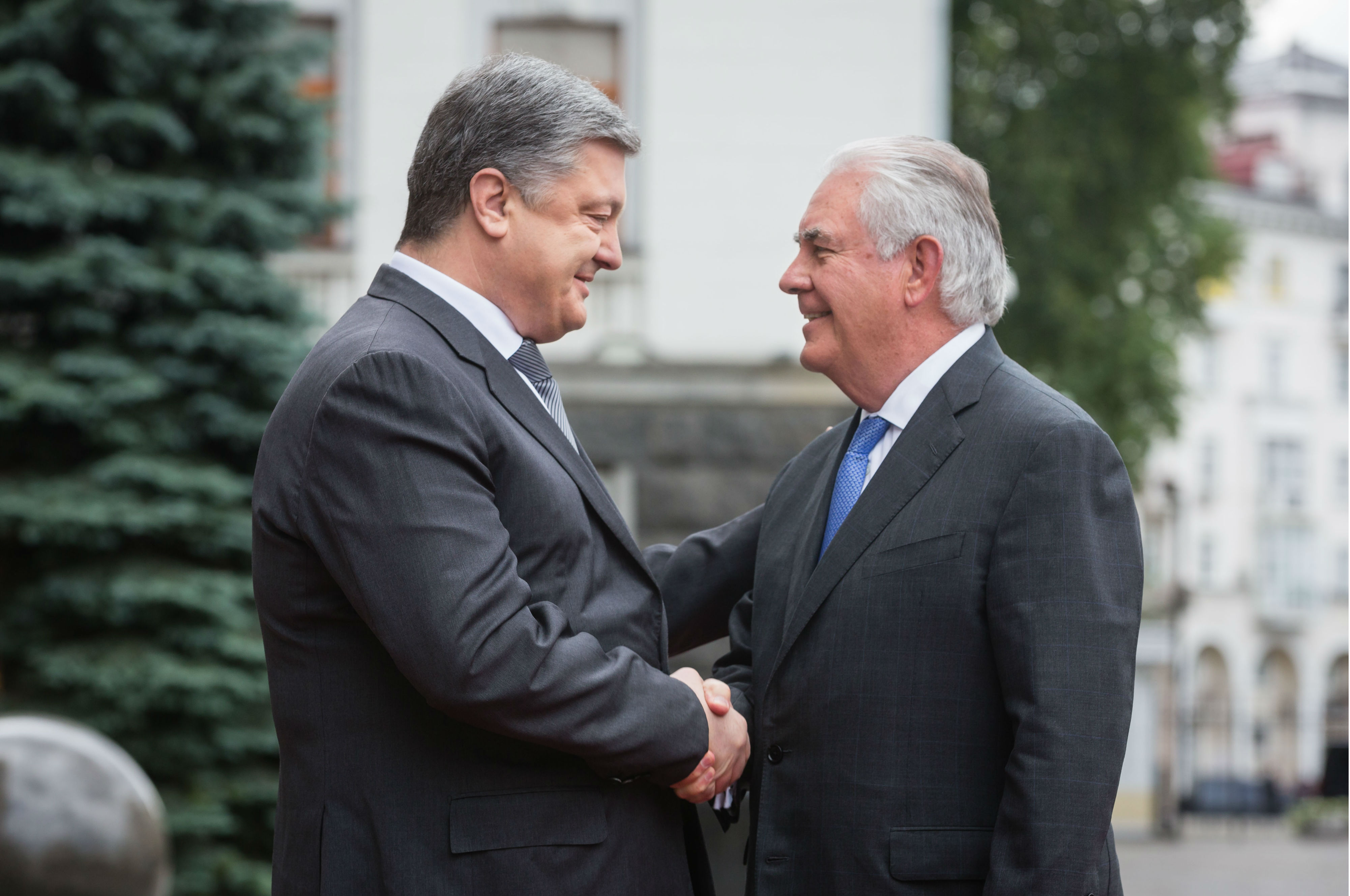 Kyiv had a very good week. On July 9, US Secretary of State Rex Tillerson announced that sanctions against Russia will remain in place until the Kremlin takes the first step to ease tensions in eastern Ukraine. And on July 7, before US President Donald Trump and Russia President Vladimir Putin met for the first time at the G-20 summit, Tillerson appointed Russia hawk Kurt Volker to serve as special envoy to Ukraine.
"The fact that they appointed [Volker] is a sign this administration is serious about Ukraine," John Herbst, a former US ambassador to Ukraine, told Foreign Policy.
Immediately after the G-20 summit in Hamburg, Tillerson and Volker flew to Kyiv to meet with Ukraine President Petro Poroshenko.
Tillerson said the war in Ukraine was "planned and launched from Moscow." The secretary's straightforward remarks were music to Ukraine's ears. Ever since Trump's election, no one has known where the new president would come down on Russia's aggression in Ukraine.
Tillerson's tough talk and his appointment of Volker, a close colleague of Senator John McCain's, speaks volumes. And their one-day trip to Kyiv underscores their commitment to helping Ukraine fend off Russia.
Back in Ukraine's darkest hour, after Russians invaded the country following the chaos of Kyiv's street revolution, Volker urged military confrontation with Russia on August 28, 2014 in the Washington Post: "Vladimir Putin is placing a cynical bet that he can invade Ukraine one week before a NATO summit—and that NATO will do nothing to stop him. The alliance must prove him wrong," he wrote with Erik Brattberg, a visiting fellow from the Swedish Institute of International Affairs.
"Despite sharp words from Brussels, Washington, London and Berlin, the Russian president believes that NATO lacks the will to challenge his dismemberment of Ukraine. By sending troops, tanks, and artillery directly into the Ukrainian fighting, Putin is making a point: He will fight for Ukraine, and NATO will not. He is calling NATO's bluff."
The bluff worked.
Worse yet, according to Ukrainian diplomatic sources, after the invasion Putin agreed to talks after the fact but refused to let the United States or Britain be involved even though they were guarantors of Ukraine's boundaries against Russia in 1994. Instead, Russia handpicked Germany and France, and the countries worked out toothless agreements that Russia has flouted ever since.
The result is nine percent of Ukraine remains in Russian hands, run by lawless militias in the Donbas region, and casualties mount. There are now 1.8 million refugees who fled, more than 10,000 dead, tens of thousands wounded, and two cities plundered.
Further evidence of State Department comprehension of Putin's predation was on display last week when Spokeswoman Heather Nauert said "we believe that the so-called rebels [in the Donbas] are Russian-backed, Russian-financed, and are responsible for the deaths of Ukrainians."
Finally, after murder and mayhem for three years, Putin has been somewhat chastened. The Minsk agreements were doomed from the beginning. But even if resurrected, newly-crowned President Emmanuel Macron of France will be involved and is one of the few heads of state to criticize Putin to his face over cyberattacks and Ukraine.
Clearly, Putin has overplayed his hand.
Diplomats may frame their task as ending a conflict, but the reality is that this is about getting Russia to withdraw from Ukraine, pay reparations, and make Ukraine a NATO member so this doesn't happen again.
Diane Francis is a Senior Fellow at the Atlantic Council's Dinu Patriciu Eurasia Center, Editor at Large with the National Post in Canada, a Distinguished Professor at Ryerson University's Ted Rogers School of Management, and author of ten books.