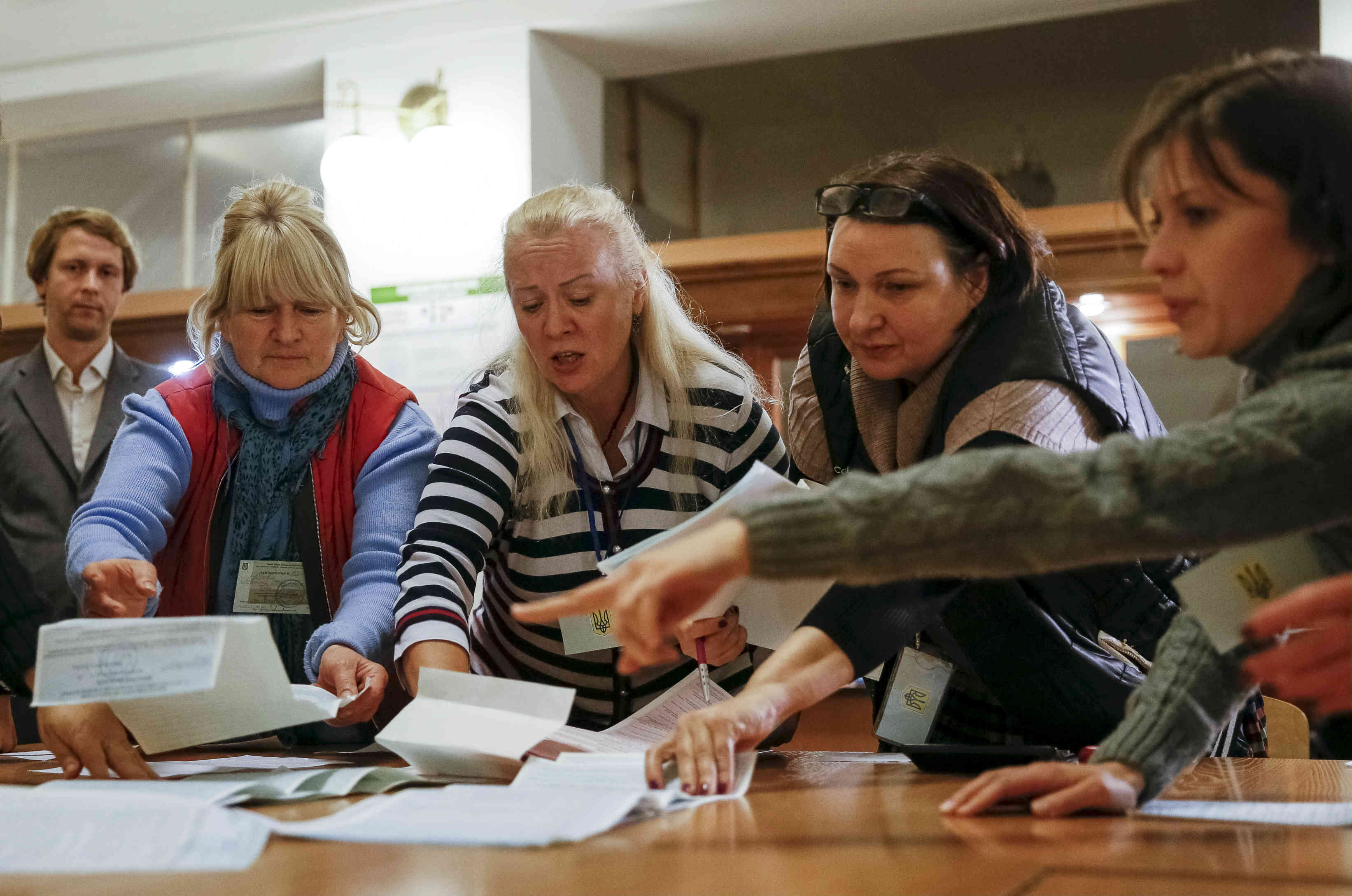 As the ballots are counted in Ukraine's October 25 local elections, early returns and exit polls indicate some surprises. The big story is that oligarch Ihor Kolomoyskyi came out on top. Kolomoyskyi, former governor of Dnipropetrovsk who was dismissed in March by Ukrainian President Petro Poroshenko for his overreach, backed candidates who look set to win in Dnipropetrovsk, Kharkiv, and Odesa. If successful, Kolomoyskyi will control the mayor's office in the country's three largest cities outside Kyiv, and gain bragging rights in his ongoing war with Poroshenko.

Overall, the Organization for Security and Co-operation in Europe assessed the local elections as "competitive and well-organized" but noted that there is "need for further reform." Voting was canceled at the last minute in Mariupol and Krasnoarmeysk because of disputes over ballots.
Ukraine's new election law mandates a runoff election if no mayoral candidate receives a majority in cities with more than 90,000 people, and are likely in Kyiv and Dnipropetrovsk.
Final results are not expected until October 28, but here's how things look in Ukraine's five largest cities that held elections:
1. Kyiv – Incumbent Mayor Vitali Klitschko leads decisively but is short of a majority. There's a tight race for second place: Samopomich's Serhiy Gusovskiy, independent MP Boryslav Bereza, Fatherland's Volodymyr Bondarenko, and former Mayor Oleksandr Omelchenko are within two percent of each other. "The Shuster Live" exit poll put Klitschko at 38 percent, Gusovskiy at 9 percent, and Bereza and Bondarenko at less than one percent behind Gusovskiy. Bottom line: the boxer-turned-politician is a clear favorite for reelection but will face a second round next month.
2. Odesa – Observers reported carousel voting, multiple voting lists, exit poll workers agitating for candidates, and another suspiciously slow vote count. Incumbent Mayor Gennadiy Trukhanov leads in the exit polls with 47 percent, and local observers expect him to end up as the first-round winner once the votes are tallied. Oblast Governor Mikheil Saakashvili's candidate, Sasha Borovik, is in second place with around 30 percent; former Mayor Eduard Hurvits trails in third place. MP Serhiy Kivalov is pulling around 4 percent, preventing Trukhanov from a first-round victory at the moment. Still in flux.
3. Kharkiv – Incumbent Mayor Gennady Kernes obliterated all opponents by taking close to 60 percent of the vote according to exit polls and early returns. In addition, Kernes's association with oligarch Ihor Kolomoyskyi's Renaissance Party appears to have given the party an outright majority on the city council. Kernes's nearest opponent, Samopomich's Taras Sytenko, performed better than expected and surpassed former Deputy Governor Yuri Sapronov and Solidarity's Oleksandr Davytyan.
4. Lviv – Samopomich's Andriy Sadoviy is the clear leader. The "Shuster Live" exit poll put Sadoviy within 1.5 percent of a majority, and a first-round victory for Sadoviy is still a possibility. But if a runoff takes place, Sadoviy will square off against Svoboda Party's Ruslan Koshulynskiy. Sadoviy and Svoboda have long been rivals, so a runoff will add some intrigue to this longstanding clash. Polls put Koshulynskiy at 14 percent and Civic Position's Volodymyr Hirnyak trails in third at 12 percent. Poroshenko's two candidates, Yuri Dobrodomov and Oksana Yurinets, won't make the runoff. With or without a runoff, Sadoviy is likely to win a third term as Lviv Mayor.
5. Dnipropetrovsk – Ukrop Party candidate Borys Filatov performed better than expected. He's leading Opposition Bloc's Oleksandr Vilkul 42 to 32 percent according to early returns and exit polls. Polls prior to Election Day showed the candidates running neck and neck. With Kolomoyskyi's allies controlling the city's administrative resources and Filatov's surprisingly strong results in round one, the runoff is now a tossup.
Brian Mefford is a Nonresident Senior Fellow at the Atlantic Council's Dinu Patriciu Eurasia Center. He is a business and political consultant who is based in Kyiv, Ukraine. Follow his latest analysis on his blog.