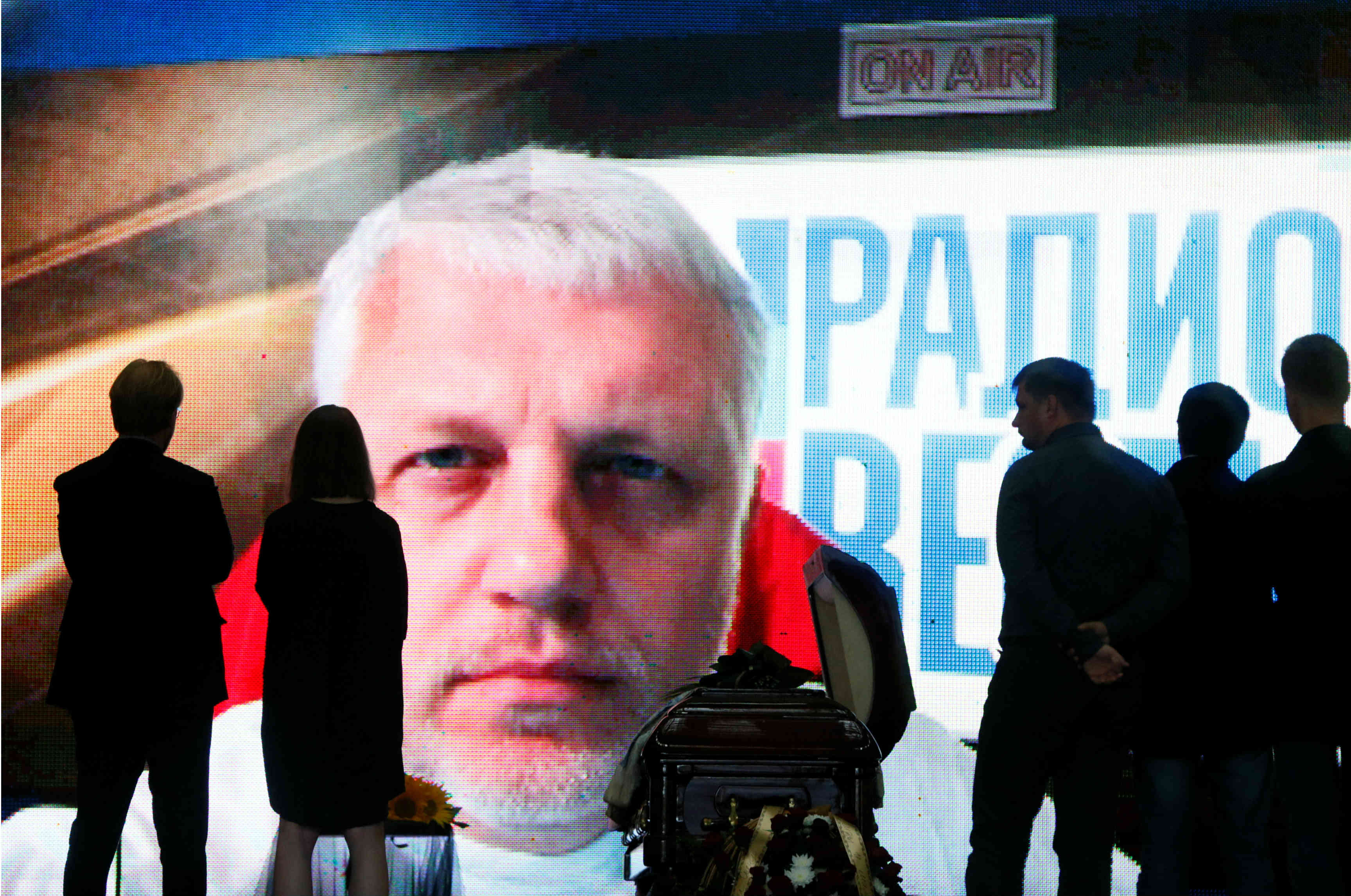 On July 20, investigative journalist Pavel Sheremet was assassinated in Kyiv. Sheremet hosted a morning show at Radio Vesti and was a top reporter at Ukrainska Pravda. A crusading journalist and native of Minsk, Belarus, he had already been expelled from both Belarus and Russia. He was killed by a car bomb.
It would be easy to dismiss Sheremet's murder as an outlier. Unfortunately, it's anything but. His death is merely the most drastic example of the steady deterioration of press freedom in Ukraine in recent months.
One day before Sheremet's murder, Maria Rydvan, the editor of Forbes Ukraine, was stabbed three times in Kyiv; she had been walking in the park of the Kyiv Polytechnic Institute. Fortunately her injuries were only minor.
On July 25, the head of Business Censor, Sergei Golovnyova, was beaten in the well-to-do Podil section of Kyiv by two men who took nothing from him.

Kristina Berdynskykh, a reporter for the New Time magazine who often writes about Ukraine's oligarchs, said she has received multiple death threats in recent months. No charges have been brought against any suspects.
After Sheremet's murder, Ukrainian authorities promised Olena Prytula, Sheremet's partner and the owner of Ukrainska Pravda, a security detail. Sheremet had been driving Prytula's car when the bomb went off.
Prosecutor General Yuriy Lutsenko stated that he has opened a case against Vadim Troyanov, the first deputy head of the Ukrainian National Police, who had been shadowing Sheremet and Prytula. Khatia Dekanoidze, the head of the National Police, said that Troyanov will be questioned after he returns from his holidays. But their common boss, Minister of Interior Arsen Avakov, claimed that these suspicions against Troyanov are without merit.
It's unclear who is behind Sheremet's murder. But critics have accused the government of harassing and trying to silence nettlesome journalists over the past several months.
On April 26, the Ukrainian government banned the country's top television host, Savik Shuster, a Canadian national, from working in the country. Shuster hosts Ukraine's most popular Russian-language talk show, Shuster LIVE; four million people tune in each week.
Some have speculated that Shuster may have annoyed President Petro Poroshenko personally on one of his April shows. Shuster asked his audience to respond to the president's claim to that he has "shown determination" in the fight against corruption. Ninety-three percent of the audience disagreed with the statement.
Shuster took the case over his work permit to court, and so far he's won.
In May, Ukrainian hackers leaked the names and contact details of more than 4,500 journalists, cameramen, producers, stringers, translators, and drivers who have worked in areas under the control of pro-Russia separatists in eastern Ukraine. The journalists worked for major international media outlets like Reuters, the BBC, AFP, and Al-Jazeera, nonprofits such as Human Rights Watch, and local outlets.
The website on which the leak appeared, Myrotvorets, was co-founded by Anton Herashchenko, an MP and adviser to Ukrainian Interior Minister Arsen Avakov. Herashchenko also published the list on his Facebook page. He accused the journalists on the list of aiding terrorists and spreading Russian propaganda. Avakov praised the publication of the list and blamed the journalists for registering with the separatists.
The leak was condemned by journalists and rights groups alike.
"Releasing this information—which may not even be accurate—was extremely irresponsible," said Steven M. Ellis, director of advocacy and communications at the International Press Institute. "Not only could it lead some journalists to fear to take necessary steps to ensure their safety in an extremely dangerous area, but it might make some avoid reporting there at all for fear that they face mob violence or prosecution once they leave."
On May 24, Myrotvorets released a second list that included the home addresses of 239 Ukrainian and international journalists working in Russia.
Poroshenko condemned the release of the data on June 3, calling it a "mistake."
While Ukraine by and large enjoys a lively and free media, there are problems. The country's ten most popular television channels are all owned by businessmen whose primary business is not media. And then there's the danger of reporting.
Sheremet's murder has sent a "chilling signal," said former VICE reporter Simon Ostrovsky in a July 27 interview. "To a lot of journalist in Ukraine it feels like a return to the bad old days of the 1990s when reporters were attacked and murdered and the perpetrators went unpunished."
Ukraine's friends and backers must continue to highlight all of the attacks, harassment, and violence its journalists face.
Journalists in Ukraine are counting on the West to draw attention to the uptick in violence. "I realized that journalists' best protection is maximum publicity, information support from colleagues from other media in covering the case, rather than law enforcement," Berdynskykh has written.
"If Ukraine's leaders are serious about press freedom, they will move quickly to solve this case and bring to justice those responsible for silencing Sheremet's powerful journalistic voice," wrote Ann Cooper, former executive director of the Committee to Protect Journalists. She's right. Ukraine must move quickly for Sheremet's sake, and for the sake of his courageous colleagues.
Melinda Haring is the editor of the UkraineAlert at the Atlantic Council. She tweets at @melindaharing.